Left-wing supreme Court Candidate Janet Protasiewicz is making light of her sentence that freed a felon rapist kidnapper by taking a political potshot against an opponent who raised concerns about it.
Protasiewicz, a Milwaukee judge endorsed by the extreme left-wing Daily Kos blog, sentenced a felon who was accused of randomly abducting a 15-year-old Milwaukee girl and raping her in a hotel room to NO prison time at all. She apparently believes this is an issue that should be politicized.
Protasiewicz's weak sentence, which allowed the rapist kidnapper to walk free, didn't sit well with former Justice Dan Kelly, her opponent in the race. He shared the Wisconsin Right Now story about Protasiewicz's sentence and wrote: "The upcoming race for Wisconsin Supreme Court is critically important. I encourage all voters to thoroughly review the record all of candidates in the race."
The upcoming race for Wisconsin Supreme Court is critically important. I encourage all voters to thoroughly review the record all of candidates in the race. https://t.co/jXYht7Gxql

— Justice Daniel Kelly (@JusticeDanKelly) December 13, 2022
Rather than taking the issue seriously in the non-partisan race (the felon has already been accused of new gun charges), Protasiewicz responded by tweeting a picture of a Trump sign and making a snarky political comment, even though Kelly had nothing to do with the sign. She shared Wisconsin Right Now's story on the rapist sentence with the political tweet.
This you? https://t.co/LRWNlzKtFA pic.twitter.com/INFhCwB9Fr

— Judge Janet Protasiewicz (@janetforjustice) December 13, 2022
Protasiewicz failed to mention that the photo was taken in 2019 when Kelly was speaking at the 1st Congressional District Fall Fest. Kelly was a state Supreme Court justice at that time which means he was not allowed to endorse anyone.
The Kelly campaign says Kelly has never endorsed Trump.
It's a non-partisan race, but Protasiewicz has repeatedly made politicized comments in the race. This one is a new low: Dismissing legitimate concern about her sentence which freed the rapist of a teen girl with political snark.
What sentence did Protasiewicz make light of?
Protasiewicz, a liberal judge in Milwaukee County, could have given Anton R. Veasley, 34, up to 35 years in prison. Instead, she gave Veasley, a convicted firearm offender, time served in June 2021 and released him back into the community. He has already messed up and ended up back in jail on a weapons offense, Corrections and jail records show. That's not surprising; his criminal history shows he's violated extended supervision repeatedly before.
According to court records, Anton R. Veasley is currently listed as a non-compliant sex offender and is sitting in the Washington County Jail, where he landed in July.
Veasley was charged in Washington County court last August for felon in possession of a firearm. That case is set for jury trial in January, court records show.
DOC records show Veasley lives in West Bend, WI.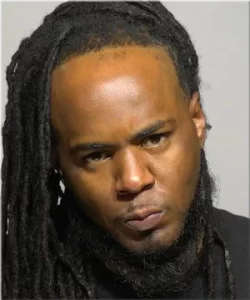 Prosecutors had charged Veasley with three felonies: kidnapping, trafficking of a child, and second-degree sexual assault of a child. Those charges were later pleaded down to 3rd-degree sexual assault and child enticement, court records show.
Veasley was charged in May 2020. In January 2021, there is a notation in the court records that says: "State still awaiting crime lab results." The crime lab is run by Democratic AG Josh Kaul.
Janet Protasiewicz sentenced Veasley to 417 days in the House of Correction but gave him time served on the sexual assault charge, a five-year STAYED prison sentence, and five years STAYED extended supervision for the child enticement conviction. He was given four years probation.
According to the criminal complaint, the girl was walking alone in the area of Silver Spring Drive on May 14 in Milwaukee when Veasley pulled up next to her in a pickup truck and started yelling. She tried to ignore him, but he left the truck, grabbed her wrist, and forced her inside the vehicle. He took the girl to the American Inn Motel, where he spoke to her about becoming a prostitute, gave her condoms and sexually assaulted her.
At one point, Veasley left the victim alone in the hotel room, so she left and alerted police, the complaint said. Police obtained his license plate from surveillance cameras.
---
Anton R. Veasley's Criminal History
Veasley has prior convictions including 2nd-degree reckless endangering safety, felon in possession of a firearm, and fleeing police.
---
About Janet Protasiewicz
Janet Protasiewicz is a Milwaukee County Circuit Judge who is seeking the seat currently held by Justice Patience Roggensack, who is not seeking re-election in 2023.
Protasiewicz was elected to the bench in 2013 and re-elected in 2020.
Waukesha County Chief Judge Jennifer Dorow, former Justice Dan Kelly, and Dane County Judge Everett Mitchell are also running for state Supreme Court.