Wisconsin Right Now is endorsing Republican District Attorney Eric Toney for state Attorney General.
The race is too important to lose. If partisan Democratic AG Josh Kaul is not defeated, he will likely run for governor next. Toney, Fond du Lac County's DA for almost 10 years, has two opponents in the Attorney General's primary on Aug 9. Unlike Toney, neither has ever prosecuted a case. Every Wisconsin attorney general since the 1960s was a prosecutor first.
We believe Toney, as a sitting DA with by far the most law enforcement endorsements in the race, is the only candidate with a realistic chance to win the "top cop's" position, although Kaul will be a formidable and well-financed opponent. This may be our least surprising endorsement ever, but that's only because this has been obvious from the start.
William F. Buckley Jr. once said, when considering choices in a GOP primary, "I'd be for the most right, viable candidate who could win." We think that applies here. If the other candidates can't win it, a vote for them just ends up being a protest vote against Toney. And what good does that do?
Toney, the president-elect of the Wisconsin District Attorneys Association, has grown on the campaign trail. He's proven to be resilient, weathering a series of dishonest attacks from Republican opponents and the liberal news media. He has maintained a generally positive campaign with an eye toward the general election, crafting a public-safety-focused message we think can win.
And it's so important to win this one. If Wisconsin elects a Republican governor, he or she does not need a partisan Democrat like Kaul trying to interfere with their agenda. If Evers is re-elected, Wisconsin needs a Republican AG to hold him in check.
Toney is pro-life, pro-cop, pro Second Amendment, and pro rule-of-law. Toney, a Republican since college, has hammered Kaul for mismanaging the state crime lab, for defunding the prosecutorial mission of DOJ, for being MIA during the Kenosha riots, and for politicizing the office. As a person who doesn't politicize his own office, Toney has credibility. These are narratives with crossover appeal.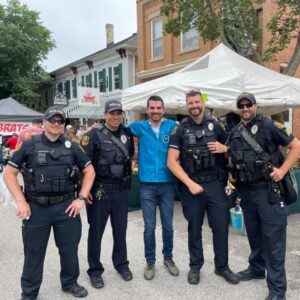 His opponents act like Toney, the son of a cop, won't also protect freedoms. We believe that he will because he's proven that he follows the rule-of-law. He focuses on public safety narratives because they play to his resume and appeal to voters. Voters prefer conservatives in the position if it's defined as the "top cop," not the top lawyer, as his primary opponent Adam Jarchow would seek to redefine it. That doesn't mean Toney wouldn't be concerned about other issues as AG.
We believe he would; after all, he was the candidate in the primary race who went most aggressively after the Wisconsin Election Commission, arguing that John Chisholm's office had misinterpreted the law.
Some Jarchow supporters say he has broader experience than Toney, and Jarchow has blasted Toney as a career government lawyer, but that's not true. Toney was in private practice before becoming a prosecutor.
Toney has followed the rule-of-law even when it wasn't popular. He has aggressively prosecuted voter fraud. When he's not on the campaign trail, he's in a courtroom, prosecuting murderers. In fact, he has a homicide trial starting on Monday. His experience in the trenches will make him a better AG.
Former legislator Jarchow and attorney Karen Mueller got into the race because they care about this state. But we don't believe that Jarchow has the resume to defeat Josh Kaul. We also don't think he has the temperament, and we vehemently disagree with some anti-public safety votes he took as a state legislator.
He also doesn't have a history of winning. Jarchow lost an overwhelmingly red Senate seat in a special election in 2018 for Republicans. Yes, it was a blue wave year. But he lost by more than 10 points. Just two years before, Republican Sheila Harsdorf won that district by 27 points! President Trump also won the district, and it flipped back to a Republican pretty quickly after Jarchow's loss. That concerns us.
We believe that Mueller's decertification and vaccine death platform would cost her a general election.
Toney got into the Attorney General's race because he was disgusted by the narratives against law enforcement and Josh Kaul's inaction in Kenosha. He's been accused of following the rule-of-law too strictly, but isn't that what conservatives say they want?
We've investigated some of the strongest claims against Toney, and they collapsed. Attacks on him over crayfish or a violent offender's bail are completely dishonest (no, he did not release the offender, and his prosecutor actually objected to the defense request for bail modification.) Don't pay attention to Jarchow's ads. We heard a Jarchow radio ad this week that was so dishonest about Toney that it should be disqualifying.
We asked Toney about slimy claims by anonymous liberal friends to a liberal columnist which broke just days before the primary (always be suspicious of that), and he told us he voted for Donald Trump twice and Ted Cruz once.
He gave us a photo of him at a Trump rally in August 2020. He was the highest vote-getter in the AG primary at the Republican state convention, by the way.
Toney acknowledges he was frustrated with the former president at times. Who hasn't been annoyed by a few of Trump's tweets? Another person has confirmed that Toney even recruited law enforcement to attend the Trump rally.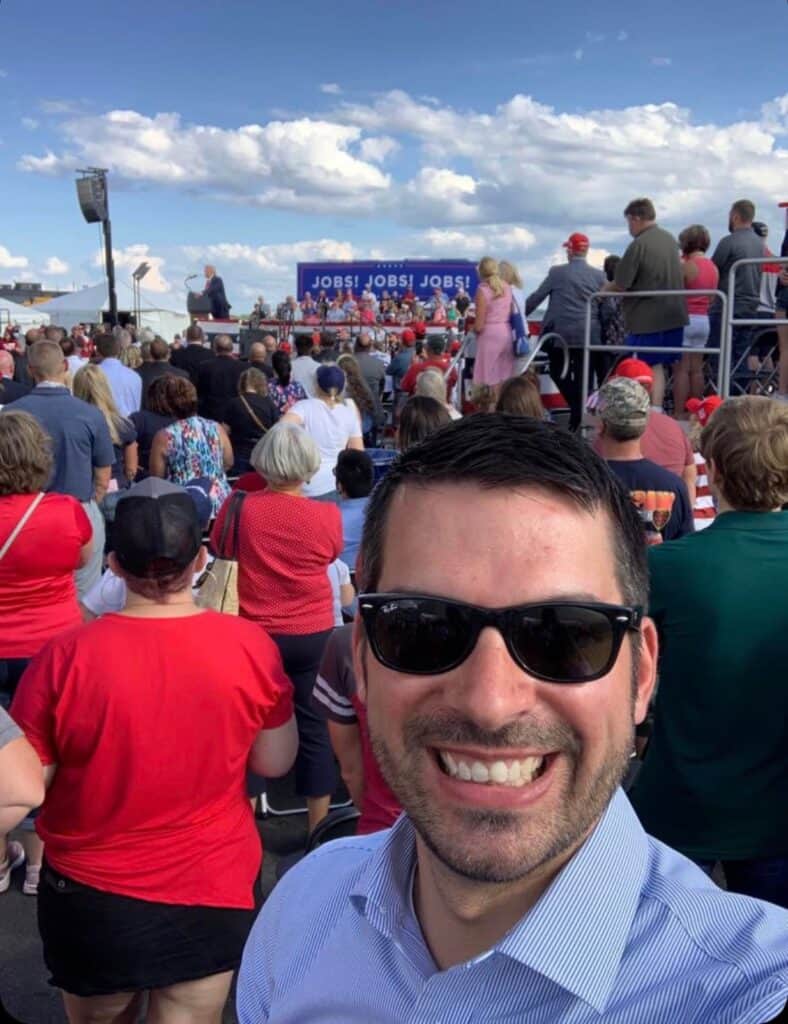 For his part, Jarchow once referred to Trump as dumb and insane and wrote that he "lacks actual political skills" and then deleted the tweets.
We are deeply concerned by Jarchow's anti-public safety votes in the state Legislature, by his vitriolic attacks on his Republican opponent (he once made a website showing Toney as a marionette before deleting that too), by statements he's made about police (he called the Capitol police a "bozo operation," and more.
Yes, there's more. Jarchow even lied about voting on two pro-cop bills, when evidence shows he was absent. One was about a serious bail reform matter.
Josh Kaul will figure this stuff out. But he probably won't need to. All he has to do is run a slew of ads telling people Jarchow has never prosecuted a case…that would be very hard to overcome.
As a legislator, Jarchow joined with a radical Democrat, David Bowen, to limit mandatory minimums for repeat violent gun offenders. He was the only Republican to vote against a bill to make it a felony to assault a prosecutor or cop's family member for doing their job, in the wake of the Ferguson riots. He wanted to create a political commission to micromanage the state's police agencies that so troubled then Republican AG Brad Schimel that Schimel warned it would "serve the interests of criminals."
Jarchow trashed the state's largest police association, a bipartisan group that ranked him the 2nd worst legislator one year.
Toney is not without flaws. His dismissed COVID prosecutions give us pause. We were the first news site in the state to thoroughly explore them. We understand why some people find them disqualifying. We don't because we have examined Toney's career in its entirety.
But the choice is not between Toney and some other candidate with a prosecutorial background. It's between Toney, Jarchow and Mueller.
We have interviewed Toney enough to know he's highly ethical and conservative. We considered the fact that the COVID prosecutions came 13 days into the pandemic when even President Trump supported lockdowns and under an emergency order that was never ruled unlawful by a court. DAs aren't the court system, and they aren't the Legislature. The state Supreme Court later found the extended order unlawful, and Toney dismissed the cases. No one was ever convicted. He moved to an educational posture.
Although the people charged had thumbed their noses at law enforcement in some cases, we understand that DAs have discretion. We think Toney could have used it here. However, around the same time, Jarchow was urging people on a podcast to wear gloves in bars and restaurants. The earliest days of the pandemic were scary. No one knew what was going on, not then. We also think the COVID angle won't hurt him in a general election.
Toney also organized a task force to re-open Fond du Lac and refused to prosecute Evers' mask mandate, saying that was unlawful. Years ago, he refused a request from Milwaukee County DA John Chisholm to help him prosecute the John Doe into Scott Walker. That's what we mean by considering his entire career.
Finally, there's financing. Jarchow supporters say he's raised a lot more money. While that's true – some insiders have rallied behind him – he's spent a lot of it on consultants and negative advertising. Both candidates will be broke or close to it on Aug. 10. We think the big money will come in for either one of them.
However, in the end, Eric Toney's background as a prosecutor carries the day. It's time for Kaul to go.
We think only Toney has a realistic chance of delivering that.
For all of these reasons, we urge you to vote for Eric Toney for state Attorney General on Aug. 9.