There was a major law enforcement response to a now-defused possible shooting situation at the Franklin, Wisconsin, Walmart on Sept. 3, 2021. A man – the suspect, according to scanner audio – is dead after a vehicle rollover just down the street.
Wisconsin Right Now has obtained video, first published on TikTok by user @armandoedgarsanchez, that shows a man with a gun running in the street near the Walmart. The clothing on the man matches a Walmart suspect description given out over the scanner. You can watch the video below or here on the Wisconsin Right Now YouTube page.
It's also on our YouTube page.
Cell phone video published by CBS 58 captured a shootout.
Authorities have not yet given details about what's transpired. On the scanner, an officer described the situation as a "Franklin active shooter" incident at one point, although, as noted, the danger appears to have past. Officers described conducting searches in Walmart on the scanner but said "we have not encountered any victims" in Walmart.
There was a dead man just down the street, though, at 27th and Sycamore, who appears to likely be the suspect. Scanner reports said that a possible kidnapping suspect fired shots inside the Walmart, and was then shot dead by Oak Creek police after a pursuit and shots were fired. Authorities have not officially confirmed this information, though, and sometimes, initial reports can be wrong or change.
The Milwaukee County Medical Examiner's office confirmed they were responding to the scene, writing, "MCMEO is responding to S 27 and Sycamore in Franklin/Oak Creek. One male victim. Autopsy is scheduled for Monday. Avoid the area."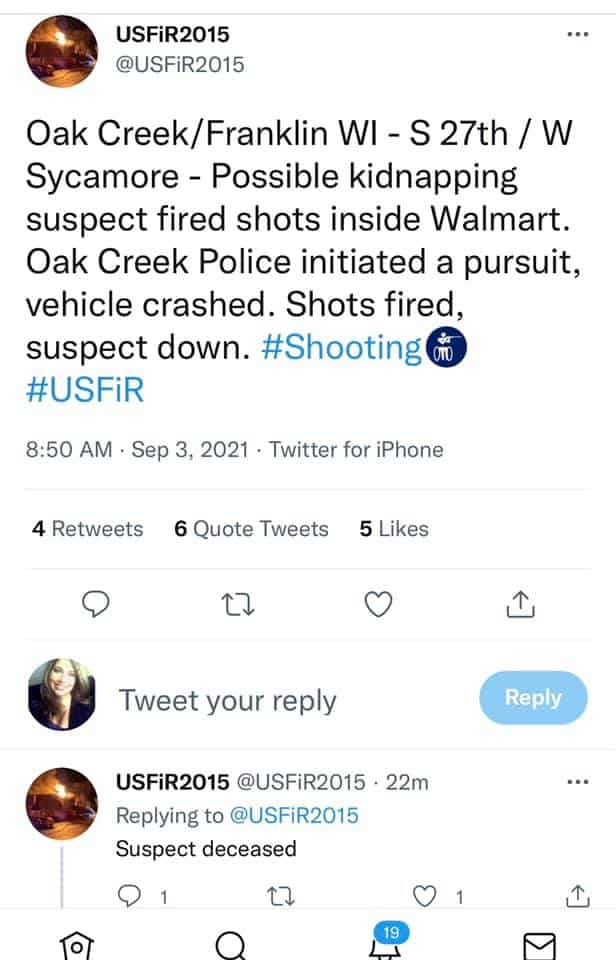 "North of Sycamore, he crashed… shots fired, shots fired, 2-7 Sycamore," officers said in the scanner. "Copy that, shots fired, Sycamore, suspect down…the suspect still has a gun…suspect down, not moving."
"We received information that the shooting may have taken place in the parking lot and not the store, but I have not vetted that," an officer said on the scanner. An officer said police were confirming with other businesses to "make sure we have no other shooters out."
The Walmart is located at 6701 S 27th St, Franklin, Wisconsin.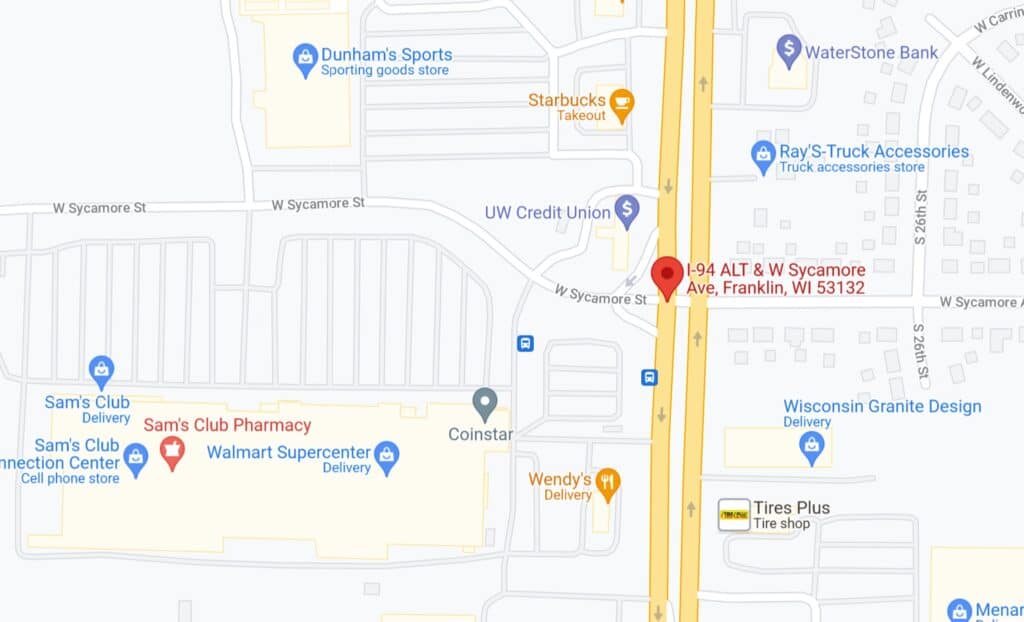 Information was still preliminary, but, on the scanner, dispatchers and officers said there was a second scene involving a car at 27th and Ryan. Video from the scene showed the car turned over. An officer said on the scanner that the vehicle was stolen with one license plate.
It appeared that the body was at that location.
LIVE: There is a heavy police presence near the Franklin Walmart https://t.co/LgCLf9tqXC

— WISN 12 NEWS (@WISN12News) September 3, 2021
On the scanner, dispatchers and officers said, "It happened inside the store. Suspect was wearing a gray sweatshirt and Green Bay Packers type hat." They referred to a "body." They said, there is a second scene at 27th and Ryan, involving the same suspect, who stole a car. At one point, they said there was a "Franklin active shooter." Officers referred to rounding up the employees and other people in the Walmart store to interview them. They referred to a victim at one point and then said a Greenfield officer was with the subject, who said he was "all right there." Officers spoke of moving in "tandem" to clear the grocery and bakery sections.
@fox6now Franklin Walmart on 27th street pic.twitter.com/yeTDPDJfS1

— Dan (@MrAngry247) September 3, 2021
A witness told Fox6, "All of a sudden we saw a vehicle coming out of his parking lot going like 80 to 100 miles per hour down 27th Street and then all of a sudden you heard them hit like two or three cars. Cop cars started following them and then gunshots were fired. A lot of gunshots were fired – and I don't know it was just crazy."