Explosions in Afghanistan outside the Kabul airport Thursday have led to 10 US Marines, 2 Army soldiers and a Navy medic killed with dozens of Americans injured and at least 95 Afghans killed according to FOX News and further heightened the chaotic evacuation of American citizens and Afghan nationals.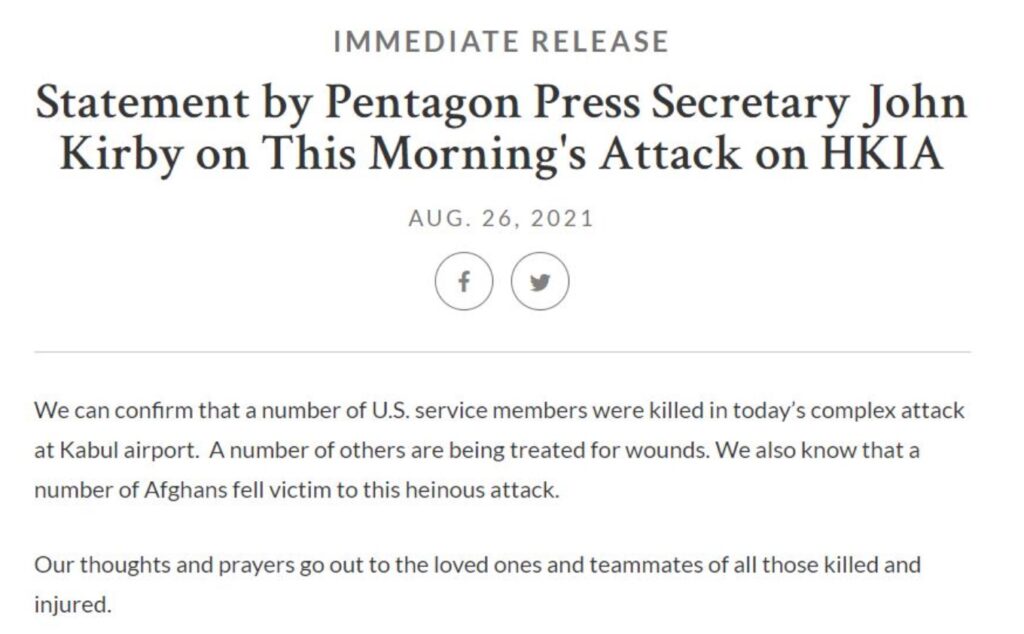 "There has been a large explosion at the airport, and there are reports of gunfire," the U.S. Embassy in Afghanistan said in a statement. "U.S. citizens should avoid traveling to the airport and avoid airport gates at this time. U.S. citizens who are at the Abbey Gate, East Gate, or North Gate now should leave immediately."
"We can confirm that the explosion at the Abbey Gate was the result of a complex attack that resulted in a number of US & civilian casualties," said John Kirby, a spokesman for the Pentagon. "We can also confirm at least one other explosion at or near the Baron Hotel, a short distance from Abbey Gate. We will continue to update."
Immediately after the attack, the U.S. Embassy in Afghanistan said there were reports of gunfire in addition to the explosions and warned Americans to stay away from the airport.
The Pentagon said the attack hit multiple spots with casualties.
"Because of security threats outside the gates of Kabul airport, we are advising U.S. citizens to avoid traveling to the airport and to avoid airport gates at this time unless you receive individual instructions from a U.S. government representative to do so."
The attacks came after the U.S. embassy in Afghanistan issued a public warning that Americans should not gather outside the Kabul airport. The Taliban has reportedly been harassing and attacking those attempting to access the airport and has publicly said they do not want Afghan nationals to leave the country.
The Pentagon has said evacuations are expected to end within 36 hours and promised more details as they emerge. Several news outlets have reported that three U.S. Marines have been injured.
"Our primary concern remains the safety of our personnel, British citizens and the citizens of Afghanistan," the United Kingdom Ministry of Defence said. "We are in close contact with our US and other NATO allies at an operational level on the immediate response to this incident."
Other nations are coordinating with the U.S. and working to keep as many safe as possible.