This is the biggest dirty trick in the entire campaign. Don't fall for the Wisconsin  Rino Hunters scam on Joan Beglinger.

If you've received a text, direct mail piece, or seen an online ad from a group called "WI Rino Hunters" or "Wisconsin Rino Hunters" pushing Joan Beglinger for governor, please be aware that it's a scam.
Joan Ellis Beglinger was an independent candidate for governor. However, she dropped out of the Wisconsin governor's race and endorsed Tim Michels. Her real campaign website says, "Joan Ellis Beglinger ends run for governor to endorse Tim Michels and Ron Johnson." Her name will still appear on the ballot, but she is no longer in the race.
WI Rino Hunters is a last-minute scam. Campaign finance reports only show spending for the group in late October, and only targeting Tim Michels – to the tune of more than $624,000.
The spending is running through something called Liberty Group, Inc, with the address of 122 C Street NW, Ste 540, Washington, DC 20001. The WI Rino Hunters' group's address is the same. The phone number is: (385) 202-7284. We called it, and it lists to McCauley and Associates; you can ask to speak with Mike, Steve or Kate. The group has an email [email protected]. Mike McCauley is listed as the group's treasurer in campaign finance reports.
CF-7S Report of Independent Disbursements Late Contribution(12)
1100138FallPre-Election2022485871028202225830PMCF-2Report
The WI Rino Hunters scam has even created a fake campaign website for Beglinger that bashes Michels.
Worse, they've purchased a Google ad to drive people who google "joan beglinger" or "joan ellis beglinger" to the fake website. It's all designed to fool conservatives into thinking that Beglinger is still running.
Conservatives have received this lying direct mail piece (don't buy any of it; Tim Michels has solid conservative values. We are sharing it only so people can see what the WI Rino Hunters fraud group is up to):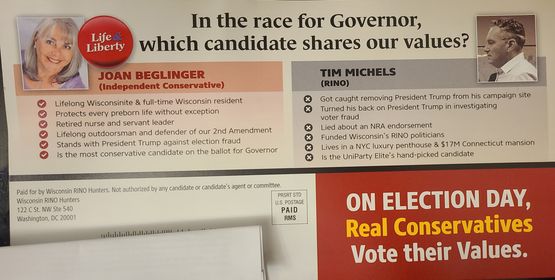 The media have failed to inform voters of the scam; they have also failed to ask Tony Evers, the Democratic National Committee and state Democratic Party if they are behind it, know who is behind it, and repudiate it. Whoever is behind it is willing to lie to voters to win. The effort clearly is designed to benefit Evers.
Beglinger, because some voters don't realize she dropped out, is still getting between .8% and 4% in the polls. In an almost dead-even race, that could matter.
The language of the fake campaign website and the Google ad are designed to appeal to conservatives, although the website reads like they were written by a liberal who has a stereotypical idea of conservatives. For example, the scurrilous, false website says, "The corporate, lamestream media wants you to believe you only have two choices for governor. Don't believe them. Vote Joan Beglinger for governor."
The truth is that there are only two choices for governor: Tony Evers and Tim Michels, who was endorsed by Joan Beglinger, who quit the race.
The fake website says that Beglinger is a "true conservative" and tries to mislead voters into thinking she is still in the race.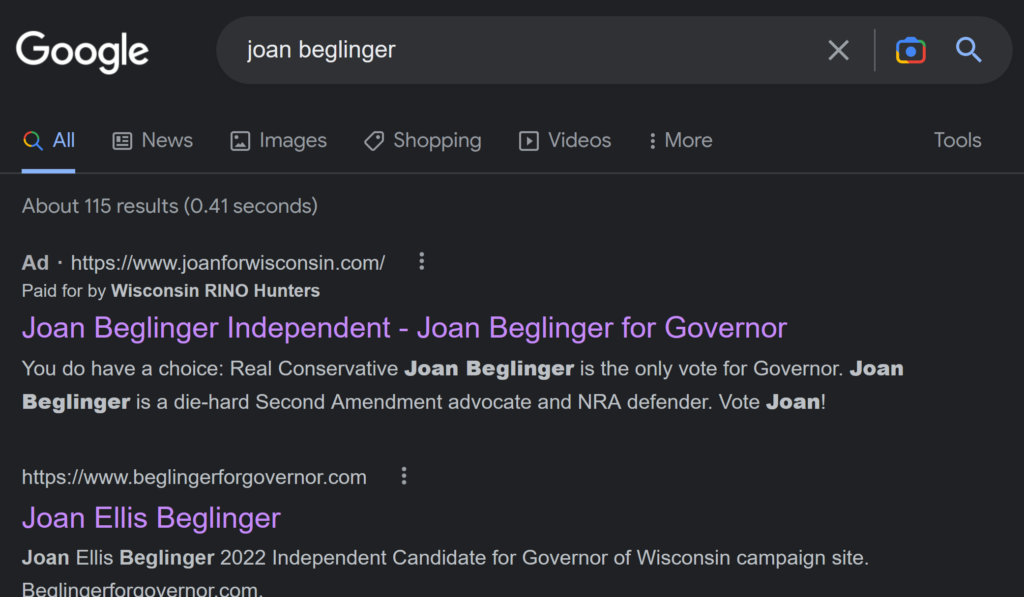 Who is behind it? That's unclear because it's a shadow group that doesn't disclose its funding, but the effort is clearly designed to help Gov. Tony Evers by tricking conservatives into throwing away their votes by casting their ballots for a candidate, Joan Beglinger, who is no longer in the race.
We researched the domain "joanforwisconsin.com" and found that it was created on October 24, 2022
---
Joan Beglinger herself has nothing to do with this scam. She has offered to help Tim Michels on the campaign trail.
It's a despicable dirty trick.
Wisconsin voters have also received text messages as part of this organized scam: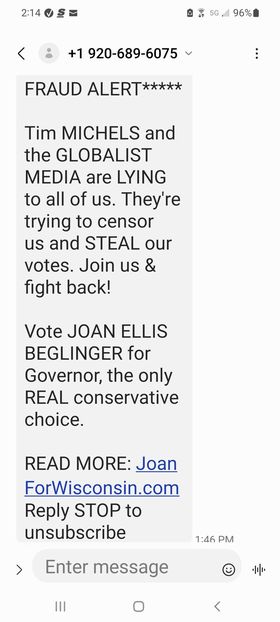 Who is Mike McCauley and what is McCauley and Associates? It's basically a firm for hire.
"McCauley & Associates, P.C., is a certified public accounting firm that provides full caging, accounting, treasury and reporting services for a large variety of political reporting entities, including Congressional and Senate campaigns, PACS, State and Local parties or candidate committees as well as other political entities including 527 and 501 (c)(4) organizations," its website says.
Weirdly McCauley has ties to the Utah Republican Party.
Who is actually funding the scam is unclear. It appears to be a scam designed to make people think Republicans are behind it, but we would note again, that it only potentially helps one person: Tony Evers.