Since 2019, Gov. Tony Evers' Parole Commission has released hundreds of convicted criminals, freeing them early on parole mostly into Wisconsin communities, including more than 300 murderers and attempted murderers, and more than 47 child rapists.
---
---
Todd Brecht was one of them. His release was discretionary.

59th in the series.
Todd Brecht murdered Buffalo County District Attorney Roger Hartman by shooting him in the back.
Today Brecht is 63.
The District Attorney Roger Hartman was shot in the back and died a month later from his wounds, according to a 1986 article in the La Crosse Tribune.
Brecht is the brother of Hartman's wife, Marlene, also called Molly. He was staying in the couple's Wisconsin home because they were trying to help him get his life back together after he got into trouble with the law in Georgia.
---
Evers' Parole Commission Paroled Todd Brecht Early
Date paroled: 11/9/2021 [You can look up Todd Brecht's parole here. Put his name in the database and click "movement."]
Age: 63
Convicted: First-degree intentional homicide
Sentence:  Life Sentence plus 2 years for escape which he is currently serving.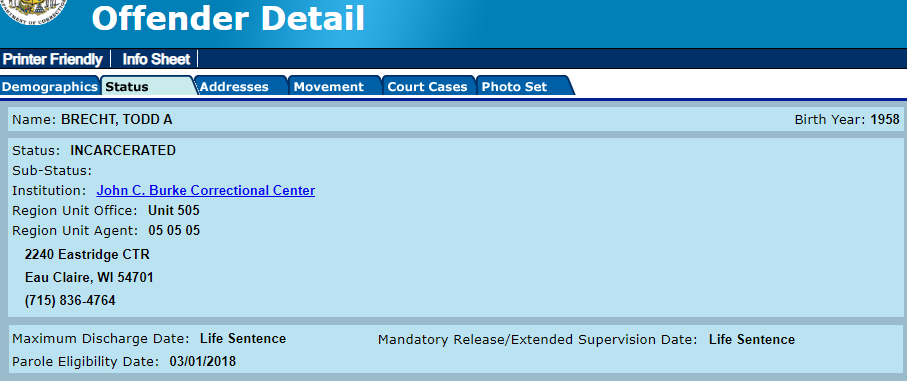 ---
The Victim: Buffalo County District Attorney Roger Hartman, 56
---
What the Killer Did:
Hartman, 56, was the former district attorney of Buffalo County. He was shot at his home in Alma.
Brecht had a prior criminal record.
The prosecutor said Brecht waited in ambush in the downstairs hall and then shot Hartman in the back with a .22-caliber rifle and left him lying there.
"He put a bullet in the back of the DA," said the prosecutor.
After being shot, the victim was in a coma and had a heart attack. Doctors removed a kidney.
Brecht was staying at the Hartman home. The motive was never clear.
The victim crawled to a neighbor's house on his knees after being shot, and the neighbor found him "lying face down, sprawled on the floor," according to a 1985 article in the Eau Claire Leader-Telegram.
The victim and his wife had tried to help Brecht, arranging for him to get probation and a "fresh start," paying back money he stole from a restaurant and court fees for a Georgia criminal case, according to an old article in the La Crosse Tribune.
He received a life sentence. Killers serving life sentences do not qualify for mandatory release. The parole was discretionary.
Brecht was paroled from the murder sentence on 11/9/2021, according to the Wisconsin Parole Commission. He is currently serving a sentence for escape. He briefly escaped from prison in 2013. He used a golf cart to escape a prison detail.
Because he was paroled from the life term for murder, he will be released once he finishes serving the sentence for escape, which was 2 years in prison after the completion of the murder sentence.
He was convicted of first-degree murder in 1985 in Buffalo County.