Since 2019, Gov. Tony Evers' Parole Commission has released hundreds of convicted criminals, freeing them early on parole mostly into Wisconsin communities, including more than 300 murderers and attempted murderers, and more than 47 child rapists.
David Lahti was one of them. His release was discretionary.

53rdth in the series.
"We're fearful for the community," Linda Frederick, of Kenosha, told the Kenosha News when Evers' appointee freed David Lahti, the man who murdered her husband, Richard V. Frederick Sr., on Halloween night 1985.
According to the newspaper, she thought he would never get out of prison. After all, he received a life prison term.
That was before Tony Evers took office and appointed John Tate as parole chair.
The newspaper article says the parole came as "startling news" to the Frederick family.
According to the Kenosha News, the victim and killer lived in an apartment building in Kenosha.
Lahti had told an apartment manager that he was going to kill people at the apartment building – for no reason.
He randomly chose Frederick and shot him through the heart in the hallways, then shot him again in the back, the newspaper reported.
"They knew very little about each other," Linda Frederick told the Kenosha News. "David Lahti said he didn't care if Jesus Christ was standing there; he was going to kill him."
At the time DA Michael Graveley, a Democrat, called the paroles of serious offenders "a trend."
He criticized it, telling the Kenosha News, "It's clearly my impression that these families are being caught off guard…David Lahti committed one of those senseless, unexplainable murders that are frightening."
---
Evers' Parole Commission Freed David Lahti Early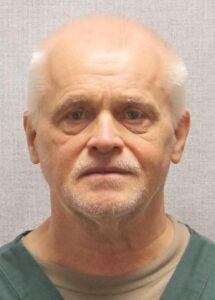 Date paroled:   [You can look up David Lahti 's parole here. Put his name in the database and click "movement."]
Current Residence: Kenosha
Age: 75
Convicted: First-degree intentional homicide
Sentence:  Life Sentence, plus 5 years. Killers serving life sentences do not qualify for mandatory release. The parole was discretionary.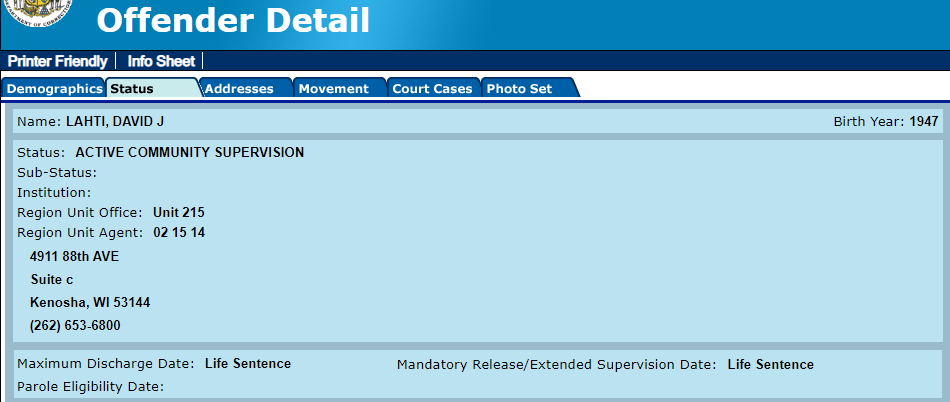 ---
The Victim: Richard V. Frederick, 39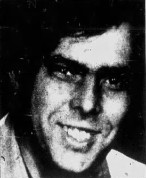 ---
What the Killer Did:
The victim was shot in the kidney and heart, according to a 1986 article in the Kenosha News.
Even the defense attorney called it a "cold-blooded, senseless murder…"
The victim was a married father of three.
At the time of the murder, Lahti was already on probation for a firearms offense.
The prosecutor called Lahti, who recently worked at American Motors, a "walking time bomb." The prosecutor's theory was that Lahti was upset with Frederick because Frederick "told him to turn down his loud stereo," a 1986 article in The Kenosha News said.
A witness testified that two weeks before the murder, Lahti "showed him a pistol, said he hated two residents of the building and wanted to shoot them." One of them was Frederick.
That's according to a 1985 Kenosha News article, which says that man testified that Lahti "went on talking about hating people…He said he saw Jesus Christ walking down the street and he'd like to blow his head off."