Timothy Jones is an attempted killer with a violent past who committed multiple new crimes while out on parole. But Tony Evers' Department of Corrections left Jones on the street even after he committed a string of new crimes a mere month after being released on a discretionary parole – and a court commissioner gave him a signature bond!
Unbelievably, in 2020, Jones was given a signature bond by Dodge County Court Commissioner Steven Seim; Jones then committed a second new crime a month after that, this time choking and punching a woman, chipping her tooth, after crawling through her window and threatening her. Only then was his parole finally revoked. DOC is directly under Evers' authority.
One of the criminal complaints says Jones told the victim he did not fear any  "consequences."
A 1992 article in the Capital Times explained that Jones, then 25, committed multiple attempted murders in Dane County. He shot three people in two different incidents. None of them died.
He was convicted in two 1991 shooting incidents and was sentenced to 50 years in prison. In the first case, he shot two men outside Antler's Tavern. He had propositioned a female bartender and one of the men had "intervened on her behalf." He was also charged with reckless injury for shooting a man outside a party. He was already a felon robber and firearm offender who had been paroled previously, the newspaper reported.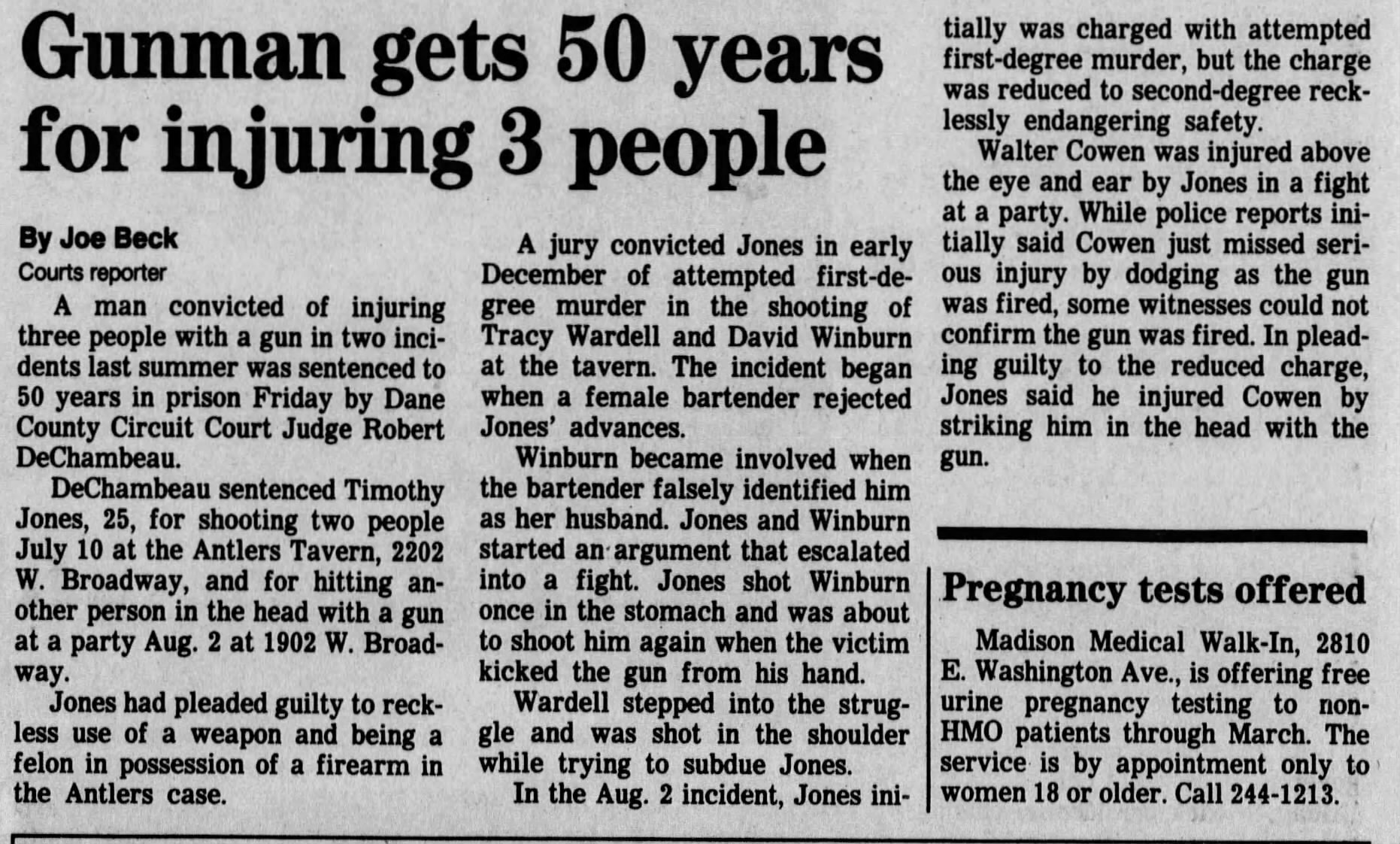 The victim shot outside the party, Walter Cowan, was 4 to 6 feet away from Jones when Jones pulled out a pistol and fired. The bullet grazed his head.
In the tavern shooting, the victims were David Winburn and Tracy Wardell.
Jones "pulled out a gun and shot Winburn in the chest, then walked toward him, and Winburn managed to kick the gun out of Jones' hand," according to a 1991 article in the Capital Times. Jones got his gun back and, as Wardell struggled with him, he shot Wardell in the stomach. A person hit Jones over the head with a bottle.
Fast forward to 2020, and Jones is freshly released on parole, and he immediately proves – twice – that he is still a danger to society.
"It is clear to this Court that society needs to be protected from him," the judge said in the 2020 sentencing him for the choking case. "As much as he may say that he has learned the lessons, the best prediction of future activity is a person's past actions. He drinks to the point of intoxication and does not only do dangerous things, he threatens people." Read the sentencing transcript here: Transcript of May 2 2022 Resentencing Hearing 2020CF62
Here's the timeline.
Jones was paroled on March 3, 2020, by Evers' appointee John Tate, according to state Department of Corrections records. Evers then reappointed Tate a year later, saying he was pleased to do so. This was a discretionary parole.
It took Jones exactly one month to commit a new crime, but there's no evidence DOC revoked his parole for it. In fact, he was released on a signature bond.
On April 3, 2020, according to a Dodge County criminal complaint obtained by Wisconsin Right Now, Jones was charged with felony fleeing an officer in Beaver Dam, obstructing an officer, driving after revoked, and possessing drug paraphernalia.
The officer said, "Timothy fled when I attempted to stop him and when he stopped, he took off on foot. I arrested Timothy for eluding, resist/obstructing, possession of drug paraphernalia, operating after revocation due to OWI, and a probation hold. I issued Timothy citations for speed, fail to stop at stop sign, fail to stop for a flashing red light, and operating left of center," according to the complaint. In addition to a vehicle pursuit, Jones led the officer on a foot chase.

His license was revoked due to an OWI.
The complaint says he was living in a local hotel but did have a job. The complaint noted, "I also saw Timothy was on parole for first-degree murder, endangering safety with a weapon, and felon in possession of a firearm. Dispatch contacted parole and advised them of the events that occurred. Parole said they were going to place a hold on Timothy." He had marijuana in his sleeve, the complaint says.
Read the complaint here: 2020CF000081 Criminal Complaint_1 – Jones, Timothy L.pdf 1786447
Unbelievably, Jones was still on the streets to re-offend AGAIN in May 2020. This time he was accused of felony strangulation and suffocation as a domestic abuser and repeater and substantial battery – domestic abuse, disorderly conduct, criminal damage to property, criminal trespassing, and bail jumping.
The crimes happened in the City of Markesan. According to the criminal complaint:
The victim said she was at her house with her boyfriend, who was Jones, and her family. Jones began doing shots of Jack Daniels with her mother. He became intoxicated and when she went to wake him up and helped walked him to her car. He puked all over the car.
Once they got into Timothy's apartment, she tried to help him get the dirty clothes off, but he "backhanded her so hard that she fell off the bed to the ground." She went to leave, but Timothy ran over and slammed the door and grabbed her. He told her "that he has a gun and isn't afraid to use it."
When he went to the bathroom, she was able to grab her things and ran out of the apartment and drove home.
An hour later, she heard Jones outside her bedroom window screaming and pounding on the glass. He then crawled through a window into her house. She told him to leave but he wouldn't. He "grabbed her neck and attempted to choke her." Her mother was there and grabbed Timothy's hand away.
A neighbor came over to help but Timothy struck the victim in the face and mouth chopping her tooth. The neighbor got him out of the house and he stood screaming for 15-20 minutes.
He said "he's not afraid of any consequences, he will get what he wants" and if you call cops I will hurt you all." He told the victim's roommate "I'm not afraid to die and I know you are but I could make it happen faster for you."
At the bail hearing, in Green Lake County, the prosecutor told the judge that the victim feared for her life and safety.
Read the criminal complaint here:
The prosecutor explained,
"He is currently on parole from a 1991-CF-1169 case out of Dane County where he was convicted of two counts of attempted first degree homicide, endangering safety by use of a dangerous weapon, and a felon in possession of a firearm. He was paroled on March 3rd of 2020. He had to go serve a few days in jail in Milwaukee for an old OWI ticket. He was released from Milwaukee County March 7. Since then he has picked up a fleeing, resisting, OAR, and possession of drug paraphernalia in Dodge County. That case is open and pending. He also has prior convictions in a 1991-CF-1168 case out of Dane County for
second degree reckless injury as a repeater; an 89-CF-892705 out of Milwaukee County for felon in possession of a firearm; 88- CF-882314 for a theft; and there are three older convictions in the '80s, from '85 and '86, that I am not certain what the charges are but there were — or the dispositions at this point in time."
At that hearing, the state asked for bail to be increased from $5,000 to $10,000. However, by that time, he was already on a parole hold, and he remained in custody after that point, according to court records.
Read the bail hearing transcript here: Transcript of May 8 2020 Bond Hearing.2020CF62
On Dec. 2, 2020, Jones was "returned from parole" and incarcerated in state prison again, according to DOC. He is currently incarcerated at New Lisbon Correctional Institution.