Since 2019, Gov. Tony Evers' Parole Commission has released hundreds of convicted criminals, freeing them early on parole mostly into Wisconsin communities, including more than 270 murderers and attempted murderers, and more than 44 child rapists.
Donell McKennie was one of them. His release was discretionary.

19th in the series.
What Donell McKennis did to tiny Drake London, age 17 months, has to be one of the most horrific child abuse deaths in state history.
McKennie is accused of beating and torturing Drake. McKennie was the live-in boyfriend of the toddler's mother. The details come from a Kenosha News story at the time:
The mother described the 1997 beatings endured by the child in Kenosha County as "torture." The child had previously been in a foster home, and his foster mother objected to him being placed back with his mother.
The district attorney at the time, Robert Jambois, accused McKennie of being motivated by racism, saying he beat the child "because of his light skin." McKennie was black and London mixed race, according to the Kenosha News. The child died of "massive head injuries."
McKennie had "made statements he had been particularly rough with the infant Drake London because Drake London was so light-skinned" so he needed to be raised to "respect" black men, the newspaper reported.
One day, the toddler was forced by McKennie to stand for long periods of time in a corner "holding a heavy book" and was "beaten when he dropped it," the article says.
Drake's mother witnessed McKennie "hit Drake on the side of his face, knocking him off his feet" and saw the child staggering around the house.
One day, McKennie, then 20, beat the boy throughout the entire day, starting at 8 a.m., and taking "breaks for naps and sex," the story says.
He "force-fed" the child chili powder when Drake "knocked over a cup of water" and "he had to hold him up to continue beating him."
Drake's death sparked new legislation called the "Drake London law."  It allowed "court-sanctioned volunteers to monitor the health and well-being of abused children," and it was signed by Gov. Tommy D. Thompson and co-sponsored by two Democratic lawmakers, Sen. Robert Wirch and Rep. John Steinbrink, the Kenosha News reported at the time.
Jennifer Gille, who was Drake's foster mother, told the Kenosha News at the time of the new bill, "How many of you have seen a child in a casket? How many of you have seen a child in a casket, one who died from beatings so severe that bruises were still visible on the child's body."
Gille said, "We loved, cared for, cuddled, fed, bathed, changed and sang to Drake London. He was a real person, a real baby, a real child."
---
Evers' Parole Commission Freed Donell McKennie Early
Date paroled: 10/08/2019 [You can look up his parole date yourself by clicking here and putting his name in. Then click "movement"]
Current Residence: Oshkosh
Age: 45
Convicted: 1st-Degree Reckless Homicide, Child Abuse-Intentionally Cause Harm, 1998
Sentence: 45 Years. His mandatory release date is not until 2027. The parole was discretionary.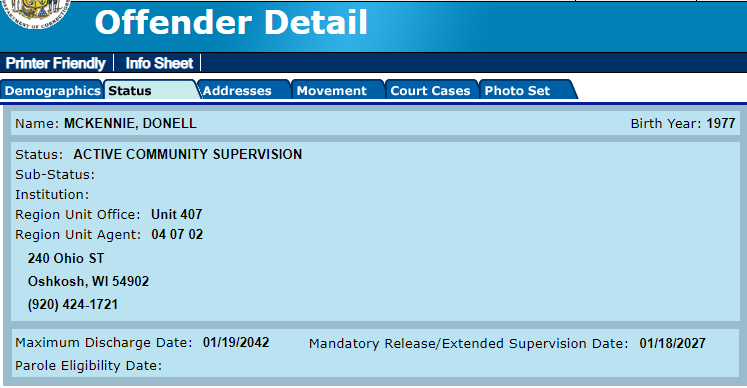 ---
The Victim: Drake London, 17 months old

---
What The Killer Did:
An old newspaper article from the Kenosha News described Donell McKennie Jr. as frowning while three police detectives "described the bruises, scrapes, welts, red marks and other injuries that caused the death of 17-month-old Drake London."
A group of foster parents who knew the boy cried and gasped in court.
Drake had a seizure and then died.
Drake had a large red mark on his stomach, scrapes, bruises and welts. McKennie violently shook the child and smashed his head into a wall.
The Wisconsin Parole Commission says that McKennie was paroled on the child abuse intentionally causing harm charge in October 2019. The defendant was also convicted of first-degree reckless homicide. He lives in Oshkosh today.