Since 2019, Gov. Tony Evers' Parole Commission has released hundreds of convicted criminals, freeing them early on parole mostly into Wisconsin communities, including more than 270 murderers and attempted murderers, and more than 44 child rapists.
Terrance Harris was one of them. His release was discretionary.

18th in the series.
The death of a child is a community tragedy, and 13-year-old Laquann Moore's death was a big deal when it happened, galvanizing the City of Milwaukee against skyrocketing violent crime. Homicide numbers have been at record highs now for several years in a row, but back in 1996, the city was in the midst of its previous highest violent crime era.
The way the girl died tore at people's heartstrings; Laquann was simply sitting on a porch with her 11-year-old friend, Shalonda Young, when a bullet struck Laquann in the abdomen and traveled through her body into Shalonda's chest. Shalonda was wounded but survived. Laquann died that day.
A neighbor heard the shots "and ran to find Laquann lying on the porch," according to a 1996 article in the Wisconsin State Journal.
She was "Lying in a pool of blood. You could tell she had tried to run by the way she was on the floor, but it also looked like she had been stopped dead in her tracks."
Brothers Terrance and Larry Harris were convicted in the girl's murder. Milwaukee's mayor had programs from the girl's funeral sent to the men in jail.
Laquann had innocently scribbled over and over again in her school notebooks that "God loves Laquann." But she did not live to 14.
The girls caught stray bullets between two cars of warring crack dealers.
There was wall-to-wall news coverage when the girls were shot in 1996.
When Terrance Harris was paroled in 2020, no one published a word.
---
Evers' Parole Commission Freed Terrance Harris Early
Date paroled: 8/14/2020 [You can check his parole date for yourself here by putting in his name and clicking on "movement"]
Current Residence: Eau Claire, WI
Age: 43
Convicted: First-degree intentional homicide, 1996
Sentence: Life sentence with no possibility of parole for 35 years, plus 20 years for the wounding of Laquann's 11-year-old friend.  Life sentences do not quality for mandatory release. The parole was discretionary. Court records say: "Terrance was convicted of both charges by the jury and the trial court sentenced him to life imprisonment with a parole eligibility date in the year 2031 for the first charge, and gave him a twenty-year consecutive sentence on the second charge."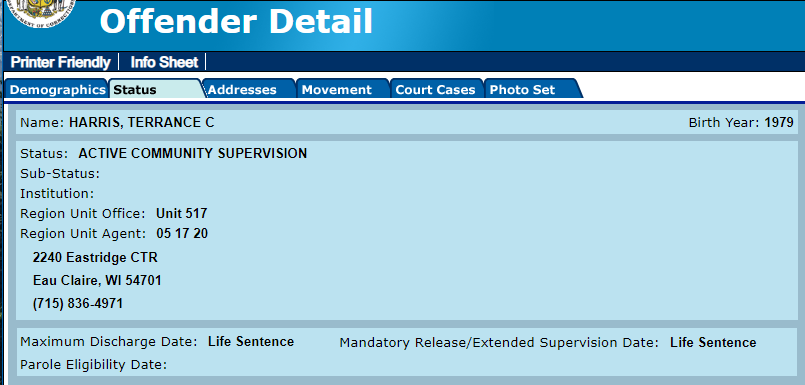 ---
The Victim: Laquann Moore, 13
---
What the Killer Did:
According to news articles at the time, Larry Harris was in a feud with crack dealers when it escalated on a city street.
Terrance, then 17, got an AK-47 assault rifle from a friend and drove wildly the wrong way down a one-day street as Larry, then 18, fired out the window at another car of crack dealers. They rented the rile "for the price of a fast-food dinner," an old newspaper article says.
The bullets hit the two children, who were simply sitting on a nearby porch.
"Two young girls, Shalonda Young and Laquan Moore, who were standing on a nearby porch, were struck by a stray bullet, which first entered and exited Laquann and then struck Shalonda," court records say.
"Laquann died as a result of her injuries and Shalonda was seriously wounded."
"After sentencing, Terrance filed a postconviction motion seeking independent DNA testing of the blood sample found on the bullet, recovered by the police. He theorized that if the DNA test results identified the blood of only one girl on the bullet, that he could not be held legally responsible for the harm that occurred to the other girl. The trial court denied his postconviction motion," court records say.
Terrance was convicted as a party to the crime. The court records explain:
"Although Harris was not the shooter, he can be convicted regardless of who was shooting if he fulfills the definition of a party to a crime found in 939.05(1) and (2), Stats. Ample evidence supports the jury's finding that Harris was guilty of first-degree intentional homicide, while armed, as a party to the crime.
Harris was driving the car in pursuit of a man with whom his brother had argued earlier. During the search for Rollins, Harris stopped the car so that the assault rifle could be retrieved from the trunk. Not only did Harris aid and abet, but also he conspired with others in the attempt to kill Rollins. Moreover, a defendant can be convicted of first-degree intentional homicide when he shoots with intent to kill one victim, but instead misses and strikes a second victim who dies. See Austin v. State, 86 Wis.2d 213, 220‑25, 271 N.W.2d 668, 671‑73 (1978).
…Here, sufficient evidence supports the jury's verdict. Harris was the driver of a car chasing another car in an urban area for the express purpose of attempting to shoot a person in the other car. Harris, the driver, permitted the assault rifle to be taken out of the trunk. Harris's brother, while shooting at the man in the car being chased, inadvertently killed a young girl and injured another while they played on a nearby porch. Clearly, Harris aided and abetted his brother's shooting. Harris was a willing participant in this incident. Accordingly, under these facts, the jury could find Harris guilty of both charges."