Since 2019, Gov. Tony Evers' Parole Commission has released at least 884 convicted criminals, freeing them early on parole mostly into Wisconsin communities, including more than 270 murderers and attempted murderers, and more than 44 child rapists.
Norman Pepin was one of them.

12th in the series.
---
Norman Pepin is a double murderer who was a suspect in one of the Midwest's most notorious mass slayings.
The Wisconsin victims, John Brutcher and Roger Weeks, were engineers who had traveled to Milwaukee from California and Kentucky to attend an industrial training conference when they were robbed by Norman Pepin and another man alongside Interstate 94 in Oak Creek, Wisconsin.
Pepin, who was a parolee from Massachusetts, ordered them to lie face down in a roadside ditch along I-94 and then murdered them both, shooting them execution-style, according to news reports from the time.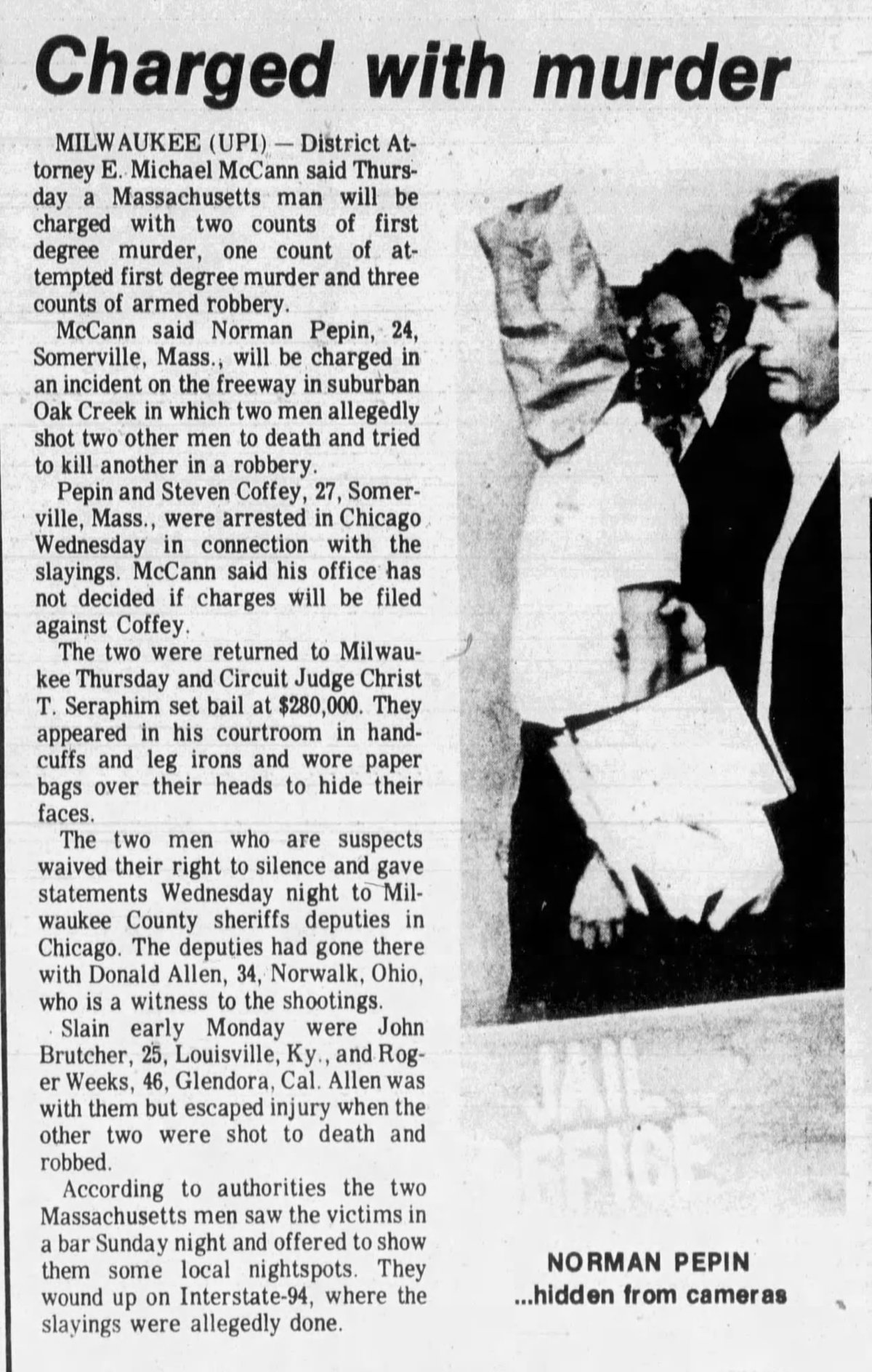 According to a 1979 article in the Indianapolis Star, Pepin and his accomplice were also investigated for the notorious Burger Chef murders of four young people (three of them teens) in Indiana. No one was ever charged in that infamous case, which still haunts Indiana to this day.
---
Evers' Parole Commission Freed Norman Pepin Early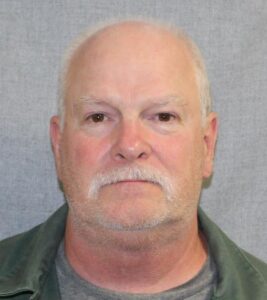 Date paroled: 08/10/2021. [You can check his parole date here by putting in his name and clicking on "movement."]
The released killer now lives: UNKNOWN. He has moved out of state
Age: 67
Convicted: First-degree intentional homicide X2, Robbery
Sentence: Double Life sentence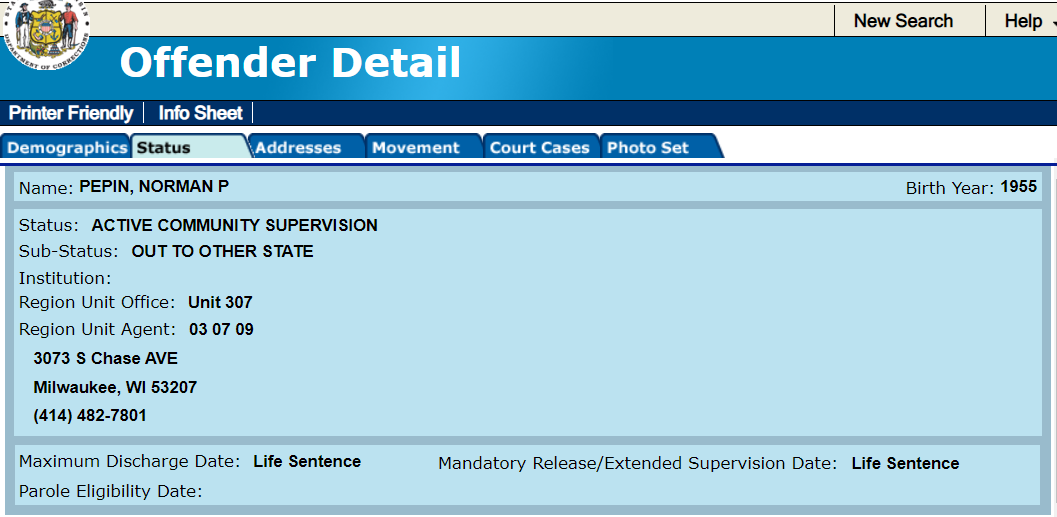 ---
The Victims: Roger A.Weeks, 46 & John R. Brutcher, 25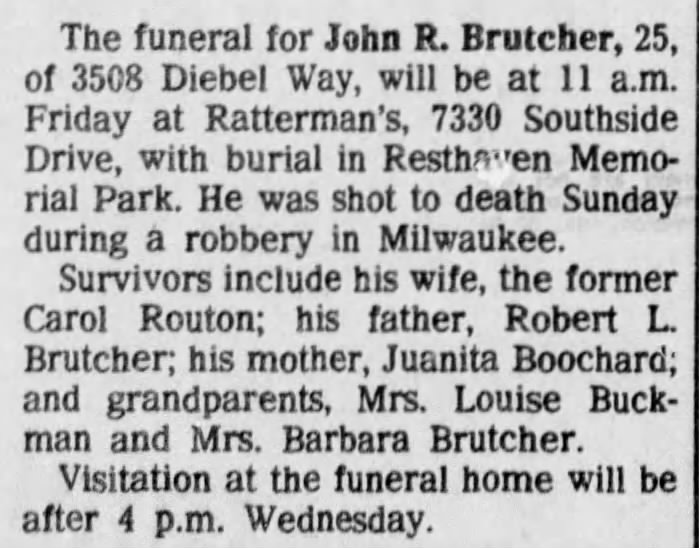 ---
What the Killer Did:
Norman Pepin and another man, Steven Coffey, robbed three engineers who were in Milwaukee for a conference. The victims were ordered to lie face down. Two of the victims were then shot and killed. The third was not injured, but was apparently left for dead, according to court records.
Although the third victim saw Pepin brandish the weapon prior to the shooting, he did not see the shooting itself.
An Associated Press story from 1979, accessed via Newspapers.com, said that the victims were out-of-town visitors who were slain on Interstate 94 in Oak Creek, Wisconsin.
Pepin, then 24, was from Massachusetts. The victims were from California and Kentucky; the surviving victim said they had met Pepin and the other man at their motel in Milwaukee while attending an industrial training conference. They were invited to see nightspots and went to a disco in Menomonee Falls.
Then, their hosts stopped their car beside I-94 south of Milwaukee, demanded their wallets, and shot them in a roadside ditch.
Pepin was a former shipyard worker from Massachusetts, the story reported. Indianapolis News reported in 1979 that Pepin and his accomplice were "wanted in Massachusetts for charges involving passing bad checks, larceny, conspiracy and receiving a stolen car" and Pepin was already on Massachusetts parole.
Pepin was pinned as the main actor by the surviving engineer who told authorities Pepin's accomplice, Steven Coffey, seemed "surprised" by the shootings, according to news articles from the time. The survivor was grazed by a bullet and told police Pepin and Coffey ordered them out of their car along I-94, took their wallets, and then shot them. The survivor pretended he was dead.
Police said the men engaged in a "jaunt" that started with a burglary in Massachusetts.
What of the Burger Chef murder investigation?
They were investigated in the Burger Chef murders because they resembled police sketches in that case.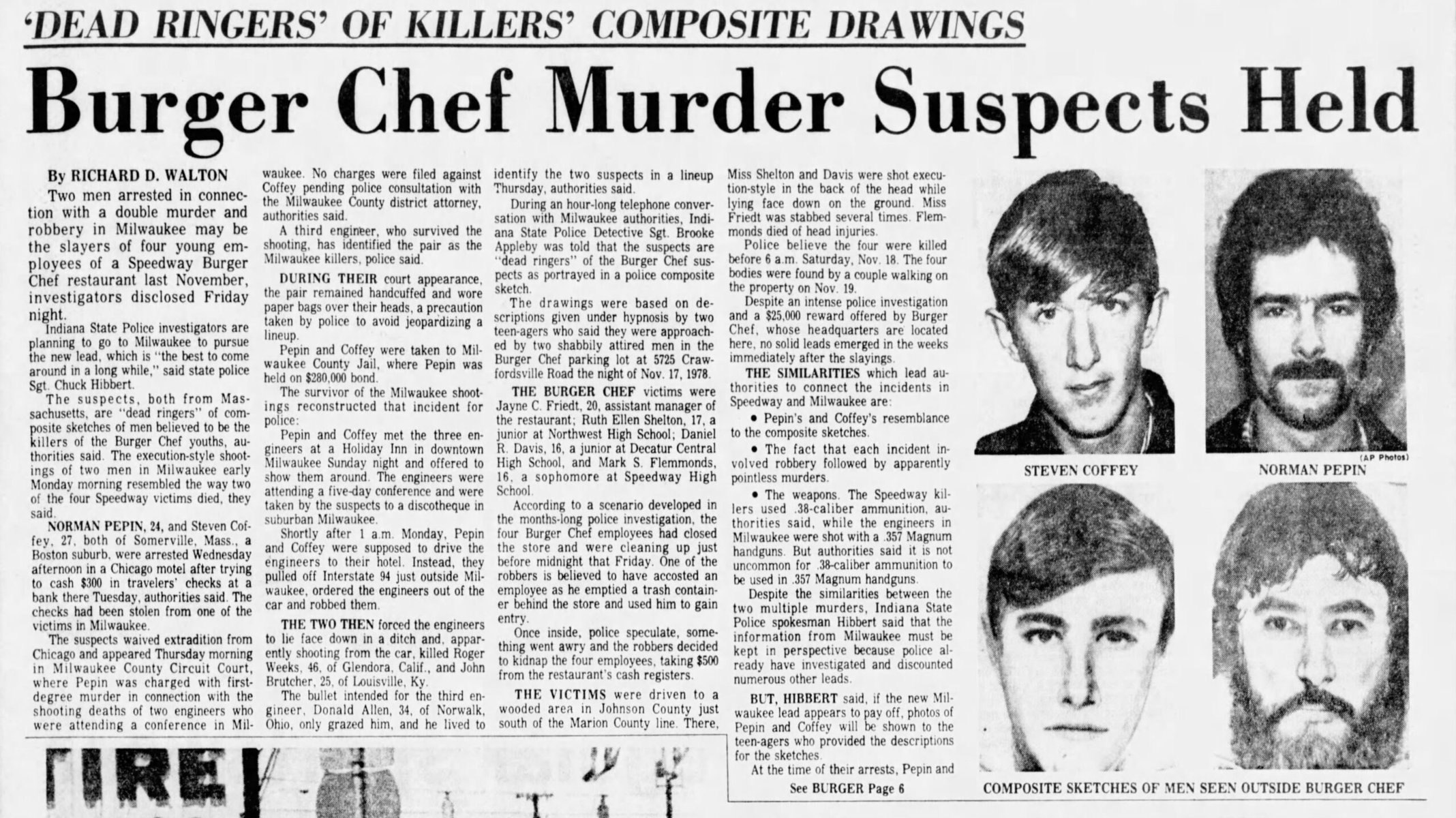 In the Burger Chef case, Pepin and the other Milwaukee killer were described as "dead ringers" for a police sketch of suspects in the slayings of four people abducted from the fast-food restaurant in Indiana on Nov. 17, 1978, a few months before the I-94 murders.
According to IndyStar, those victims were "Jayne Friedt, 20, was the assistant manager on duty, along with employees 17-year-old Ruth Shelton and Daniel Davis and Mark Flemmonds, both 16."
The newspaper reported:
"Friedt and three teens who worked at the Burger Chef were abducted from the restaurant at closing time and taken to a remote field in Johnson County. Their bodies were found two days later.
Ruth Shelton, 17, and Daniel Davis, 16, were shot in the back of the head as they lay face down next to each other. Mark Flemmonds, 16, died choking on his blood. He might have run head first into a tree while trying to flee and been knocked unconscious."
Money was missing from the restaurant. However, police messed up the crime scene by allowing the restaurant to be cleaned before evidence and photos were taken.
The slayings were never solved and, over the years, other viable suspects were investigated. The main one was a convicted rapist named Donald Forrester, who confessed to the murders to avoid getting sent to a worse prison. His ex wife backed up his story that he took her to the scene where the bodies were found and picked up shell casings, flushing them down the toilet.

Shell casings were found in a septic tank. He knew details some investigators said were not widely known about the murders. However, he failed polygraph tests, and recanted after his name was leaked to the media, was never charged and has since died.
A 1979 article in the Indianapolis Star reported that Pepin and his accomplice were investigated as suspects because of their similarity to the sketch; the fact both crimes were robberies and senseless murders; and because the weapons in Indiana used .38 caliber ammo. The engineers were shot in Milwaukee with .357 Magnum handguns and it's not uncommon for .38 caliber ammo to be used in that kind of handgun. Pepin was never arrested nor formally accused of the Burger Chef crimes. Authorities investigated possible suspects in multiple states.