Will the media ask Kaul why he lists zero law enforcement endorsements or will they show bias by ignoring the question?
Democratic Attorney General Josh Kaul lists ZERO law enforcement endorsements, as concern grows that he is politicizing the Department of Justice over public safety amidst historic homicide spikes, Wisconsin Right Now can reveal.
We scoured Kaul's website, his social media, and his press releases, looking for a SINGLE law enforcement endorsement for the state's "top cop." We could find NONE. This is in direct contrast to his Republican opponent for Attorney General, Eric Toney, the Fond du Lac County District Attorney.
The complete lack of law enforcement endorsements listed is very unusual even for a Democratic official. Previously, Democratic officials like Supreme Court Justice Shirley Abrahamson publicly touted law enforcement endorsements. Not Kaul. (In 2018, Kaul was endorsed by future President Joe Biden.)
"District Attorney Eric Toney is already endorsed by over 100 Sheriffs, District Attorneys, and Police Chiefs, and has been unanimously endorsed by the Wisconsin Fraternal Order of Police State Lodge, Milwaukee Police Association," Toney's website says.
Toney is also endorsed by the Racine Police Association and Milwaukee Police Supervisors Organization.
On Aug. 20, 2022, we wrote Kaul's campaign and asked for a list of any law enforcement endorsements received by Kaul, including police chiefs, law enforcement associations, District Attorneys, and sheriffs. We received NO RESPONSE.
Will the other media ask?
Kaul proudly lists non law enforcement endorsements on his website, under different sections of his issue platform page, like the Clean Action Wisconsin Fund, Planned Parenthood, NARAL, and End Citizens United. But under the law enforcement section, he lists none.
We looked through the news page on Kaul's campaign website, where he touts crackdowns on robocalls and shares many stories about abortion, but we did not find a single law enforcement endorsement. We scoured his Twitter and Facebook pages to no avail. We did find that he routinely touts endorsements on those pages, but we could not find a single one related to law enforcement. Instead, he touts a union and left-wing partisan groups. In one tweet, he's called the state's "chief lawyer," not the top cop.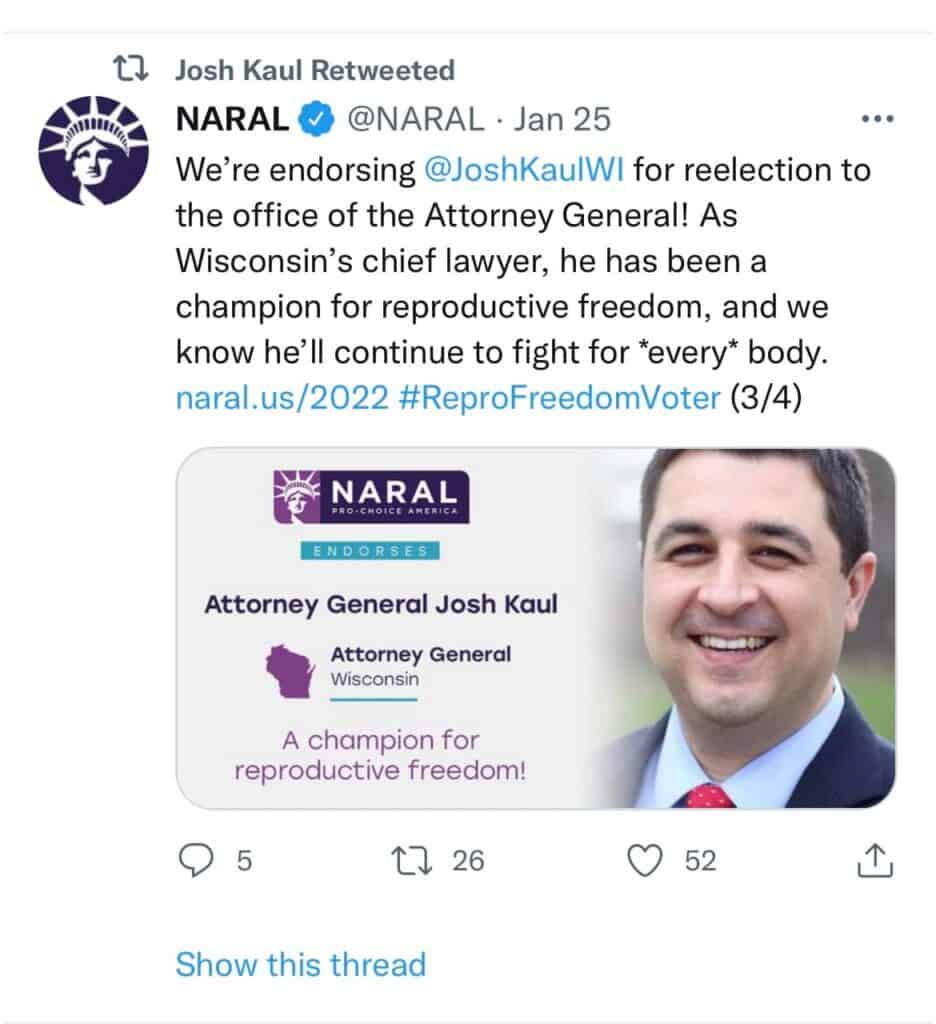 We googled Kaul and endorsements and no law enforcement endorsements came up, just a union and left-wing partisan groups. Vote Smart lists no law enforcement endorsements for Josh Kaul.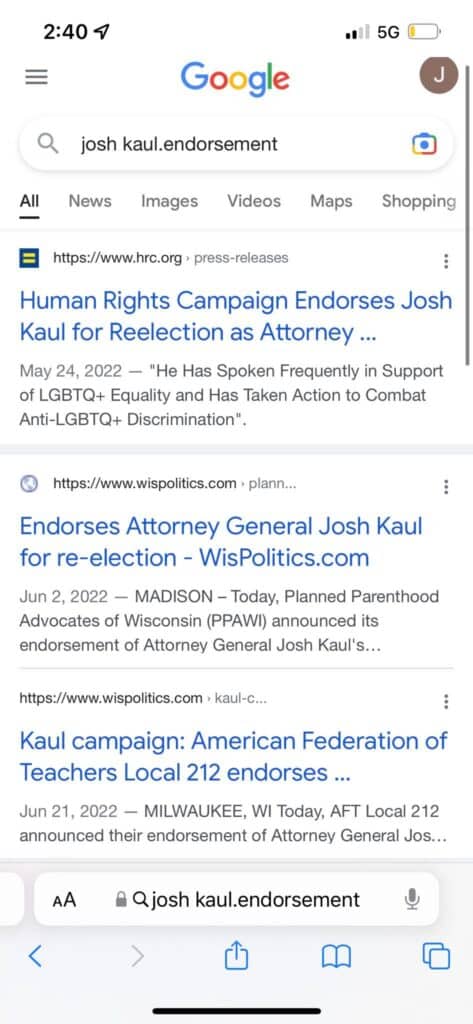 Toney has criticized Kaul for delays in the state crime lab, politicizing the office and defunding its public safety mission by leaving prosecutor positions vacant.
Kaul's endorsements are political or left-wing.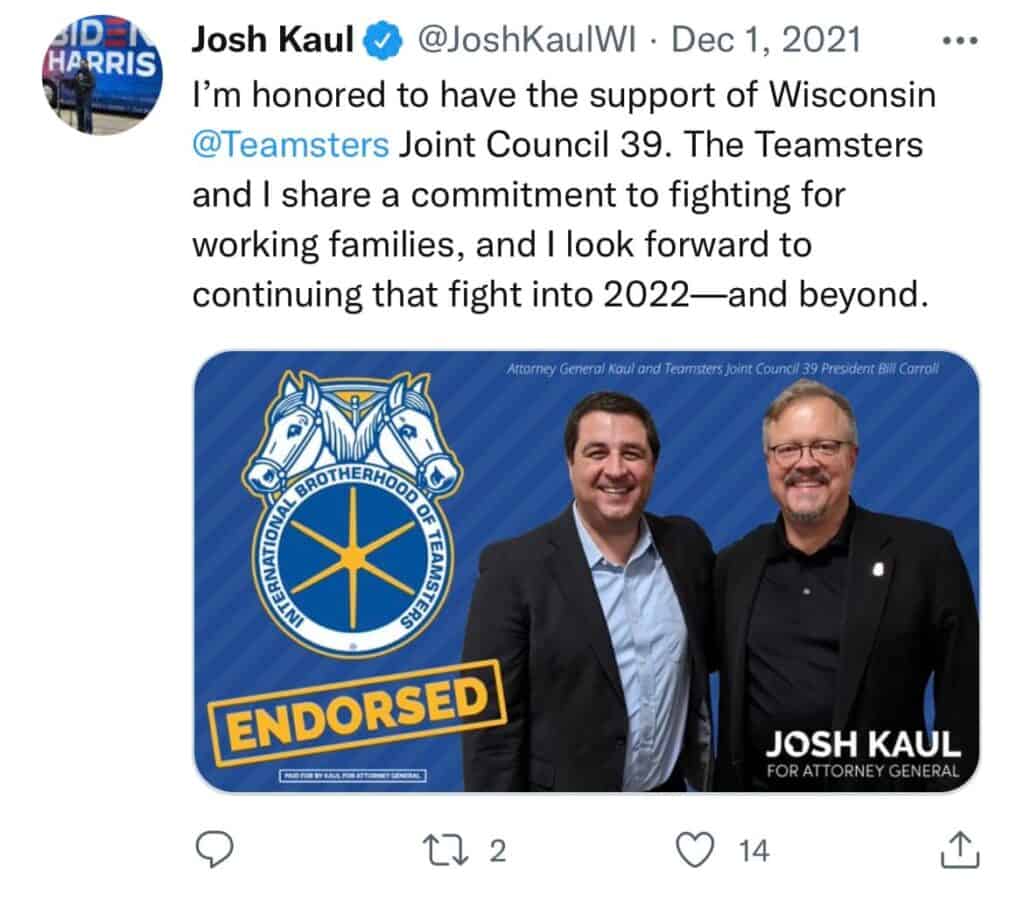 In addition to the police association endorsements, Toney lists the following:
Sheriffs
Adams County Sheriff Brent York
Bayfield County Sheriff Paul Susienka
Brown County Sheriff Todd Delain
Buffalo County Sheriff Michael Schmidtknecht
Calumet County Sheriff Mark Wiegert
Clark County Sheriff Scott Haines
Columbia County Sheriff Roger Brandner
Dodge County Sheriff Dale Schmidt
Dunn County Sheriff Kevin Bygd
Eau Claire County Sheriff Ronald Cramer
Florence County Sheriff Dan Miller
Fond du Lac County Sheriff Ryan Waldschmidt
Grant County Sheriff Nate Dreckman
Green Lake Sheriff Mark Podoll
Iron County Sheriff Paul Samardich
Juneau County Sheriff Brett Oleson
Kenosha County Sheriff David Beth
Kewaunee County Sheriff Matthew Joski
La Crosse County Sheriff Jeff Wolf
Lafayette County Sheriff Reg Gill
Langlade County Sheriff Mark Westen
Manitowoc County Sheriff Dan Hartwig
Marathon County Sheriff Scott Parks
Marinette County Sheriff Jerry Sauve
Marquette County Sheriff Joe Konrath
Monroe County Sheriff Wesley Revels
Oconto County Sheriff Todd Skarban
Oneida County Sheriff Grady Hartman
Ozaukee County Sheriff Jim Johnson
Pepin County Sheriff Joel Wener
Pierce County Sheriff Nancy Hove
Racine County Sheriff Christopher Schmaling
Rusk County Sheriff Jeff Wallace
Sauk County Sheriff Chip Meister
Sawyer County Sheriff Doug Mrotek
Shawano County Sheriff Adam Bieber
Sheboygan County Sheriff Corey Roesler
St. Croix County Sheriff Scott Knudson
Taylor County Sheriff Larry Woebbeking
Walworth County Sheriff Kurt Picknell
Waupaca County Sheriff Tim Wilz
Washington County Sheriff Martin Schulteis
Waushara County Sheriff Walter Zuehlke
Winnebago County Sheriff John Matz
Vernon County Sheriff John Spears
Vilas County Sheriff Joseph Fath
Sheriff Mylan Fink*
Sheriff Gary Pucker*
Sheriff Jim Gilmore*
Sheriff David Graves*
Police Chiefs
Greg Dieke
Renee Schuster
Sean Marschke (former President: Wisconsin Chiefs of Police Association)
Scout Louden
Thomas Bishop
Thomas Dornbrook
William Wallner
Gary Durkee

Gary Rose

Aaron Goldstein

Paul Mott

Nate Klapoetke
Bryan Frank
Kevin Fenske

Russ Monacelli*

Kevin Verdine*
Dale Heeringa*
Dave Lukoski*
Tony Barthuly*
William Lamb*                                                              
District Attorneys  
Brown County County DA David Lasee
Calumet County DA Nathan Haberman
Clark County DA Melissa Inlow
Chippewa County DA Wade Newall
Dodge County DA District Kurt Klomberg
Douglas County DA Mark Fruehauf
Green County DA Craig Nolan
Iron County DA Matthew Tingstad
Juneau County DA Kenneth Hamm
Lafayette County DA Jenna Gill
Langlade County DA Elizabeth Gebert
Lincoln County DA Galen Bayne-Allison
Manitowoc County DA Jacalyn LaBre
Marinette County DA DeShea Morrow
Monroe County DA Kevin Croninger
Outagamie County DA Melinda Tempelis
Oconto County DA Edward Burke
Ozaukee County DA Attorney Adam Gerol
Polk County DA Jeff Kemp
Richland County DA Jennifer Harper
Shawano County DA Greg Parker
Sheboygan County DA Joel Urmanski
St. Croix DA Karl Anderson
Washington County DA District Mark Benson
Waukesha County DA Susan Opper
Waupaca County DA Veronica Isherwood
Winnebago County DA Eric Sparr
Winnebago County DA Christian Gossett*
Fond du Lac County DA Tom Storm*