Please media, do better. Your bias is showing.
Wisconsin journalist Sophia Voight is ignoring the obvious evidence on the Marquette Law School poll's historic weaknesses – in her own newspaper's archives – to unfairly needle Republican gubernatorial candidate Tim Michels.
Voight wrote this (our bold):
"After the latest Marquette University Law School Poll showed Republican gubernatorial candidate trailing Gov. Tony Evers by 2 percentage points, Tim Michels claimed without evidence it's because 'there's a class of people out there that does not talk to pollsters,'" the story read.
The Journal Sentinel doubled down on the false no evidence claim in a Facebook post about the story. "Michels made the claim without any evidence," they wrote.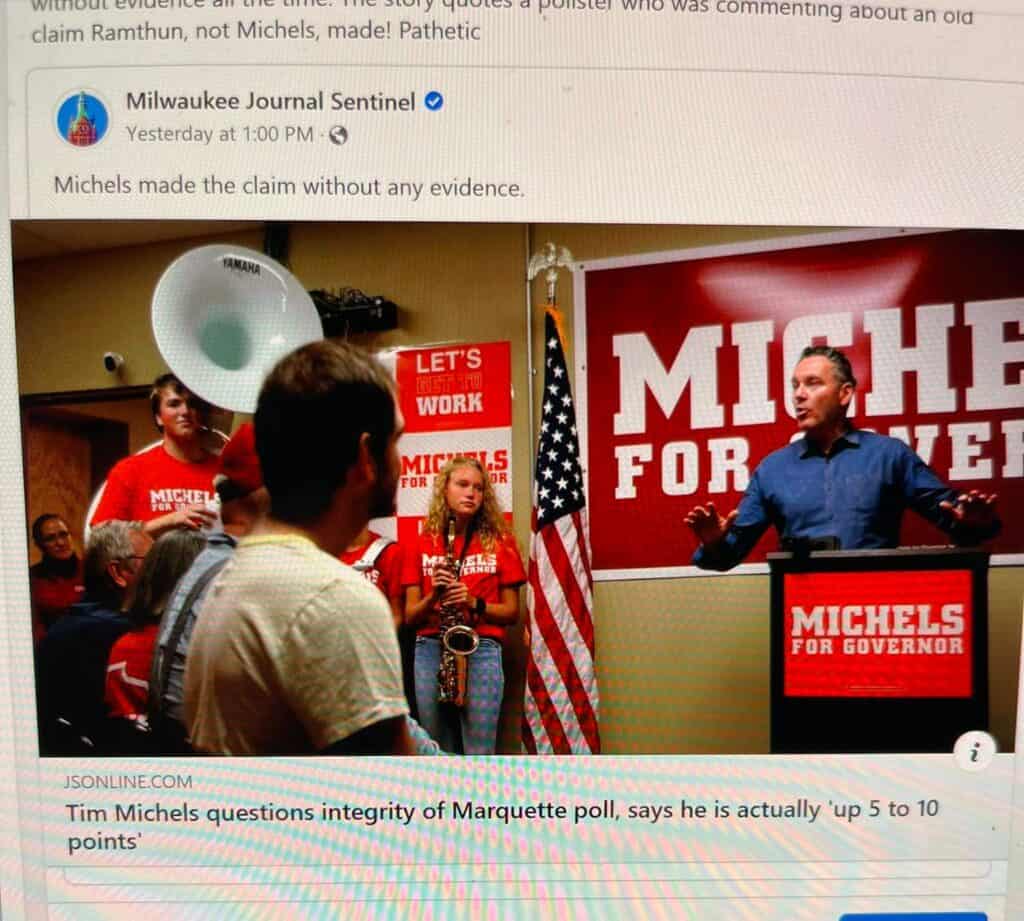 All Michels said was this: "If the polls say we're dead even right now, I believe in my heart that we are up at least 5 to 10 (percentage) points."
But there is evidence to back up the belief, in one's heart, that maybe polls don't always accurately pick up conservative support, including the Marquette poll but also other polling. Lots of it. Voight could start with this in-depth article by FiveThirtyEight on polls doing a poor job measuring Republicans; she could read this Bloomberg story on "shy Trump voters" throwing polls off; or this Politico story on polls missing conservative voters. Or, even more on point, she could just look at the history of the Marquette poll itself (we round up some examples later in this story.)
Without any evidence? There's plenty.
While the Marquette poll has often been accurate, it's been inaccurate when measuring top Republicans in some important and fairly recent statewide races (most notably Donald Trump and Ron Johnson in 2016.) And it's not just the Marquette poll; there are scads of stories discussing how inaccurate most polls were when measuring the Trump vote in 2016.
In otherwords, Michels is right.
The reporting/writing on social media imply that Michels is making an outlandish statement about the Marquette Poll or polls in general for which there is no evidence. It's almost like the reporters are attaching the repetitively obnoxious "falsehood, without evidence" language they use when reporting on 2020 election/Trump claims to Michels and a poll.
Voight is a reporter for the Appleton Post Crescent. Her story was also picked up by the Milwaukee Journal Sentinel. All she had to do to find the "evidence" was look in the archives of her own newspaper chain or just Google it.
For starters, Voight could have pulled up a 2019 article in the Post-Crescent newspaper where she works.
It reported, "Before the 2016 election, political polls across the globe were showing signs of strain in accurately predicting voter sentiment so much so that it's almost become easier to forecast their failure than the outcome of elections."
Voight's biased story also reported that Michels was "trailing" Evers in the latest Marquette poll, without telling readers the poll was in the margin of error.
The media seem to only write that Republicans make claims without evidence but don't seem to say Democrats make claims without evidence, even when they do.
We will do Voight's job for her. Here are some quick evidence points that show the Marquette poll is not always right and, in fact, can be quite off when it comes to conservatives. That's especially true when it comes to the Trump vote. And Michels is Trump-endorsed.
In fact, there were scads of stories about how inaccurate the polls were in general in 2016 when it came to measuring the conservative vote.
It took us about two seconds to find:
Marquette Poll Falsely Predicts Clinton Wins by 6
Marquette University Law School post, Nov. 2, 2016:
"New Marquette Law School Poll finds Clinton leading Trump by 6 percentage points in Wisconsin"
Marquette Poll Falsely Predicts Feingold Beats Johnson by 4
Marquette University Law School post, Sept. 21, 2016:
"In Wisconsin's U.S. Senate race, among registered voters, Democratic candidate Russ Feingold is supported by 45 percent while Republican incumbent Sen. Ron Johnson receives 41 percent. In March, Feingold had 47 percent and Johnson 42 percent."
Johnson ended up beating Feingold, 50.2% to 46.8%.
Marquette Poll Falsely Predicts Brad Schimel Wins by 4
Milwaukee Journal Sentinel story, Oct. 10, 2018
"Brad Schimel led Democat Josh Kaul, 47 percent to 43 percent."
Trump Underestimated in 2020 Again
Although the pollster called the winner right in the Wisconsin presidential election in 2020, they were still off. They predicted a 48-43 victory for Joe Biden over Trump. The actual margin was 49.5-48.8.
In addition, the pollsters said in June that Michels was in a virtual dead heat with Kleefisch, and he ended up winning by 5.2 percent. Granted, other factors, such as a lot of spending, occurred after that point.