Racine County Sheriff Christopher Schmaling, citing the "failure" of Attorney General Josh Kaul to investigate, is recommending that the Racine County District Attorney file felony criminal charges against five members of the state of Wisconsin Election Commission.
"Based upon multiple questions from various news organizations concerning the status of the Voter Integrity investigation that was explained in a news conference on October 28, 2021, the Sheriff's Office is again calling on Attorney General Josh Kaul to conduct a statewide investigation into the illegal directives issued by the Wisconsin Election Commission," Schmaling said in a news release on Nov. 3, 2021.
Democrat Kaul responded by trashing Schmaling, accusing him of "a disgraceful publicity stunt" and "an abuse of authority." However, the sheriff says he initiated the investigation at the request of the DA after the daughter of an elderly woman came forward to raise concerns about her mother's vote and treatment. He says he could not ignore what he believes are criminal law violations and alleged mistreatment of vulnerable elderly.
See the sheriff's full presentation, including timeline, here.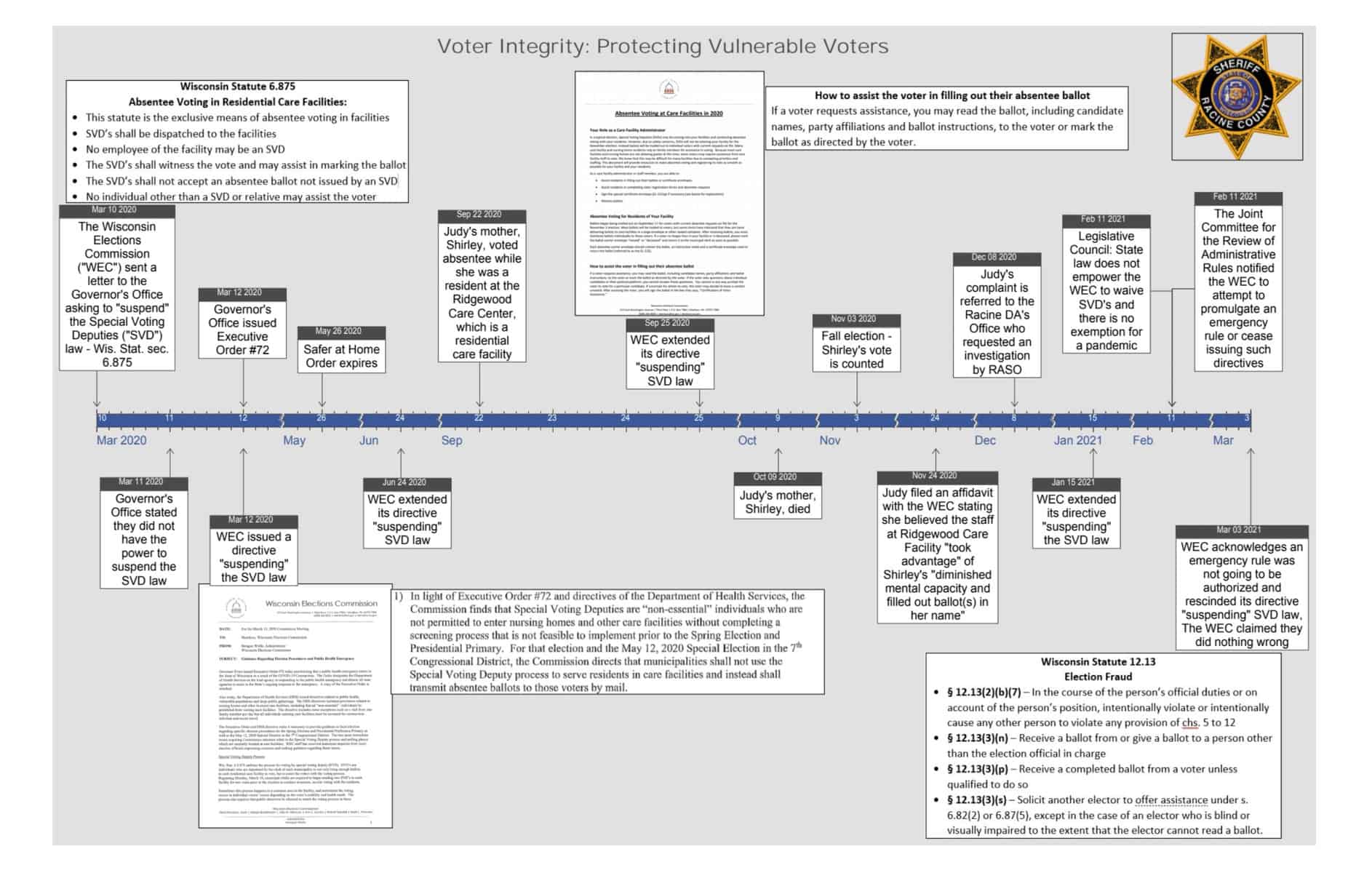 "In the directives, the Wisconsin Election Commission ordered the voting clerks in every municipality in the state to 'not use the Special Voting Deputy 'process'' as required by Wis. Stat. § 6.875."
Schmaling continued, "Because upon the failure of Attorney General Josh Kaul to initiate a statewide investigation, I have forwarded charging recommendations to the Racine County District Attorney's Office for their review.  The recommended charges are for Commissioners Margaret Bostelmann, Julie Glancey, Ann Jacobs, Dean Knudson, and Mark Thomsen." Bostelmann and Knudson are Republicans; the other three are Democrats. One Republican commissioner, Robert Spindell, is not included in the measure because he voted against it.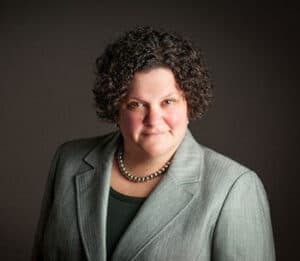 The Racine County DA is a Republican named Patricia J. Hanson.
The recommended charges are the same for each commissioner, and include:
Misconduct in Public Office in violation of Wis. Stat. § 946.12(2) (Felony)
Election Fraud – Election Official Assisting with Violations in violation of Wis. Stat. § 12.13(2)(b)7 (Felony)
Party to the Crime of Election Fraud – Receive Ballot Non-Election Official in violation of Wis. Stat. § 12.13(3)(n) (Misdemeanor)
In an earlier news conference, Sheriff Schmaling said the Wisconsin Election Commission blatantly and openly violated state law and committed felony crimes throughout the state of Wisconsin by ordering that special voting deputies should not go into nursing homes during the 2020 presidential election, as required by statutes.
Racine County Sheriff Christopher Schmaling and his investigator Sgt. Mike Luell, who is a former prosecutor, repeatedly said in the Racine County Sheriff press conference that they believe the Commission members – who included two major Joe Biden donors, Mark Thomsen and Ann Jacobs, acting as chair and vice-chair – committed the crime of election fraud.
You can read our previous article here. It outlines the allegations. The commissioners have denied wrongdoing or breaking the law, saying they acted due to the pandemic, and Gov. Tony Evers has defended them. Read more about their reaction and the reaction of Republicans here.
"We knew that for the protection of residents, only essential workers (which did not include SVDs) were being allowed into facilities across the state," Commissioner Julie Glancey said in a previous statement. "As such, we knew it was essential to preserve the right to vote for those residents, so rather than require the absurdity of sending SVDs to knock on a locked door, we pivoted to the absentee voting process."
Commissioner Mark Thomsen, a major Joe Biden donor, said in an earlier statement, "If we had waited for two unsuccessful attempts by SVDs to enter nursing homes, we would have been in danger of missing the deadline to get their votes collected and counted. Our goal was to allow as many eligible voters as possible to participate in the election."
A non-partisan audit unrelated to Schmaling's investigation previously outlined ways in which the Commission allegedly usurped state law. Read about the audit here.