Since 2019, Gov. Tony Evers' Parole Commission has released hundreds of convicted criminals, freeing them early on parole mostly into Wisconsin communities, including more than 300 murderers and attempted murderers, and more than 47 child rapists.
---
---
David Wuelling was one of them. His release was discretionary.

57th in the series.
David Wuelling murdered James Weiss, a teacher at Northeast Wisconsin Technical Institute.
According to a 1987 article in the Green Bay Press-Gaxzette, Wuelling had dropped his courses at the school and couldn't keep a steady job.
He took a taxi to the college carrying a "single-shot, black powder cap and ball pistol he built from a kit," after drinking whiskey.
Once at the school, he threatened suicide in a classroom, so Weiss and another teacher told 20 students in the class to leave.
Wuelling then shot Weiss through the chest, killing him.
---
Evers' Parole Commission Freed David Wuelling Early
Date paroled:   [You can look up David Wuelling's parole here. Put his name in the database and click "movement."]
Current Residence: Cabot, AR
Age: 64
Convicted: First-degree intentional homicide
Sentence:  Life Sentence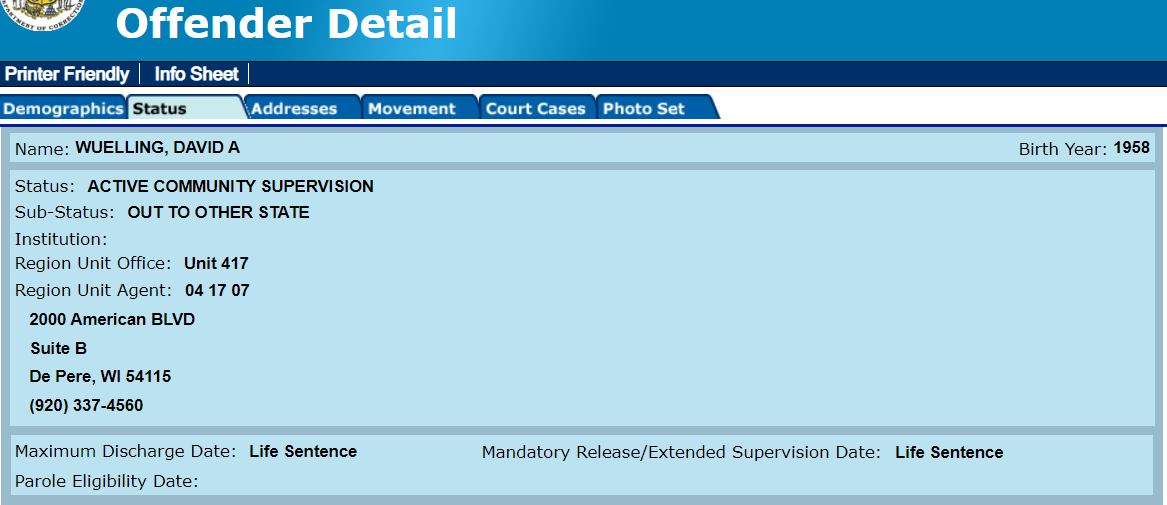 ---
The Victim: James Weiss, a teacher at Northeast Wisconsin Technical Institute.
---
What the Killer Did:
James Weiss was shot in the auto mechanics shop at the technical school, according to the Press-Gazette.
The school released a statement saying, "All of us here at NWTI share in the grief we know Jim's family feels."
Police had responded to a call of a man with a gun. Wuelling was "being counseled" by David Weiss and the other teacher because he was threatening suicide.
The lead ball that struck Weiss "pierced his lung" and "was propelled with such velocity that, after passing through Weiss's body, it crossed the garage and dented a pipe on a wall," the Press-Gazette wrote.
Wuelling testified that Weiss "kept telling me he would stand by my side, help me out in any way, that I didn't need to do this to myself."
After learning that Weiss had died, "Wuelling identified himself as a murderer and asked people how they would feel if they had just shot their teacher," according to the Press Gazette.
Today Wuelling is 64. He lives in Cabot, AR. He was paroled 12/10/2019. He was serving a life sentence. Killers serving life sentences don't qualify for mandatory release. It was a discretionary parole.