Since 2019, Gov. Tony Evers' Parole Commission has released hundreds of convicted criminals, freeing them early on parole mostly into Wisconsin communities, including more than 300 murderers and attempted murderers, and more than 47 child rapists.
---
---
Serial rapist Edwardo Perez was one of them. His release was discretionary.

But now, no one knows where he is.
55th in the series.
---
Evers' appointee freed a serial rapist on parole who raped a teenage girl and an elderly woman in two separate attacks. Even though he was released in 2022, he's already absconded.
The crimes of Edwardo Perez, 65, who has seven different aliases, are horrific. He was in prison for the vicious rape of a 78-year-old woman in La Crosse, whose home he broke into. He was previously convicted of raping a 15-year-old Tomah girl when he was in his 30s. He's a non-compliant registered sex offender.
Perez was paroled on January 25, 2022, according to the state Department of Corrections.
Perez was released on discretionary parole. He had not yet reached his mandatory release date, DOC says.
---
Evers' Parole Commission Freed Edwardo Perez Early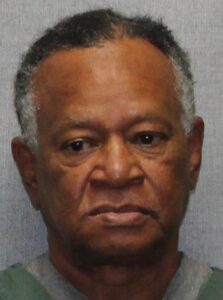 Date paroled:   [You can look up Edwardo Perez's parole here. Put his name in the database and click "movement."]
Current Residence: UNKNOWN (Absconded)
Age: 65
Convicted: Second-degree sexual assault.
Sentence:  41 Years (35 years plus 6 years)
He is a registered sex offender.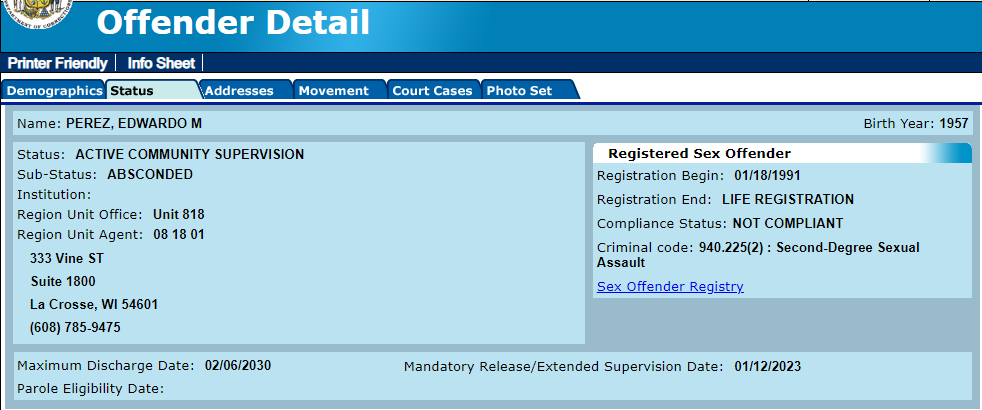 ---
The Victims: La Crosse woman, 78; Tomah girl,15
---
What the Killer Did:
In the La Crosse case, a 1990 article in the La Crosse Tribune says that Perez broke into the elderly woman's home through a back door in 1989. A footprint on a shard of glass led to his capture.
The emergency room doctor who examined the elderly rape victim testified that she could have been killed, the newspaper article says. She had large bruises on her neck from being choked and broken blood vessels in her eyes, the story says.
Perez left a broken crucifix at the scene.
The elderly rape victim was too afraid to leave her house after the rape, even to take out her garbage, the prosecutor said at sentencing, according to another old newspaper article. The detective called Perez an "animal." Perez was from Tomah but was staying in a motel in La Crosse for asbestos removal work when he broke into the woman's home.
In the Tomah case, Perez raped a 15-year-old girl in a junkyard. He had gone for a walk with the teen and her boyfriend, looking for fish along a creek when he asked to talk to her alone.
Then he raped her. The girl said she screamed so her boyfriend came to find her, but Perez told him he would shoot him if he didn't leave. When he left, Perez raped the girl. "He held her so tightly around the waist that she could hardly breathe," said a 1989 La Crosse Tribune article. The boyfriend returned with steel pipes.
He got six years in prison for that case.
In 1986, Perez was charged with another sexual assault, but the case was reduced to disorderly conduct, according to a prosecutor's comments at his sentencing in the Tomah case.