Since 2019, Gov. Tony Evers' Parole Commission has released hundreds of convicted criminals, freeing them early on parole mostly into Wisconsin communities, including more than 270 murderers and attempted murderers, and more than 44 child rapists.
Jason Faber was one of them. His release was discretionary.

30th in the series.
---
Jason Faber was convicted of the attempted first-degree intentional homicide of a Rice Lake, Wisconsin, police officer who was responding to a burglary he was committing, court records show.
A Move On.org petition was created after Gov. Scott Walker's Parole Commission Chairman rejected Faber's release. It contains some of that parole document.
"In Feb 1996, law enforcement responded to a report of a business burglary and encountered you exiting the building. One officer identified himself and directed you to stop, and in response, you turned around and shot a 40-caliber pistol with a laser sight at the officer," it reads.
"Fortunately, the officer was wearing a kevlar vest, and the bullet lodged in the chest area the vest was covering.
At the time of the offense, you had identified with an anarchy group and were reported to speak of a revolution killing and injuring officers."
Faber, a convicted felon even before he shot the officer, denied this was accurate, saying a co-defendant made the comments.
Barron County Sheriff Jerry Johnson told the Leader-Telegram at the time that the body armor saved Officer Kenneth Tomesh's life, saying, "There is no doubt about it. He was hit straight on, right in the chest. That vest saved his life."
Tomesh was "walking around the store when Faber came out a side door. Tomesh identified himself as a police officer, dropped to one knee, had his weapon drawn as he shone a flashlight on the man," authorities told the Leader-Telegram.
"The subject just turned around and fired at the officer."
Jason Faber, now 46, received a 50-year prison sentence in 1996. In 2008, a judge rejected his request to modify his sentence. He was released in 2020. His mandatory release date was not until 06/09/2029.
---
Evers' Parole Commission Freed Jason Faber Early
Date paroled:  11/03/2020 [You can check his parole date here by putting in his name and clicking on movement.]
Current Residence: Cumberland, WI
Age: 46
Convicted: First-degree intentional homicide, attempt, 1996
Sentence: 50 years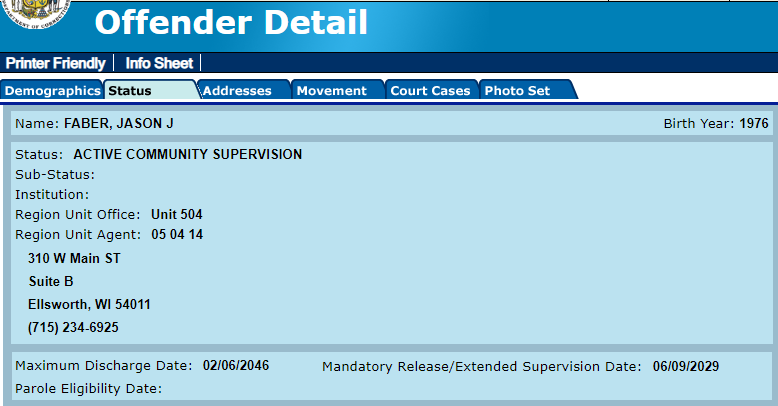 ---
The Victim:
Rice Lake Police Officer Kenneth Tomesh.
---
What the Attempted Murderer Did:
According to a 1996 article in the Eau Claire Leader-Telegram newspaper, Police Officer Kenneth Tomesh's body armor saved his life.
That article says Faber was armed with a laser-sighted 40-caliber handgun.
He was already on probation for convictions of three counts of fourth-degree sexual assault accused of impregnating a 13-year-old girl and was convicted in 1994 of disorderly conduct, that article said.
He was burglarizing Bargain Bill's discount store when he shot the officer.
An old newspaper article said that Faber was also implicated in other crimes, including stealing guns from stores.