Since 2019, Gov. Tony Evers' Parole Commission has released hundreds of convicted criminals, freeing them early on parole mostly into Wisconsin communities, including more than 270 murderers and attempted murderers, and more than 44 child rapists.
Clayton Willi was one of them. His release was discretionary.

29th in the series.
The "bludgeoned body" of Jo Ellen Stuhr, 25, was found next to a farm outbuilding that she and her husband rented near Beloit, according to old newspaper articles from the time.
The articles say that Willi confessed that he and Stuhr argued so he grabbed a hammer and "struck her repeatedly."
She was also shot – once in the back and once in the head.
Willi, then 18, attacked her outside the backdoor of the house in the Town of Turtle, an old Associated Press article says.
"The body was dragged across the farm yard in an attempt to conceal it behind a shed," police told AP.
The victim's 3 year old  daughter was at the home when Stuhr was murdered.
The corner told the Fond du Lac Reporter in 1992 that she died of a "combination of multiple head injuries and gunshot wounds."
---
Evers' Parole Commission Freed Clayton Willi Early
Date paroled: 03/10/2020 [You can look up his parole date here by putting in his name and then clicking on "movement."]
Current Residence: Janesville, WI
Age: 49
Convicted: First-degree intentional homicide
Sentence: Life sentence. Killers serving life sentences do not qualify for mandatory release. This was a discretionary parole.
---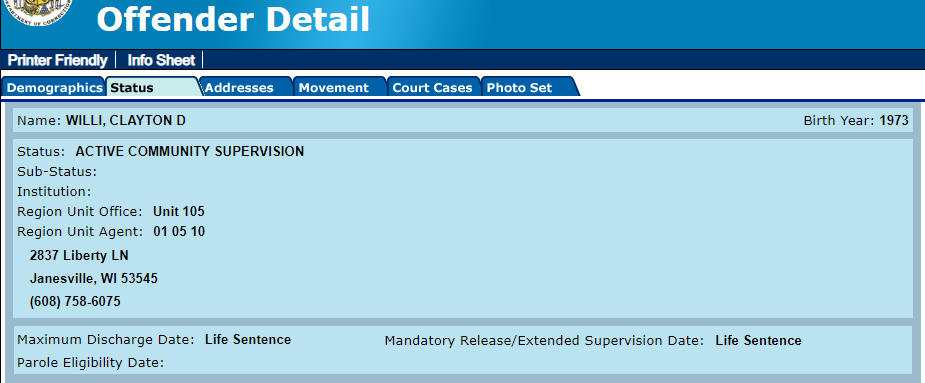 ---
The Victim: Jo Ellen Stuhr, 25
---
What the Killer Did:
Stuhr and her husband had befriended the troubled teen and let him stay at their home.
Willi, a high school drop out, was already facing a misdemeanor theft charge at the time of the homicide.