Since 2019, Gov. Tony Evers' Parole Commission has released hundreds of convicted criminals, freeing them early on parole mostly into Wisconsin communities, including more than 270 murderers and attempted murderers, and more than 44 child rapists.
David Delveaux was one of them. His release was discretionary.

28th in the series.
---
Julie Ann Baker was brutally murdered on Christmas night.
The killer was David Delveaux, 18.
He murdered the 17-year-old girl and then had sex with her dead body.
Delveaux claimed that he tripped and fell while carrying Baker, but he struggled to explain why he raped her after death if that was the case, and the prosecutor did not believe his story.
The pathologist testified that Julie died of the "cumulative effort by Delveaux consisting of smashing Miss Baker's head on the pavement, kicking her repeatedly while she was down and leaving her body exposed to the winter cold," old newspaper articles said.
She had bruises on the left cheek, neck, forehead and around her eyes.
Delveaux claimed that "believing she was dead, he took off her slacks and underwear and had sexual intercourse with her…then dragged her body across the street and hid it behind some rocks and bushes in the pine grove," the criminal complaint said.
Delveaux hid Baker's body in a pine grove during the 1983 slaying, the articles say.
---
Evers' Parole Commission Freed David Delveaux Early
Date paroled: 5/28/2020 [You can look up his parole date yourself by searching this database and clicking on "movement."] Evers reappointed the Parole Commission chairman who freed Delveaux after Delveaux's release.
Current Residence: Oneida
Age: 58
Convicted: First-degree intentional homicide
Sentence: Life Sentence. Killers serving life sentences do not qualify for mandatory release. The parole was discretionary.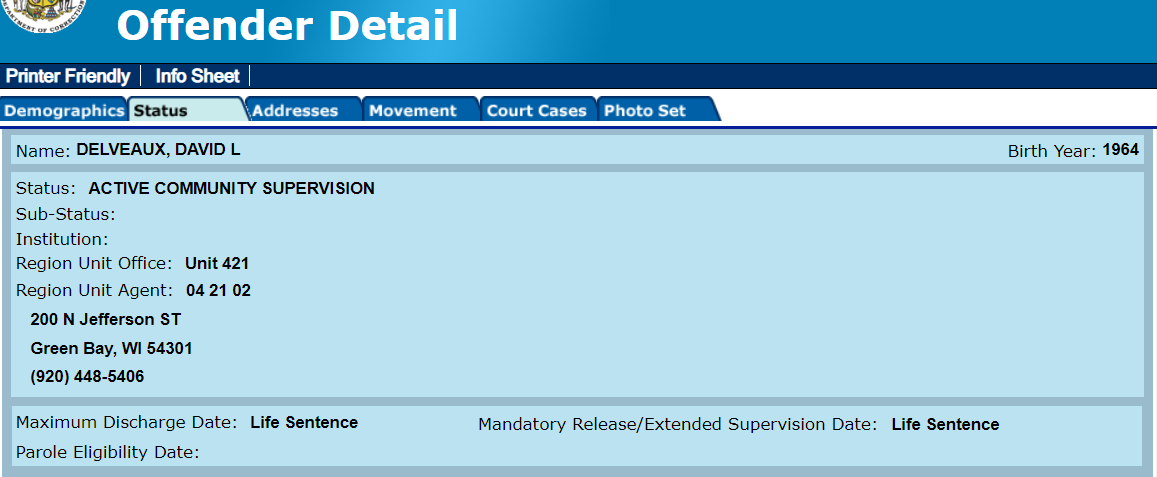 ---
The Victim: Julie Baker, 17
---
What the Killer Did:
Another old newspaper article says that the two had been at a party when he walked her home.
She was a junior at Oconto Falls High School who had been reported missing.
Her clothing was found by children playing in the pine grove.
An autopsy showed her "skull was fractured by a blunt object striking her on the right, rear part of the head."