Since 2019, Gov. Tony Evers' Parole Commission has released hundreds of convicted criminals, freeing them early on parole mostly into Wisconsin communities, including more than 270 murderers and attempted murderers, and more than 44 child rapists.
Triple murderer Joseph Roeling was one of them. His release was discretionary. 
25th in the series.
---
Joseph Roeling is a triple murderer. He wiped out three members of his own family, including his 8-year-old sister, who attended third grade at Rosendale Elementary School.
In 1983, Roeling murdered his mother, stepfather, and stepsister. All of the victims were shot in the head while sleeping.
According to an old article in the Fond du Lac Reporter, Roeling shot and killed his stepfather Duane Roeling, 49; his mother Frances, 44; and their daughter Mary, 8, at the family's rented mobile home in rural Van Dyne. Duane Roeling was a U.S. Army veteran who served in Korea.
The newspaper headline when he was sentenced:
The Judge, Eugene McEssey, said at sentencing that the slayings were "planned without qualms and hesitation," according to an old article in the Winona Daily News.
"I don't think this county has seen a more heinous act than what this young man has performed on his loved ones. We have too many cases where courts have been lenient, sentenced these people to small periods of time, and they come out and continue doing their heinous acts."
Two other people were also living in the home: Patty Ann Roeling, 15, and Steven Roeling, 26. They were not killed.
According to the old Reporter articles, Patty, Joseph's sister, told police she was awakened by a "big bang" at 6 a.m. She heard a second bang, and "then saw Joseph walk out of the bedroom where Mary and Frances had been sleeping."
Joseph was carrying a rifle. She asked him what he was doing. He said nothing and walked into Duane Roeling's bedroom. She heard another shot.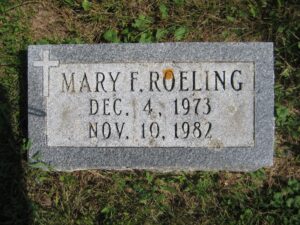 Steven Roeling told police "he woke up to find Joseph pointing a .22 rifle at him. He said Joseph told him the others were dead."
Joseph told Steven to sit on the couch, and Joseph believed he was going to get more ammunition. He had one bullet left. Steven grabbed Joseph "when he tried to hit him with the rifle" and held him while Patty went to call police.
Patty said that, two days before the shooting, Joseph told her at school that "he planned to get rid of everybody in the family so he could have free run of the house." He said he "was tired of people pushing him around and telling him what to do and that when he killed them, he would just throw them all underneath the trailer so no one would ever know."
His Facebook page reads, "undeserving of anything positive, a truly worthless monster." In July, he wrote, "Always live your life as if it may be your last moments alive, because as I was reminded of today, this moment just might be the last one."
He also wrote, "For all those that I have wronged, I am sincerely sorry, for all those who have helped me in even the smallest of ways, I am sincerely grateful."
Evers' Parole Commission Freed Joseph Roeling Early
Roeling is friends with two of the other convicted murderers, Scott Howard and Randolph Whiting, on Facebook.
Date paroled: 06/25/2021 [You can check Roeling's parole for yourself here. Put his name in the database, and click on "movement"]

The released killer now lives: Oshkosh
Age: 57
Convicted: Three counts of first-degree murder 1983
Sentence: Two consecutive life sentences plus 10 years. Inmates serving life sentences do not qualify for mandatory release. Roeling's parole was discretionary.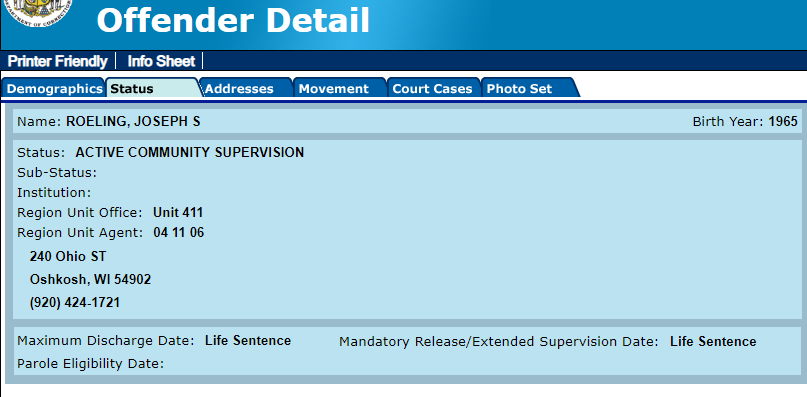 ---
The Victims:
Duane R. Roeling, 49; Francis A Roeling, 44; Mary F. Roeling, 8

---
What the Killer Did:
According to another old article in the Fond du Lac Reporter, Duane Roeling was found lying in the middle of his bed. He was shot "just below the jaw."
IN another bed was Frances and her daughter Mary. Frances was shot in the "left cheek below the eye." Mary, 8, was "sleeping on her stomach at the time she was shot." She was "hit in the back of the head at a level even with the bottom of her ears."
All were shot at close range.
Roeling was 16 at the time of the triple murder, and he was waived into adult court.
Joseph told him "he woke up and started to think about all of the things his mother had done to him and about the things Duane had done to Joseph's natural father." Old newspaper articles say he suffered from child abuse.
He makes reference to this on Facebook.
Duane Roeling was Roeling's stepfather and his uncle.