Since 2019, Gov. Tony Evers' Parole Commission has released at least 884 convicted criminals, freeing them early on parole mostly into Wisconsin communities, including more than 270 murderers and attempted murderers, and more than 44 child rapists. Mark Ketterhagen was one of them.

5th in the series.
---
"If we're not safe, nobody's safe," an outraged Raymond Ziebell, of Burlington, told Wisconsin Right Now.
Ziebell's pregnant teenage sister, Cathy Ziebell, 16, was shot to death and tossed off a bridge in 1975 in Kenosha County by Mark Ketterhagen.
Ziebell learned that his sister's killer was paroled – for a second time – in 2019 from a WRN reporter.
He blasted Tony Evers and Mandela Barnes during the interview. "I think they're crooked," he said, citing Evers' and Barnes' comments on the Jacob Blake case, which he believes showed a soft-on-crime philosophy that he believes is playing out with paroles as well.
"I think it's terrible," Ziebell said of Ketterhagen's parole. "Society is breaking down."
"If people like Evers keep letting these people out, there will be more murders and more suffering, and then none of us are safe," said Ziebell.
"Where was justice?" he asked.
Ziebell, a retired teacher who identified his sister's body, noted: "I'm 80. We have lived a long life. But young people are not going to have that. Look at the crime on the streets of Milwaukee; they (Evers and Barnes) are doing very little about that." He believes the paroles were "covered up."
Cathy Ziebell was 16 and pregnant, when her ex-boyfriend, Mark Ketterhagen, 22, took the Kenosha County, Wisconsin, teen for a drive in the country. He wanted her to have an abortion, but her mother wouldn't support it. So he killed Cathy and the unborn child, news articles from the time say.
Ziebell's murder was a major news story in Kenosha and Racine Counties when it happened.
Ketterhagen shot her four times and then tossed her body into the Fox River. A major search resulted. Police found a "nine-foot bloodstain trailing off the bridge" just south of the Racine County line.
In 1982, Ziebell's mom, Ruth, gathered 1,600 signatures to prevent Ketterhagen's early release from prison. "I thought when a person was convicted and sentenced to life that what they got was life," the mother said then, according to the Racine Journal-Times. "I wish my daughter had more years added to her life."
It worked then, but, Ruth Ziebell has long since passed away, and, in 2019, Gov. Tony Evers took office and appointed John Tate, a man who made his soft-on-criminals views well-known, to run the Parole Commission. Tate approved the paroles. Evers reappointed him in 2021, AFTER Ketterhagen's parole, saying he was "pleased" to do so.
---
Evers' Parole Commission Freed Mark Ketterhagen
Date paroled: 10/15/2019 [You can look up his parole date yourself here by putting his name in the Corrections database and clicking on "movement"]

The released killer now lives: West Allis, Wisconsin
Age: 69
Convicted: First-degree intentional homicide
Sentence: Life. He did not qualify for mandatory release because he received a life sentence for the homicide. Thus, the parole was discretionary.

Other factors: Claimed severe intoxication.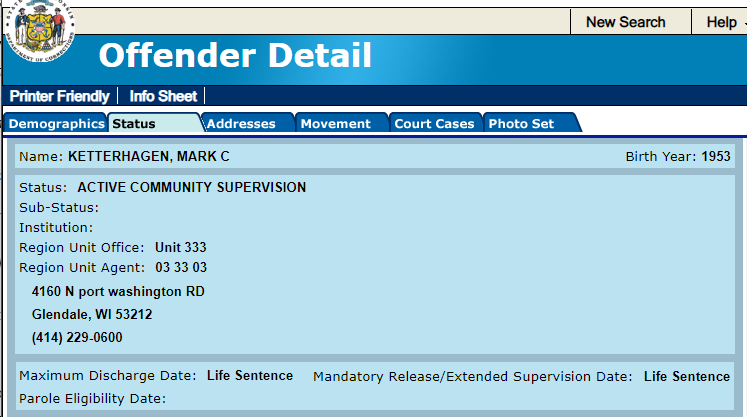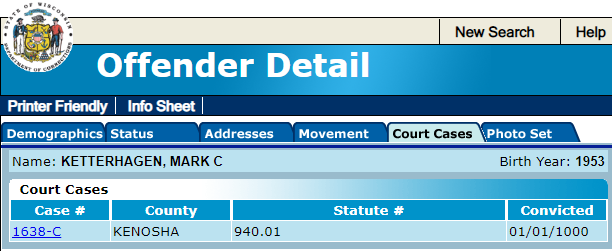 The
---
The Victim: Cathy Ziebell, age 16, who was pregnant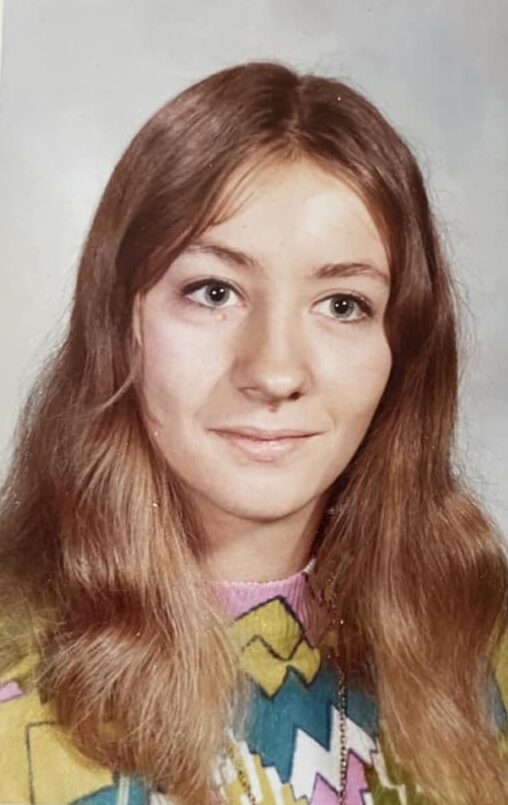 ---
What The Killer Did:
Mark Ketterhagen was convicted in 1975 of the first-degree intentional homicide of 16-year-old Cathy Ziebell of Burlington.
According to court records, the two started dating in 1974. Two months after they broke up, in March 1975, Ziebell told Ketterhagen that she was pregnant with his baby.
Her mother was against her getting an abortion or marrying Ketterhagen and floated the idea of adoption. Mark Ketterhagen would still have to pay the teen's medical bills.
Two days later, Ketterhagen drank extensively and then picked Ziebell up at her house.
"He drove out to the country, stopped the car on a bridge over the Fox River and got out. Ketterhagen testified that Ziebell then stepped out of the car and told him 'she was going to stick it to him.' Angered, Mark Ketterhagen grabbed a .357 Magnum pistol from the front seat of his car and shot Ziebell four times from a distance of seven or eight feet. Ketterhagen then pushed Ziebell's body off the bridge and into the Fox River," the court records say.
He was 22 at the time.
According to Raymond Ziebell, 80, Ketterhagen was paroled once before on the murder charge but screwed up on parole and was sent back to prison.
Corrections records do list two paroles for him – one in 1990 and one in 2019 – and only one charge that landed him in prison, the homicide.
He was sent back to prison in 2002. That year, he was charged with causing injury while intoxicated, a misdemeanor for which he received a short jail sentence, court records show.
At first, Raymond, Cathy's sister and her mother went to parole hearings to keep Ketterhagen in prison, but over time, people passed away.
"The family fell apart after that," he said. "Of six kids, only two of us are left. It's sad."
He said Ketterhagen would ride by their mother's house and "stick up his middle finger" while out.
"It just never ends," said Ziebell, who noted that his sister's unborn baby "would now be 47 years old" if she had lived.
Raymond said he had no idea that Ketterhagen was paroled again and is living in West Allis. "We were never informed even of the first parole," he said. "If my mom was alive, it would have killed her." She died in 1990 of cancer.
"My sister, her body was dumped in the Fox River. Her body floated down river about a mile," he said. "I was the one who identified her body. You know, I felt badly for my mother most of all."
According to Ziebell, Cathy was the youngest of six kids. He was already 16 years old when she was born. She used to babysit his kids. "We didn't want the girls to know she was shot," he said.
He noted, "I believe in God's justice. The Bible says God will avenge you. It's not my job."