"May Officer Michael Lutz rest in peace, and may Reid Epstein take his biased road show somewhere else and stay away from reporting on Wisconsin. Minimally, you should question every single fact he asserts."
New York Times' reporter Reid Epstein is trying to insert himself into the Wisconsin governor's race as a political expert, writing a number of comments slanted negatively to Republican Tim Michels. So it's worth reminding readers of Epstein's history in Wisconsin, namely his disgracefully false rush to judgment against a now deceased and decorated Milwaukee police officer.
His reporting on that story was SO BAD that anything Epstein reports should be questioned. In no way is Reid Epstein some authority on Wisconsin. Yet he keeps trying to pretend he is one, recently writing things like, "On Tim Michels, the latest Trump-backed Republican to topple a state GOP establishment this year. He did so by entertaining Trump's most outlandish theories, including a pledge to consider signing legislation to withdraw the state's 2020 electoral votes."
Epstein often writes about election issues, writing, "NEW: A tour of Wisconsin, where promising to restrict voting access may not be enough for a Republican electorate salivating to overturn the 2020 election, decertify the state's results and withdraw electoral votes two years later." Yeah, no bias there. His statement is false. The vast majority of the Republican electorate in Wisconsin is not salivating to overturn and decertify the presidential election.
The only decertification candidates on the governor and attorney general's ballots got crushed by the Republican electorate. One of them couldn't even break 6%. The facts don't ever seem to get in the way of Epstein's desire to craft a biased narrative.
There has never been a better example of Epstein's disgracefully sloppy reporting than the tragic story of now deceased Milwaukee police officer Michael Lutz.
The story, with reporting led by Reid Epstein, was one of the most despicable episodes in the Milwaukee Journal Sentinel's history. I know because I was in the newsroom that day, and my byline ended up third on the story for a small addition unrelated to the false reporting. Epstein led the reporting on that story.
Here's the AP version of the Milwaukee Journal Sentinel article which, conveniently, is no longer available online. Note that the headline and first paragraph are false.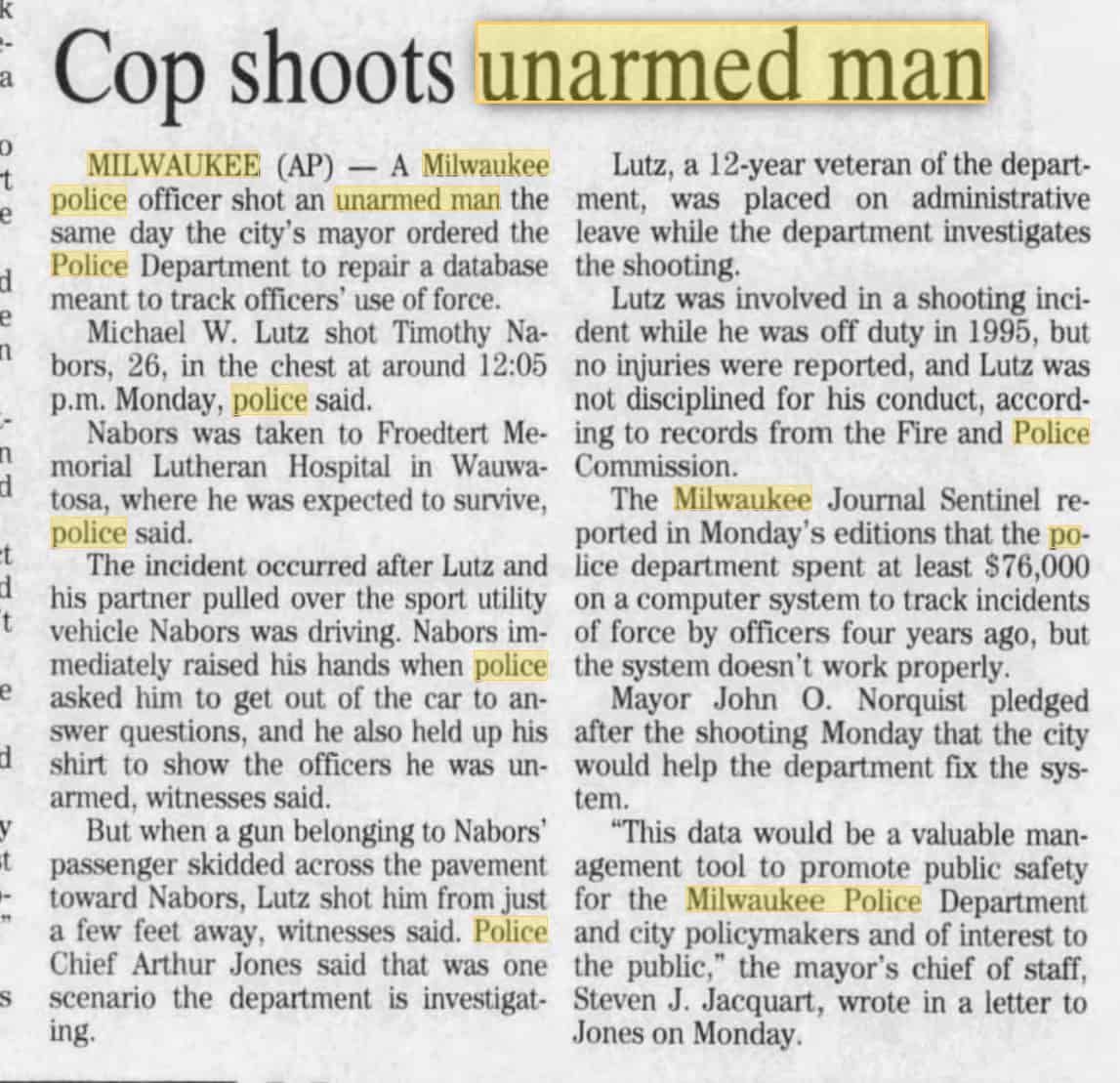 Here's the full tale. Back in 2003, when Epstein was a Milwaukee Journal Sentinel reporter, a call came over the scanner that the Milwaukee police had shot a black man. This was during a violent period in Milwaukee's history, and a dedicated unit of Milwaukee police officers was charged with tracking down some of the city's most violent gang members. They were such a presence in the inner city of Milwaukee that these officers were even given nicknames by residents. One of those officers was named Michael Lutz. The residents called him "green eyes."
I remember it as if it was yesterday. The editors dispatched Epstein to the scene. Another reporter was working with him, but she stayed in the newsroom. She's not working in Wisconsin anymore so I'm going to leave her name out of it. Plus, she didn't go to the scene, and she was relying on Epstein's reporting. I had been working in the newsroom on a separate investigative piece about a broken use-of-force database. Before I went home that day, the editors asked me to submit an "insert" of a couple paragraphs about the broken database to Epstein's story. They put them at the bottom. It had nothing to do with the shooting.
Reid came rushing back to the newsroom from the shooting scene, all excited, saying that the cop had shot an "unarmed man." I sent them my insert and left for the day. As I left, I saw Reid and the other reporter hunkered down, writing the story. I didn't see what they were writing until the next morning.
The next day, I was shocked when I saw the newspaper. The story stated, as a fact, that the officer, later identified as Michael Lutz, had shot an "unarmed man."
Except it wasn't true.
The truth quickly revealed that Epstein's reporting was false. He had taken the account of unreliable witnesses and stated their claims as fact. The problem isn't that he interviewed or quoted the witnesses, of course.
It's that he presented witnesses claims as incontrovertible fact to rush to judgment against a police officer, without bothering to wait for the other site. It's called attribution. Journalism 101.
The police union called me the next day and asked me to come to their offices to clear it up because they didn't trust Reid, and they knew I would be fair. They were apoplectic about his story. They let me listen to internal affairs recordings of the officers' interviews. The suspect, Timothy Nabors, who survived the attack but was seriously wounded, was not unarmed, they said.
This eventually became provable fact. Reid Epstein had rushed to judgment against a Milwaukee police officer, and he was just dead wrong. Here is a later Milwaukee Journal Sentinel editorial that admitted the officer was "exonerated."
It admits that some were too quick to believe the false claims; that included Epstein, though, which of course they don't reveal. They then admit that the Journal Sentinel itself initially reported that Nabors was unarmed.
Again- attribution is Journalism 101. "Witnesses claim or say a man was unarmed" is different from "he was unarmed."
A criminal complaint later revealed: "A man critically wounded by a police officer after a traffic stop admitted he picked up a handgun moments before he was shot, according to a criminal complaint filed Thursday," the Associated Press reported at the time. That complaint charged the man who tossed the gun to Timothy Nabors.
In other words, Nabors was not unarmed. "The other guy who I was with threw the gun by me, the gun hit the ground and I picked it up,″ Nabors told police that day, according to the complaint.
The witness in question was criminally charged with obstructing justice. A 2009 Milwaukee Journal Sentinel story acknowledges, "The 2003 shooting prompted much public rancor after a woman said Nabors was unarmed when he was shot. She was later charged with obstructing justice, and Nabors admitted, as part of a plea bargain, that he had briefly picked up a gun another man had tossed toward him."
Years later, the Milwaukee Journal Sentinel admitted, "Lutz said Nabors had refused to drop the gun, and that he feared Nabors would shoot him or his partner, Dean Newport."
The story blew up at the time, causing a lot of tension and uproar in the community. Lutz was white and Nabors was black.
What happened to Officer Michael Lutz in the years after this story is a complete tragedy. Does Reid Epstein have blood on his hands? Well, PTSD is a complicated thing.
For a time, Lutz's career seemed to be going well. Two years later, he was shot in the line of duty, receiving a purple heart, but he retired on disability and earned his law degree. Then it took a horrific turn.
Michael Lutz died in 2015 from a self-inflicted gunshot wound after a brief tactical situation after police responded to a domestic-violence call. He was only 44 years old.
"Lutz is described as getting out of his vehicle with his badge in one hand, a gun in the other. He then put the firearm in his mouth," a CBS-58 story horrifically reported.
At the time, the police union said, "Our brothers give much to the job. Michael Lutz was one of our warriors. He gave much to the job and it took its toll." The story noted that he was a "John Doe whistleblower."
"As a young adult Michael got his pilot's license and loved to fly," his obituary says.
"Michael Lutz was a 1988 graduate of Thomas More High School and a graduate from the University of Wisconsin-Milwaukee, and earned his Juris Doctorate from the University of Wisconsin-Madison Law School. Michael was a highly decorated and respected Police Officer with the Milwaukee Police Department where he started as a Police Aide at the age of 19 in 1989."
It continues: "He later retired from the Police Department after being shot in-the-line of duty in 2005, for which he received a Purple Heart. After his retirement, Michael attended law school at the University of Wisconsin-Madison, earning his law degree. Once he earned his law degree he worked for the Milwaukee County District Attorney's office as a special prosecutor, and as an adjunct instructor for Concordia University, and Bryant and Stratton College. Most recently, Michael started his private practice as a criminal defense attorney at Canfield & Lutz, LLC."
Over the years, I have thought occasionally about Michael Lutz and what Reid Epstein and the Milwaukee Journal Sentinel did to him. To this day, I am absolutely enraged by his reporting and, to a lesser degree, by the fact he endangered my own reputation because my name was the third byline on his false story due to submitting an unrelated short insert.
May Officer Michael Lutz rest in peace, and may Reid Epstein take his biased road show somewhere else and stay away from reporting on Wisconsin. Minimally, you should question every single fact he asserts.