The new Marquette poll is out, and we unearthed 8 positive signs for Republicans in it.
To be sure, the races for U.S. Senate and governor will be an absolute battle. To some degree, the poll is a wake up call about that. Don't take the 'red wave' for granted.
Some hot button issues are favoring Democrats (abortion, gun regulations), according to this poll. Both elections could go either way, with Tony Evers in a slightly stronger position than the Democratic candidates vying to take out Ron Johnson.
But there were points of optimism for the GOP in the June 22 poll:
1. The enthusiasm gap
This is a huge deal. Republican voters are more enthusiastic to vote than Democratic and independent voters, according to the poll. This could end up being a very big deal if it materializes in November turnout.
Furthermore, lower turnout models favor the Republicans more than higher turnout models.
The pollster noted, "The poll finds that in June there is a significant difference by party in enthusiasm to vote, with 67% of Republicans saying they are very enthusiastic and 58% of Democrats saying the same. Independents are considerably less enthusiastic, with 35% very enthusiastic. In past surveys, enthusiasm was closely linked to being a 'likely voter.'"
The poll measured registered, not likely voters, so if this enthusiasm gap continues into November, the Republicans should perform even better than they did in the poll, which showed close races.
2. Most voters think the state's on the "wrong track"
Most Wisconsinites think the state is on the "wrong track." This is a complete reversal from voters' perceptions since 2019.
Caveat: Are voters attaching this failure to Evers…or Joe Biden? The poll shows voters like Evers more than they like Joe Biden. Still, it's an ominous sign for the Democratic governor that people think the state has gotten worse under his stewardship.
3. Despite a relentless media battering, Ron Johnson is holding his own
U.S. Sen. Ron Johnson is being relentlessly battered by the news media (how objective!), and this has taken a toll on his favorability ratings, but he's still holding his own despite the barrage.
Johnson is in the margin of error against every single Democratic opponent who is running in a primary for a chance to square off against him. Obviously, it's not great for an incumbent to be in such a close race, and he's behind percentage-wise against Barnes, Godlewski and Nelson. However, we think it's a hopeful sign that the races are all in the margin of error considering how viciously and relentlessly the media are trying to take him out. With the exception of Michael Gableman, we haven't seen anything quite like it in this state, at least not since they tried to recall Scott Walker.
In fact, Johnson is performing more strongly in his race than the GOP governor's candidates are performing against Evers. This is because he is doing better with independents than they are (Johnson beats Godlewski, Lasry and Nelson with them and is 1% behind Barnes). Independents might carry the day for Johnson. And if that enthusiasm gap plays out…
Voters' concerns may benefit Johnson also. Voters are mostly upset about inflation, which is a national concern, and they're furious at Joe Biden. Their concern for the pandemic has waned. This might save Johnson.
Caveat: Johnson's favorables are underwater. However, it's remarkable he's this close despite them. It's going to be close, and it shouldn't be this close for an incumbent.
4. Rebecca Kleefisch is in the margin of error against Evers
One Republican candidate – Republican Kleefisch – is in the margin of error against Evers. That has made Evers so nervous he's calling the election a "pure tossup" (of course, he's trying to raise money off that. But the point still stands.) The margin of error for the poll was +/-4.3 percentage points.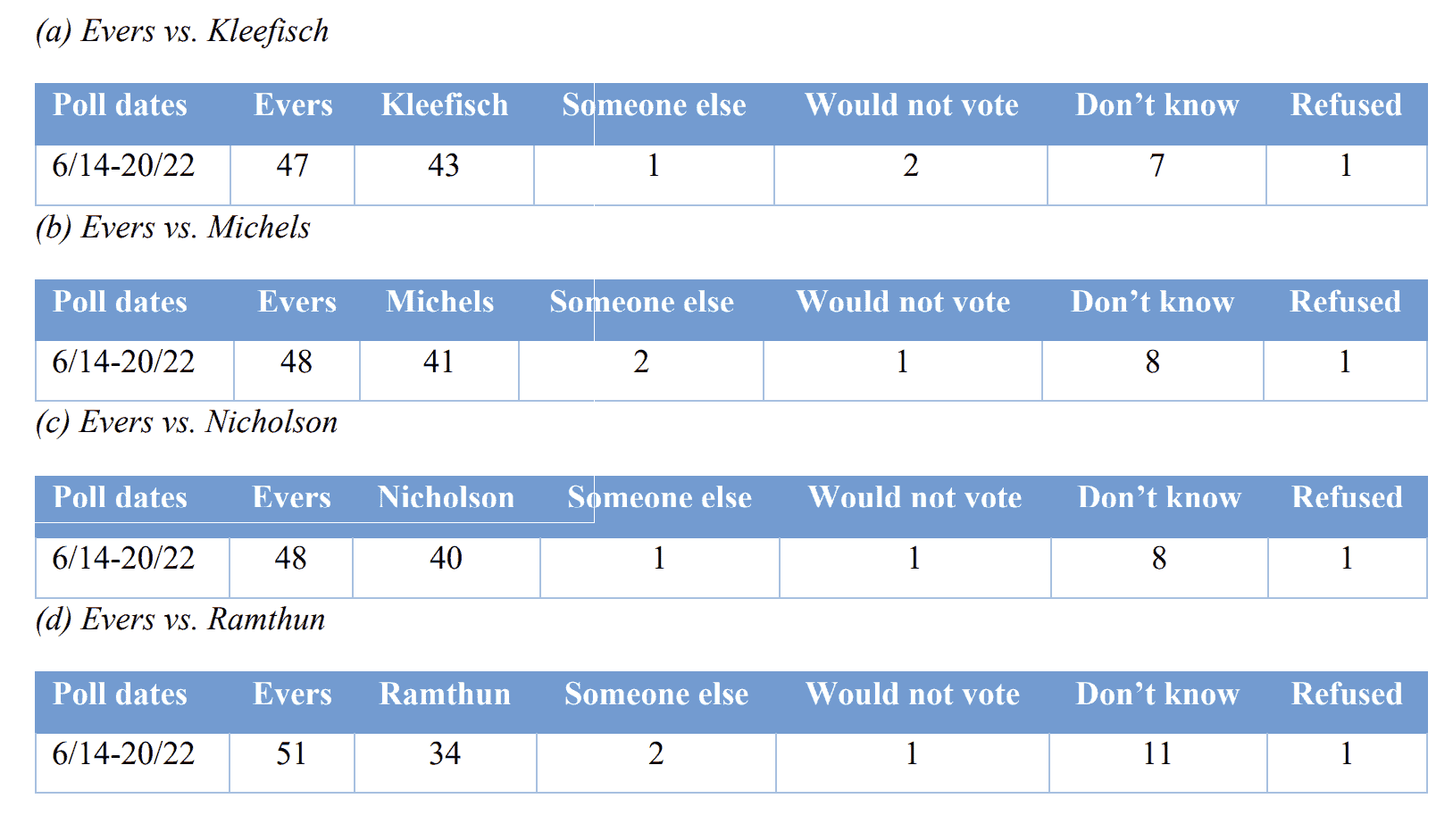 And, again, there's that enthusiasm gap…
Caveat: Tim Michels is 1% over Kleefisch in the GOP primary for governor, although that's also int he margin of error.
5. This is the poll that undercounted Trump voters in 2016
In 2016, the Marquette poll notoriously predicted that Hillary Clinton would win the presidential election. Oops. If it's still undercounting Trump voters, Republicans might fare even better in the governor's and Senate races than they are doing in the poll (and Tim Michels might have a boost.)
Caveat: The Marquette poll was wildly off in 2016 but seemed to figure things out by 2020.
6. The Democrats' position on transgender athletes is a flop with voters
Most voters want people to play sports based on their gender at birth, not by identity (62%). That puts them at odds with Democrats on this hot button issue.
7. Alex Lasry has surged, but he fares worse against Johnson
Based on this poll, Republicans should hope that the Bucks' co-owner's accomplishment-free offspring Alex Lasry wins the Democratic U.S. Senate primary. He doesn't perform as well against Johnson as Lt. Gov. Mandela Barnes does. In fact, Lasry loses to Johnson (albeit in the margin of error). The reason: Independents don't like the uber partisan Lasry as much as they like Barnes.
Lasry has surged from 13% in February to 21% in June. Barnes had 23% in February and 25% in June. However, 36% of voters are still undecided.
Republicans should hope they back Lasry, judging from this poll. He's looking weakest against Johnson.
8. A lot of people still don't have hardened opinions on the Republican candidates
A lot of people still don't know much about the Republican candidates – even Kleefisch (39%), who was lieutenant governor. That's even more true of Tim Michels and Kevin Nicholson (51% and 63%). That gives them an opportunity to gain ground against the governor, if they define themselves positively in voters' minds. Almost everyone already has an opinion of Evers (and Scott Walker and Donald Trump.)