Michelle and Barack Obama's sister-in-law sent an "incessant series of lengthy, misguided, and often disrespectful emails and text messages" to teachers at University School of Milwaukee, the school's lawyers wrote in a May 19, 2022, motion, seeking to dismiss Craig and Kelly Robinson's lawsuit against the school, which they say was designed to obtain maximum media attention but is legally flawed.
In an update to the school community, University School of Milwaukee head Steve Hancock alleged that "numerous false claims were made regarding racial and socioeconomic bias at the school."
The school notes in the court motion obtained by Wisconsin Right Now: "Other true facts are strategically omitted from the Robinsons' Complaint. The Robinsons fail to mention that Mrs. Robinson began regularly attending her older son's virtual classes during the pandemic to observe and critique his teachers. The Robinsons omit that she thereafter sent an incessant series of lengthy, misguided, and often disrespectful emails and text messages asserting unfounded complaints about his teachers, all of whom were working hard to meet the unprecedented challenges of dual-modality, synchronous learning."
---
Read the new motion here:
[embeddoc url="https://www.wisconsinrightnow.com/wp-content/uploads/2022/05/University_School_of_Milwaukee_Motion_to_Dismiss_Milwaukee_County_Circuit_Court-Case_No._22-CV-002488_20220519.pdf" viewer="google"]
---
Craig Robinson is Michelle Obama's brother. The lawsuit was filed by lawyer Kimberley Motley, who is well known for her lawsuits targeting police. The Robinsons gained massive and largely unquestioning national and local media attention last month by launching a series of allegations against the well-known school.
"The Robinsons filed this suit as part of a media campaign intended to tarnish USM's reputation as one of the nation's premier independent, college-preparatory schools," the school's motion says. "Every cause of action the Robinsons assert is flawed as a matter of law…But that does not trouble the Robinsons because they hope to win not in the court of law, but in the court of public opinion—where legal rules, facts, and evidence matter little."
According to the motion, "That is why the Robinsons appeared first on ABC's Good Morning America to give an interview disparaging USM, and only later got around to filing their Complaint with this Honorable Court. The Robinsons are determined to secure a large audience to whom they can tell their 'story,' hoping that less discerning people will simply believe it."
The University School of Milwaukee filed the brief in support of a motion to dismiss. The school states,
It's true the Robinson children attended the school for years without incident. It's also true the school exercised "its contractual right to deny the Robinson children re-enrollment for the 2021-2022 school year because USM officials determined that doing so was in the best interest of the school."
The motion continues, "The Robinsons fail to note that USM faculty and administrators spent hours each week working with them to address their concerns and that USM committed significant resources to help the Robinsons regain a healthy relationship with the school.
The Robinsons omit that the University School of Milwaukee repeatedly advised them that their communications with the school increasingly demonstrated a lack of respect, trust, and kindness, and therefore violated the school's Common Trust and Parent School Partnership—core aspects of the school's educational philosophy.
The Robinsons fail to mention that rather than accept any responsibility for their actions, they responded by threatening to engage in the campaign that has since followed, asserting baseless claims of 'racial and socioeconomic insensitivities' to garner national attention and shift to USM the blame for their eventual separation from its community."
Furthermore, states the motion, the Robinsons' Complaint "fails to state a claim upon which relief may be granted. The contract on which the Robinsons purport to base their breach cause of action unambiguously gives USM the right to decline to reenroll the Robinson children if USM officials determine for 'any reason that enrollment is not in the best interests of the school.'"
Steve Hancock, head of the prestigious Wisconsin school, alleges in his email that Craig and Kelly Robinson, who launched a national media blitz against the school earlier this week, "had badly mischaracterized" three worksheets that were used in 5th-grade classrooms.
In a lawsuit, the Robinsons previously accused University School of Milwaukee of a "persistent failure to fulfill its promise of an inclusive and diverse learning environment." They claimed their children's enrollment was terminated after they complained about alleged racism at the school and in the curriculum. Craig Robinson told Good Morning America that the school used the word "plantation" and showed "insensitivity to socioeconomic status" in assignments, but didn't offer many other specifics.
We've obtained the worksheets in question. In one, students were asked to complete a Thanksgiving word search that included the word "plantation." Another worksheet that the school says the family mischaracterized asked students to find classmates who engaged in sports, watched a movie or visited another state during winter and spring breaks.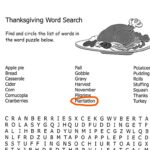 ---
We have previously reached out to the Robinsons through their website with questions but received no response.
---
The head of the school, Steve Hancock, also wrote an update to parents on May 19:
Dear University School of Milwaukee Community,
As promised, I want to give you a brief update on the lawsuit recently brought against USM.
Today, the school filed a motion to dismiss the case because the lawsuit is without merit. Our motion makes clear that, as an absolute last resort, the family in question was not invited to return to USM due to unacceptable behavior by the parents towards our teachers and staff. The family's children were well-liked by their peers and teachers, which made this exceptionally rare decision very challenging.
As this situation has unfolded, a handful of you shared that you might not feel comfortable raising a concern in the future. I want to reassure you and reaffirm how much we appreciate, value, and rely on all kinds of feedback from our parents, students, faculty and staff, alumni and parents of alumni, and other stakeholders. It is vital to our shared success. My door is wide open, and I will continue to listen and learn from you.
As you will recall from the recent media blitz, numerous false claims were made regarding racial and socioeconomic bias at the school. When initially raised, these concerns were taken very seriously, fully investigated, and ultimately found to be without merit.
At USM we take great pride in the supportive and inclusive community we intentionally strive to create. Building that community of belonging depends on transparency and a robust dialogue between all of us.
We do expect that today's motion might generate some additional press, and we will continue to keep you updated if there are material developments regarding this unfortunate matter in the future.
There are just a few weeks until Commencement, and I know that we all want to center our attention on our amazing senior class as they prepare to graduate. Like you, I am so impressed with all that they have accomplished, especially given the unprecedented challenges of the past few years.
As ever, I look forward to continuing in partnership with all of you.