"The continued disregard for public safety exhibited by Governor Evers and his administration is apparent," – state Sen. Roger Roth.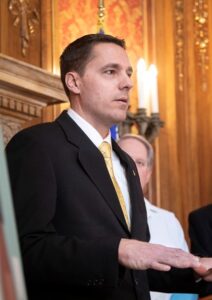 Sen. Roger Roth (R-Appleton) has drafted a rare petition seeking to override the state Senate's majority leader and force a legislative vote to fire Tony Evers' embattled Parole Commission chairman John Tate, whose parole of a brutal wife-killer has caused major controversy.
"Senator Roth is exercising the power of a special petition afforded to legislators, to call for an extraordinary session," Roth, a candidate for lieutenant governor, wrote in a news release on May 18, 2022. "The petition requires majority support from both houses of the legislature, to trigger the legislative action."
Roth's extraordinary move comes after Democratic Gov. Tony Evers chose not to fire Tate, and Republican Senate Majority Leader Devin LeMathieu subsequently said he will not call an extraordinary session so legislators can remove Tate from the powerful post on their own.
LeMathieu (R-Oostburg) blatantly said he thought Republicans gained more politically against Evers by not acting. However, the family of murder victim Johanna Balsewicz and four Republican candidates for governor and attorney general have called on the Legislature to remove Tate, a Racine alderman who wants to repeal truth-in-sentencing and other tough-on-crime measures, even as violent crime skyrockets.
[embeddoc url="https://www.wisconsinrightnow.com/wp-content/uploads/2022/05/Joint-Petition-for-Extraordinary-Session-Attachment-Joint-Rule-81.pdf" viewer="google"]
The candidates who called for Tate's removal are Rebecca Kleefisch, Kevin Nicholson, Tim Michels and Eric Toney. In addition, Republican state senators Roth, Pat Testin, Andre Jacque, Julian Bradley, Steve Nass, Duey Stroebel, Dale Kooyenga have said they would fire Tate. Kleefisch first discovered that the state Legislature had never confirmed Tate, even though Evers nominated him twice (in 2019 and 2021), so they have the power to reject the nomination now, essentially firing him. Tate has sole authority to decide which inmates are released on parole.
No Democrats in the Legislature have voiced support for firing Tate, although Johanna's family has specifically urged them to do so.
The petition seeks to call the extraordinary session for 8 a.m. on Thursday, May 26, 2022, for the consideration of "The appointment of John Tate II, of Racine, as Chair of the Wisconsin Parole Commission."
[embeddoc url="https://www.wisconsinrightnow.com/wp-content/uploads/2022/05/Joint-Petition-for-Extraordinary-Session-Tate.pdf" viewer="google"]
Evers dramatically flipped on his own nominee after meeting with Johanna's family and asked Tate to reverse his decision to parole Douglas Balsewicz, which Tate then did within hours of getting the governor's letter. But the governor has balked at firing Tate, a Racine alderman who has refused to speak with Johanna's family about the matter.
Wisconsin Right Now has urged the Legislature to come into the extraordinary session, as has conservative talk radio host Mark Belling.
"State Senator Roger Roth (R- Appleton) is calling on the state legislature to convene an extraordinary session to hold a confirmation hearing on Parole Board Commissioner John Tate," says Roth's press release.
"That Commissioner Tate even entertained the idea, let alone approved the parole of a convicted murderer who stabbed his wife 42 times, in front of one of his children, is an affront to justice and displays an appalling lack of understanding of the purpose of the parole system," said Senator Roth.
"I am calling on my colleagues in the legislature to come into extraordinary session to vote down his confirmation and remove him from his position."
The press release adds, "Since legislative leaders in the assembly and senate have not called for the extraordinary session as they have the power to do, Tate was appointed to the position by Governor Evers, but has not yet had a confirmation hearing."
Continued Roth, "The continued disregard for public safety exhibited by Governor Evers and his administration is apparent. Through his vetoes of public safety legislation, dangerous campaign promise to cut the prison population in half by releasing violent offenders, refusing to remove negligent public officials, and appointing a reckless parole commissioner it is clear that the legislature must exercise its oversight powers to protect public safety."
State assembly support is also required for the Senate to be able to go into extraordinary session. A majority of representatives in the assembly must also sign on to the petition.