In an interview with conservative talk radio host Joe Giganti, Republican gubernatorial candidate Tim Michels said that he wants to see if the Wisconsin Election Commission is fixable before deciding whether to get rid of it and implied he would work with Democrats to end "partisanship bickering" over the topic.
That's one of the first deviations in policy among the candidates since Michels launched his bid for governor. Other GOP candidates for governor, Kevin Nicholson and Rebecca Kleefisch, have called for WEC to be abolished. Democratic Gov. Tony Evers wants to keep the Commission intact.
Here's the exchange on the "Regular Joe" show:
Giganti: "Now on the elections, uh, integrity question. So the, you can't talk about it without the speaker of the assembly who has been a firebrand and not the best way. And he's stuck in the middle of this, no matter how one cuts it. Uh, he has said that the, WEC should be kept. Do you, I mean, would you a first of all, would you abolish WEC?"
Michels: "… We need somebody that's gonna bring in Robin Vos and Devin LeMahieu, and even the Democratic leaders and say enough of this partisanship bickering. We need to get stuff done because the victim is all the hardworking tax-paying people of Wisconsin. I'll, I'll look at at, WEC, let's see, let's see what's going on there. If we can fix it as, as is, then let's fix it as, as is. If it can't be fixed, we'll get rid of it. But at Michels Corporation, we just don't throw something out the window right away because it's not working. We gotta work hard to fix things."
Michels also clarified on the show that he did not retire from the U.S. Army, despite direct mail that claimed otherwise. We received inquiries from readers questioning Michels' retirement status with the military as advertised on campaign mailers. "If I said retired, that was in error," Michels told Regular Joe.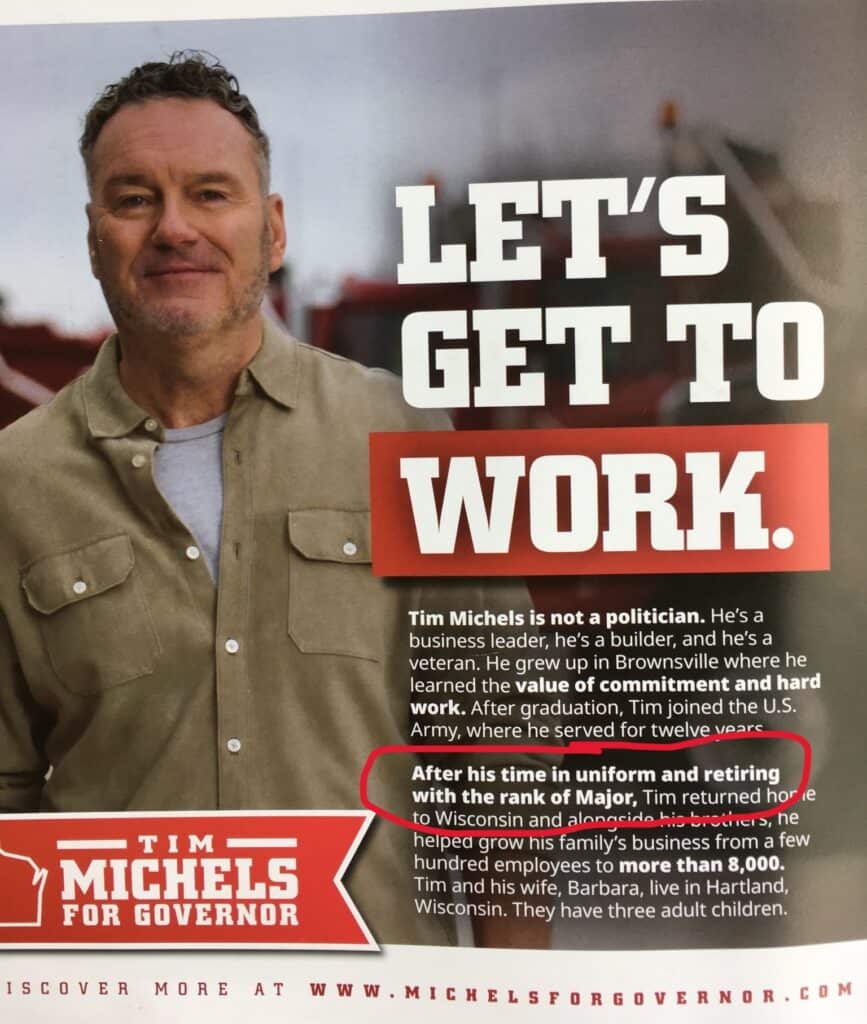 ---
He was asked by a listener to justify using the phrase "self-made man" when his father actually started the family business, Michels Corp. Michels said that his father literally worked himself to death, and he told Michels and his brothers to keep it all going. "And we've done that," he said, saying he and his brothers have grown the company, successfully making a "generational transfer" and growing the business 35 times.
Election Integrity Comments
The partisan Wisconsin Election Commission chaired and vice-chaired by major Joe Biden donors, along with municipal clerks throughout Wisconsin, violated state law in numerous ways in the 2020 presidential election, according to a non-partisan Legislative Audit Bureau report, which was released on October 22, 2021. Racine County Sheriff Christopher Schmaling, citing the "failure" of Attorney General Josh Kaul to investigate, recommended that the Racine County District Attorney file felony criminal charges against five members of the state of Wisconsin Election Commission. Several DAs have refused to charge them. Other decisions are pending.
Giganti also asked Michels about former Supreme Court Justice Michael Gableman's widely discussed election integrity report. Michels said he had not read all of it.
Here's that exchange:
Giganti: "Have you read the, the, the report that came from Michael Gableman, the end report? Have you read that yet?"
Michels: "It's a very big report. I, haven't read all of it."
Giganti: "136 pages."
Michels: "Yeah. I haven't read all of it. I've read a lot of the summaries of it."
He said Gableman should continue what he's doing and that he has supported him. "We need to find out what happened in 2020," Michel said.
Giganti also asked Michels, "Do you believe the 2020 election was stolen, yes or no?"
"I have a lot of questions… as do most people. Need to make sure that it doesn't happen again," Michels said.
"So is that a yes or a no?" Giganti asked,
"Maybe? There was certainly a lot of bad stuff that happened. I'm not sure that we'll ever know," Michels said.
[At his Milwaukee County office opening this weekend, we asked Michels his opinion about WEC and Sheriff Schmaling's report on special voting deputies, and he indicated that he was against ballot harvesting, "Zucker bucks" and wanted to fix what is wrong in Wisconsin's elections.]
---
On Other Republican Candidates
Asked why he decided to run, Michels said, "I like Becky, I like Kevin, and I like Tim Ramthun…" he said. "It's not when you start, it's how you finish." He said people were waiting for an outsider, a veteran and a businessman.
Giganti asked whether Michels was stealing Nicholson's brand. "I'm not stealing anyone's brand. It's who I am," he said. "I'm not a career politician." He said the country is on a "path to socialism." He said Tony Evers has been a "weak leader."
He was asked to name three GOP elected officials he would emulate. He named former Gov. Tommy Thompson and U.S. Sen. Ron Johnson. For the third person, he said candidates who ran for School Board in the spring cycle and town board.
Asked by a listener how he would relate to middle and low-income Wisconsinites as a result of his multi-million dollar houses in Connecticut and New York, he said, "talk to the people at Michels." He said he is not a "fancy" guy and is down to earth. He said he was born and raised in Wisconsin and has been a resident of Wisconsin his entire life. "I did go out east….I'm a Wisconsinite through and through, and I can totally relate to people."
He was asked about prevailing wage, he said, "We belonged to a lot of different construction associations." He said that doesn't mean they agree with those associations.
Asked what grade would he give Robin Vos, he said, "I don't know if he's reformable or not but we will try." Maybe "with leadership maybe we can get him to a passing grade," he said. He wouldn't say whether Vos was failing when pushed, and he would not give Vos a grade.
Asked, "So you're saying he's failing," Michels responded, "I'm not saying that Joe. I have great hope that his great hope his grade will improve."