Facebook has removed its ban on Wisconsin's top-ranked conservative news site, republishing Wisconsin Right Now after a major outcry erupted.
"After reviewing your appeal, your Page Wisconsin Right Now has been published. This means it can now be viewed publicly," the social media giant announced on Saturday, April 24, 2022.
On top of that, all the restrictions Facebook had put on the page were removed. Restrictions were put in place after our fact-based analysis of the Rittenhouse trial, including the inability for WRN to invite new followers to the page, putting WRN's post low down in followers' news feed, giving notice to potential followers that the page had violated Facebook's TOS in the past, and restricting WRN co-founder Jim Piwowarczyk from Facebook Live.
Facebook's action reversed its bizarre decision to "unpublish" Wisconsin Right Now's Facebook page for no reason, robbing Wisconsin voters of the ability to learn the other side as the midterm elections loom in this critical battleground state.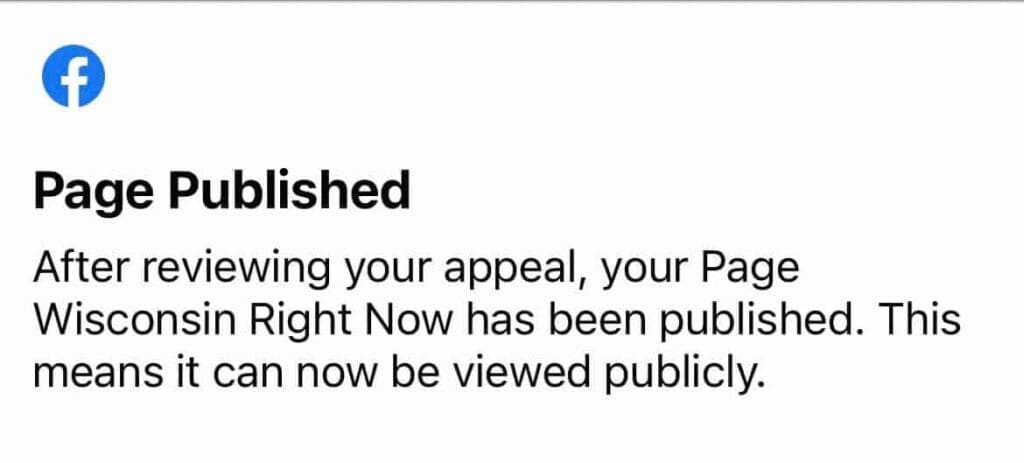 On Friday, April 23, 2022, we received statements from numerous prominent political leaders, including U.S. Sen. Ron Johnson, Congressional candidate Derrick Van Orden, gubernatorial candidates Kevin Nicholson and Rebecca Kleefisch, and Attorney General candidate Eric Toney.
They decried the censorship of Wisconsin Right Now's page, with Johnson, who is running in one of the country's most closely watched Senate seats, calling it a "true danger to our democracy."
Toney pledged to "work with state and federal attorneys general to use antitrust laws to hold big tech accountable" if he wins the AG's race.
"We are proud that we fought back against Facebook's censorship – and won – so we can continue to bring Wisconsin voters the news they need to fully educate themselves on their choices in November and on," said co-founders Jessica McBride and Jim Piwowarczyk. "Every American should be deeply troubled that unaccountable tech companies control so much of the free flow of information in our Democracy and continue to make such arbitrary decisions. We thank everyone for their support."
In addition to political news, the Wisconsin Right Now site covers breaking news and crime. Its journalists were the first in the country to report on the Waukesha parade attack suspect's criminal history and have broken many stories followed by other media. The site was also the first to cover Facebook's influence on Wisconsin's elections.
We also received support from many loyal readers, members of the state Legislature, the Wisconsin Conservative Digest publication, and the national Federalist website.
The Federalist reporter contacted Facebook for comment but received none. Facebook also ignored our repeated requests for comment and explanation.
Wisconsin Right Now Facebook Ban
Facebook had banned Wisconsin Right Now earlier this week after the site shared a moving story from an Australian publication that compared the famous and highly regarded "Falling Man" story of 9/11 to the people who fell from planes in Kabul after Joe Biden's disastrous withdrawal.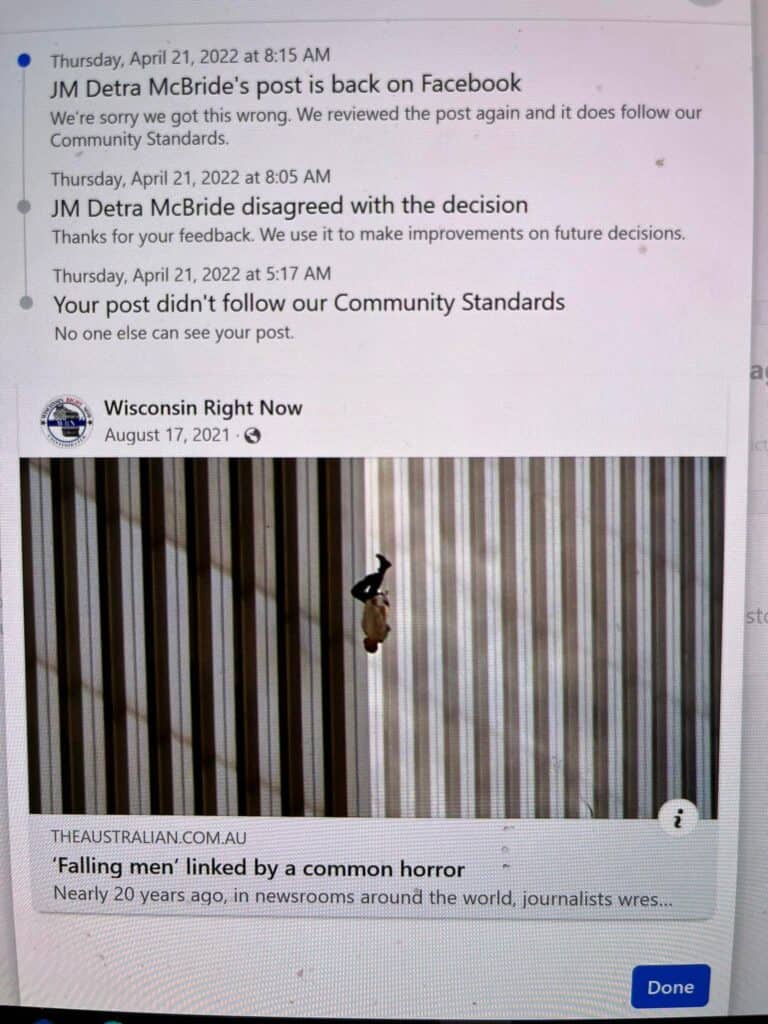 The point of the sensitive story and share was to remember the human cost of war and terror.
Facebook reversed that violation previously but left the page unpublished – until Saturday.
Wisconsin Right Now did not have a long history of violations and what we had were absurd. Last November, Facebook unfairly began restricting our page due to our Milwaukee Press Club award-winning, fact-based news reporting on the Kyle Rittenhouse case. In particular, Facebook because restricting our ability to invite new followers and use Facebook Live because of a professional analysis of Wisconsin gun laws that proved correct when the judge used that analysis just days later to dismiss the gun charge against Rittenhouse because of the complicated and confusing nature of the statute.
Wisconsin Right Now's mission is to report the stories the media won't or that the media twist unfairly against conservatives. Wisconsin Right Now is the top-ranked conservative online news site in Wisconsin outside WISN 1130 AM and is the #2 online news site of any political background in the state, and the site outpaces even some daily newspapers and television stations throughout the state in popularity, according to Alexa.org rankings, which you can see here.