Because Wisconsin Right Now aggressively covers political stories the media twist or ignore, Facebook's censorship is giving Democrats an unfair advantage in a key battleground state with the midterm elections looming.
U.S. Senator Ron Johnson and prominent Republican candidates for Wisconsin governor, attorney general, and U.S. Congress, are condemning Facebook for banning an award-winning, top-ranked Wisconsin conservative news site's page before the midterm elections for no reason, with Johnson calling the action a "true danger to our democracy."
Republican candidates for governor Rebecca Kleefisch and Kevin Nicholson also criticized Facebook's action, as did Attorney General candidate Eric Toney, state Sen. Julian Bradley and state Rep. Rick Gundrum. Toney pledged to "work with state and federal attorneys general to use antitrust laws to hold big tech accountable" if he wins the AG's race, slamming Facebook's censorship of Wisconsin Right Now, which has had millions of readers since it launched in 2020, as an "attack on free speech."
Derrick Van Orden, a former Navy SEAL strongly favored to flip the Congressional seat in western Wisconsin held for years by Democrat Ron Kind, joined the chorus of criticism. Van Orden called Facebook's decision to censor WRN "absurd," adding, "Facebook is out of control."
Many of the officials called on Facebook to reverse its decision. "Facebook should immediately reverse course," said Kleefisch, the former lieutenant governor of Wisconsin. "Facebook should absolutely reverse their decision and uncensor Wisconsin Right Now's page immediately," said Nicholson, a former Marine running for governor as a Republican.
"Just like they've repeatedly done to me, liberal Big Tech social media giants are censoring conservatives in Wisconsin because they are countering the narrative of the radical left that is destroying America," Johnson said in a statement.
Facebook has refused to explain its decision, which was based on a violation it later reversed relating to the famous Falling Man story about 9/11, admitting it got it wrong. However, the social media platform left our page unpublished anyway for reasons it won't explain.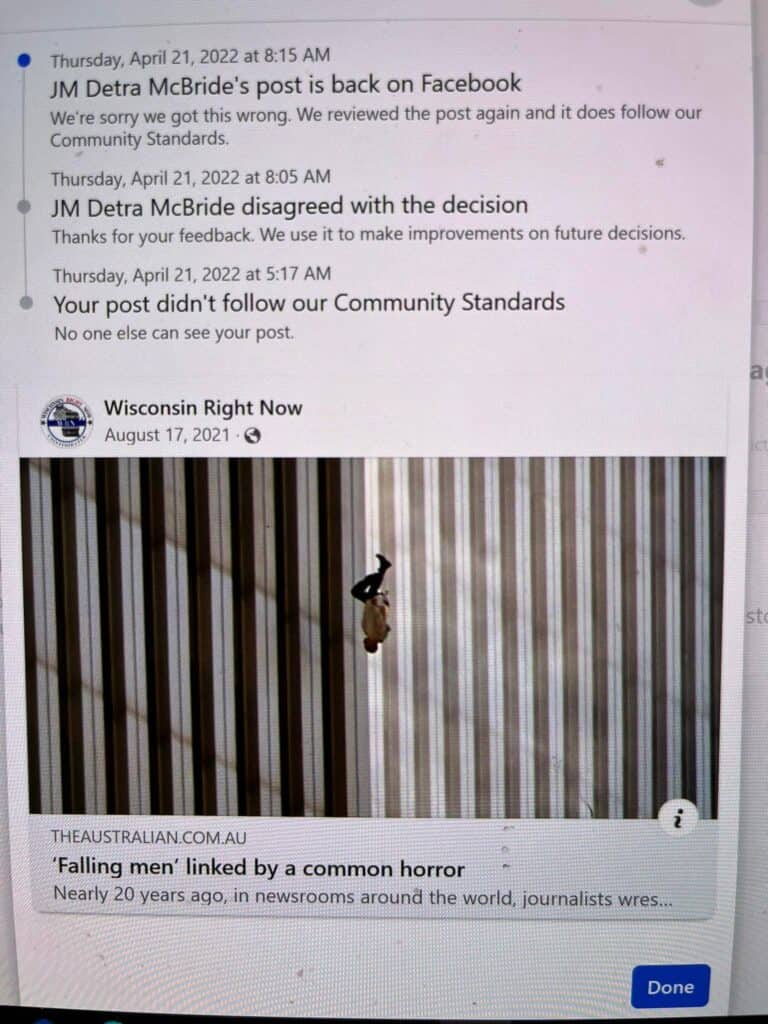 "This is further escalation in their insidious war on free speech and represents a true danger to our democracy. Democrats and their allies in Big Tech will continue to censor and suppress conservatives unless we fight back and win," Johnson said of Facebook's April 21, 2022, action.
Wisconsin Right Now, the winner of multiple Milwaukee Press Club awards for its reporting, is the highest-ranked independent online conservative news site in the state and 2nd for all online news sites. It is a site that uses investigative journalistic techniques to carefully verify information and has broken many news stories that other media outlets have covered. The site's journalists were the first in the country to report on Waukesha parade attacker Darrell Brooks' criminal history and bail issues, for example.
See the national Federalist site's story on WRN's page being banned. Wisconsin is a battleground state, and Wisconsin Right Now has aggressively covered the elections, often covering stories about Democratic officials and candidates like Josh Kaul and Tony Evers that the state media censor, twist or ignore. The site has also covered Facebook's influence on Wisconsin elections. Thus, by censoring Wisconsin Right Now's page, for NO REASON, Facebook is arguably creating an unfair advantage to Democrats going into the midterms. That's especially true in the case of Johnson, who has been relentlessly hammered by the media for months.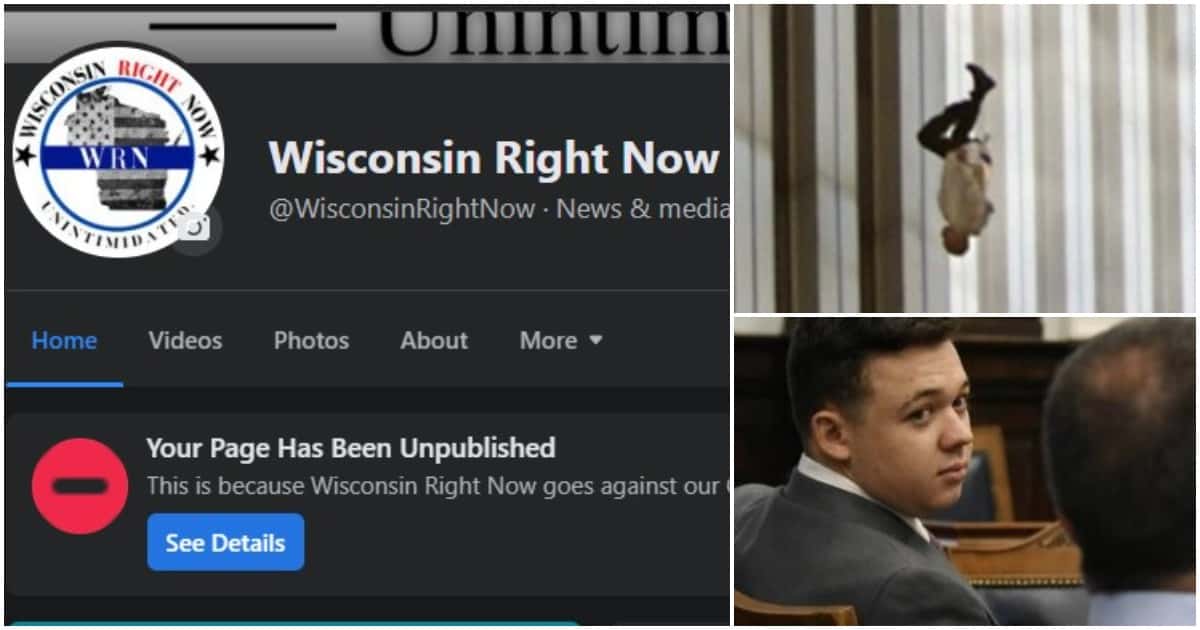 Kevin Nicholson
Former Marine Kevin Nicholson, a Republican candidate for governor, said in a statement, "It's absurd that Facebook is censoring Wisconsin's top-ranked conservative news site in the middle of a critical midterm election year. Facebook continues to show its bias and corruption as they choose to censor voters from learning about reality – just as they did in the 2020 election. Facebook should absolutely reverse their decision and uncensor Wisconsin Right Now's page immediately."
---
Former Lieutenant Governor Rebecca Kleefisch
Rebecca Kleefisch, the former Lieutenant Governor of Wisconsin, said in a statement: "Unaccountable Big tech companies continue to silence conservative voices. Wisconsin Right Now does important work educating conservative voters and covering the things they care about. Those same conservatives deserve to have their voices heard, and Facebook should immediately reverse course."
---
State Senator Julian Bradley
"Zuckerburg isn't done trying to manipulate Wisconsinites," State Senator Julian Bradley Bradley wrote, referring to a story, broken first by Wisconsin Right Now, that explored Facebook-linked money and the 2020 election. "This censorship of conservatives cannot stand. I've got legislation that would stop this. We must demand Wisconsin Right Now get their Facebook page back."
---
State Rep. Rick Gundrum
"It has long been known that Facebook is biased against conservatives. While liberal news outlets can flourish, conservative outlets like Wisconsin Right Now are being censored. I hope Facebook does the right thing and gives WRN their page back," Gundrum wrote.
---
Facebook "unpublished" Wisconsin Right Now's Facebook page, meaning it no longer can be used at all, because we shared another site's professionally done and sensitively written story comparing the iconic Falling Man story in Esquire Magazine on Sept. 11, 2001, to people who lost their lives in Kabul. Facebook claimed it was insensitive to suicide, even though the Falling Man is one of the most famous and highly regarded stories ever written about Sept. 11, and even though the image of the Falling Man with the story share has been used by many credible media outlets and can be found all over Facebook on many sites. We appealed. Facebook reversed its decision on the violation, but still left our page unpublished even though that rescinded violation was the reason the page was banned in the first place.
We don't have a long history of violations and the ones we have gotten have been prima facie absurd; Facebook started restricting the page after our factual and Milwaukee Press Club award-winning news coverage of the Kyle Rittenhouse trial. For example, we wrote an analysis of state gun laws that was proven correct in court. That's when Facebook started limiting our page, such as our ability to invite new followers at that time. They also didn't like a meme we shared of Rittenhouse and the judge playing video games. The only violation we had between our Rittenhouse coverage and the Falling Man story that got us banned was a share of a Fox News story on Donald Trump that Facebook's "independent fact-checkers" deemed partially incorrect.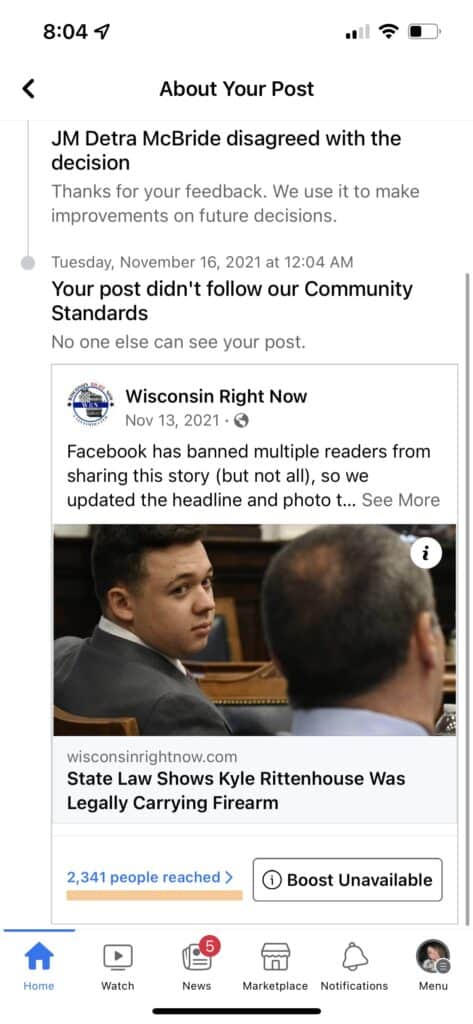 We have contacted Facebook's press office for comment twice and received nothing back. We tried to appeal the decision, but the link in the email notification sent to us by Facebook doesn't even work.