The head of University School of Milwaukee is accusing the brother-in-law of former President Barack Obama and his wife of repeatedly engaging in "disrespectful, demanding, and bullying conduct toward and relating to our teachers and administrators," depriving the latter of a "physically and emotionally safe environment," according to an email obtained exclusively by Wisconsin Right Now.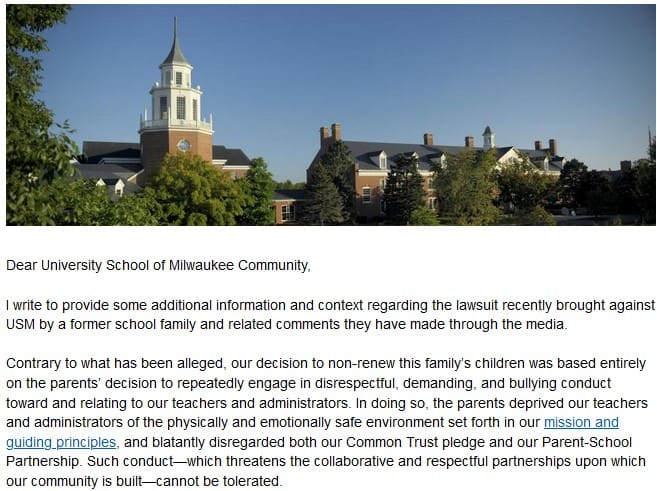 Steve Hancock, head of the prestigious Wisconsin school, alleges in his email that Craig and Kelly Robinson, who launched a national media blitz against the school earlier this week, "had badly mischaracterized" three worksheets that were used in 5th-grade classrooms. In a lawsuit, the Robinsons previously accused USM of a "persistent failure to fulfill its promise of an inclusive and diverse learning environment." They claimed their children's enrollment was terminated after they complained about alleged racism at the school and in the curriculum. Craig Robinson told Good Morning America that the school used the word "plantation" and showed "insensitivity to socioeconomic status" in assignments, but didn't offer many other specifics.
Craig Robinson is Michelle Obama's brother. The lawsuit was filed by lawyer Kimberley Motley, who is well known for her lawsuits targeting police.
We've obtained the worksheets in question. In one, students were asked to complete a Thanksgiving word search that included the word "plantation." Another worksheet that the school says the family mischaracterized asked students to find classmates who engaged in sports, watched a movie or visited another state during winter and spring breaks.
[embeddoc url="https://www.wisconsinrightnow.com/wp-content/uploads/2022/04/misc_254882.pdf" viewer="google"]
[embeddoc url="https://www.wisconsinrightnow.com/wp-content/uploads/2022/04/misc_254883.pdf" viewer="google"]
[embeddoc url="https://www.wisconsinrightnow.com/wp-content/uploads/2022/04/misc_254884.pdf" viewer="google"]
Hancock, head of the prestigious school, sent the email to the "University School of Milwaukee Community" on April 22, 2022. His email matches concerns forwarded to us previously by parents and former students at the school, who believed the national and Milwaukee media did not accurately or fully report the situation with Craig Robinson and his wife, Kelly. The Robinsons launched the national media blitz earlier this week against the school, appearing on Good Morning America, filing the lawsuit, and launching a website trashing the school. Its home page says "Don't trust USM." They accused the school of racial and ethnic stereotyping and insensitivity in-class assignments and toward their children, who were formerly students there. See their lawsuit here.
They were asked largely softball questions by a media, nationally and locally, that seemed uninterested in fully exploring the story, which generated negative headlines against the school like this: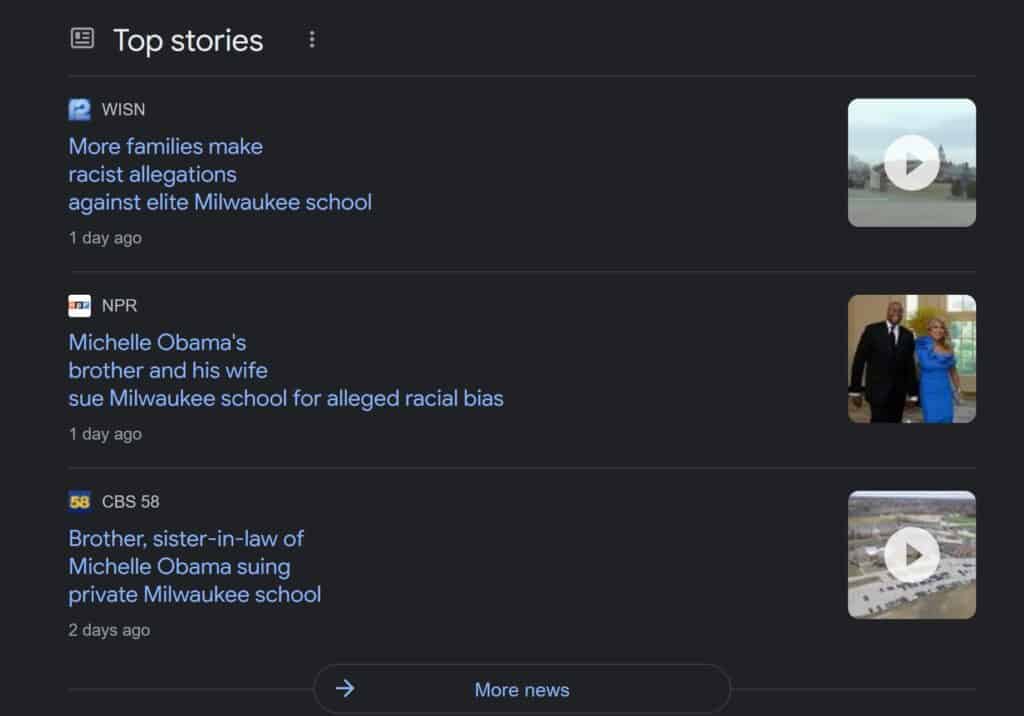 We contacted University School of Milwaukee for details earlier in the week after sources described the mental impact of the situation on teachers. The email is the school's first detailed response to the allegations.
"I write to provide some additional information and context regarding the lawsuit recently brought against USM by a former school family and related comments they have made through the media," Hancock wrote.
"Contrary to what has been alleged, our decision to non-renew this family's children was based entirely on the parents' decision to repeatedly engage in disrespectful, demanding, and bullying conduct toward and relating to our teachers and administrators. In doing so, the parents deprived our teachers and administrators of the physically and emotionally safe environment set forth in our mission and guiding principles, and blatantly disregarded both our Common Trust pledge and our Parent-School Partnership. Such conduct—which threatens the collaborative and respectful partnerships upon which our community is built—cannot be tolerated."
Hancock continued:
"As part of their media campaign, the family has badly mischaracterized three worksheets used last year in some of our 5th grade classrooms. In the interest of full transparency, I encourage you to look at these worksheets. The first worksheet (linked here) was a Thanksgiving word search used in one classroom. Students were asked to find and circle various words, including the word "plantation." The second (linked here) and third (linked here) worksheets were used during icebreaker activities in various classrooms that followed the winter and spring breaks. Students were asked to find classmates who had engaged in various activities during their breaks—such as "played sports," "watched a movie," and "visited another state." When concerns about the content of these worksheets were raised by the family, we took these concerns very seriously, and engaged with them to better understand their thinking. Ultimately, we did not find the material to be of concern, and shared this directly with the family."
He also addressed the family's comments about an Underground Railroad simulation that ended more than 10 years before, writing:
"Much has also been made of a simulation that was long ago part of our 4th grade social studies curriculum addressing Wisconsin's role in the Civil War and, specifically, the Underground Railroad. Many claims and purported descriptions regarding this simulation made in the lawsuit and in the media are completely inaccurate. The simulation ended more than ten years ago—long before the family's students began their enrollment at the school. During it, 4th grade students moved throughout parts of the school to stations where teachers and parent volunteers served in the roles of Underground Railroad conductors, providing guidance on routes to the next 'safe place' stations. Subsequent classroom lessons focused on the importance of Wisconsin's role in the Underground Railroad, which was instrumental in helping enslaved people travel to freedom in Canada."
Hancock added, "As we did then, we will continue to evaluate and evolve our curriculum in a way that is culturally responsive and respectful."
He noted, "USM is fully prepared to vigorously defend itself against the allegations made in the family's lawsuit, as well as misinformation this family has spread in the media. I reiterate my previous statement that non-renewing the enrollment of a school family is a last-resort option, but one that needed to be taken in this particular situation—not because of any actions of the students, but because of the actions of the parents. I will continue to listen, and learn, and want to reassure ALL families that proactively bringing forward concerns is welcome and will never result in retaliation. I look forward to continuing our partnership."
WRN reached out to the Robinsons through their website for comment. We will update the article if they respond.