The Wisconsin media have established a narrative through coverage of Fond du Lac County DA Eric Toney and Milwaukee County DA John Chisholm: An elected top prosecutor is responsible for everything his or her assistants do in court. So why is that standard not being applied to Attorney General Josh Kaul?
It's a glaring media double standard.
Attorney General Josh Kaul's assistant prosecutor handled one of Waukesha parade attacker Darrell Brooks' pending felony cases in Milwaukee, but he gave a judge incomplete information about Brooks' criminal history during two bail hearings, did not file bail jumping charges when Brooks was arrested TWICE on new charges, and did not ask for Brooks' $500 bail to be raised after those new offenses occurred, before Brooks murdered people at the parade, records reviewed by Wisconsin Right Now show.
The assistant prosecutor, Jacob Corr, did not tell the judge that Brooks had TWO open warrants during either bail hearing – one in Nevada for being a non-compliant sex offender and one in Waukesha County in an old child support case. In fact, he did not tell the judge that Brooks was a sex offender at all.
Yet you wouldn't know it from the news media, which has completely ignored Kaul's role in the Brooks' case.
The media, especially the Milwaukee Journal Sentinel, have been hammering Fond du Lac County District Attorney Eric Toney over the Ruben Houston case. He's running as a Republican for a chance to square off against Kaul in the Attorney General's race. However, they've completely ignored similar questions about Kaul and the Darrell Brooks case.
Kaul is accusing Toney of making "a huge error in judgment" in the Houston case, which Toney did not personally handle. In that case, Toney's assistant was prosecuting Houston on a counterfeit drug charge in 2019 when a judge gave him $500 bail. He was released to Marathon County, was given a signature bond there, and then shot a firefighter to death.
Yet the media are not holding Kaul responsible for his office's "huge errors in judgment" in the Brooks' case. Brooks murdered multiple people at the Waukesha Christmas parade; he was free on bail in two felony cases in Milwaukee at the time, one handled by Kaul's prosecutor. There's no evidence they have ever asked Kaul about it at all.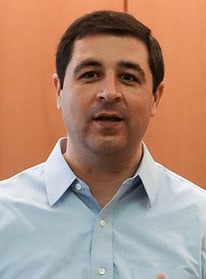 The Wisconsin media have established a narrative through their coverage of Toney and Milwaukee County DA John Chisholm: They believe an elected top prosecutor is responsible for everything his or her assistants do in court. So why is that standard not being applied to Kaul?
Josh Kaul Media Coverage
They've allowed Kaul to get away with rank hypocrisy also, running stories like the one below that react to the Milwaukee Journal Sentinel's own earlier misleading, false, and incomplete reporting on the Houston case. Got that? The Journal Sentinel runs a misleading story against a Republican and then allows his Democratic opponent to bash him over it.

Laughably, the story, by Dan Bice and Patrick Marley even says, "The dispute comes as Milwaukee County District Attorney John Chisholm continues to face criticism for his office's handling of a case involving Darrell Brooks Jr." Bice and Marley then fail to mention that it was KAUL's assistant who presided over one of the bail hearings in one of Brooks' pending felony cases before the parade attack!
They also continue misleading reporting present in Bice's earlier story on the Houston case; for example, they write that Houston "was released on $500 bail in May 2019. Less than two weeks later, Houston shot and killed an Appleton firefighter." This gives a misleading impression to readers because actually Houston was released to the custody of Marathon County, which then released him on a signature bond.
"The big difference is John Chisholm immediately came out and said that the bail on that case was inappropriately low," Kaul said in an interview to the Journal Sentinel. "And what we've seen in the Fond du Lac case is a lot of excuses but so far not a willingness to take ownership of it."
Yet Kaul has refused to answer ANY questions about his assistant's handling of the Brooks case, a fact the media refuse to report. In contrast, Toney has openly discussed his assistant's handling of the Houston case.
In fact, from reading the news accounts on Brooks and bail, in the Journal Sentinel and other news outlets, you would never know that it was KAUL's assistant, Jacob Corr, who handled one of Brooks' pending felonies and bail hearings for the state, not DA John Chisholm's subordinate.
Corr made "offers" to Brooks in the case, records show, but Kaul won't explain them, either. So much for being transparent.
The crux of the negative media coverage against Toney argues that his assistant, Timothy Filipa, gave the judge incomplete information about Houston's past criminal record, missing past convictions, because Houston, who later murdered a firefighter, had used a different name in the past. Therefore, it's directly on point that the media are ignoring the fact that Kaul's assistant gave a judge incomplete information about Brooks' criminal record.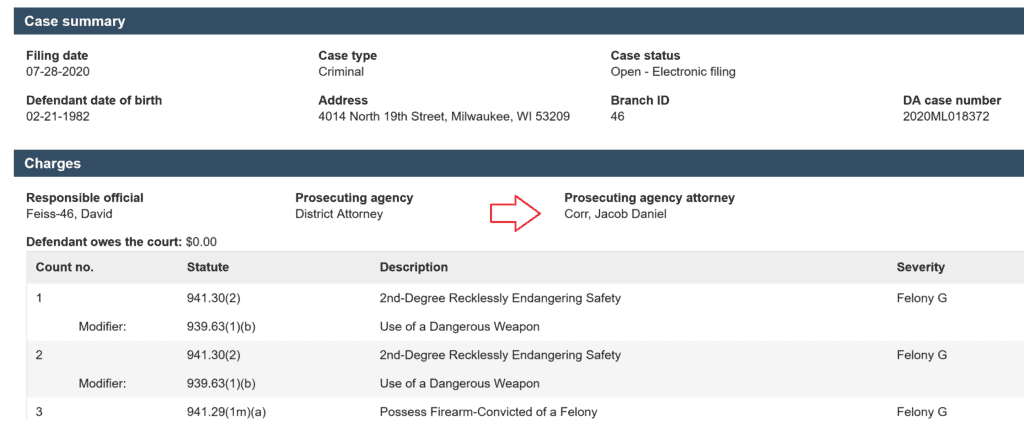 And that's despite the fact that Brooks, unlike Houston, did not use multiple names in a bizarre set of circumstances. In the case of Brooks, prosecutors had his real name and still missed it!
Here's another case in point. The Milwaukee Journal Sentinel recently ran a supposedly exhaustive account, titled, "How police, prosecutors and courts across three states failed to hold Darrell Brooks accountable." The March 17, 2022, story by Ashley Luthern also COMPLETELY FAILS TO MENTION Kaul or Corr, even though it discusses the felony case Corr handled, for a Milwaukee shooting. Instead, the story mentions Chisholm, whose assistant handled the later of Brooks' two pending felony cases, for a 2021 incident in which he is accused of trying to run a woman over with a car.
Both of these cases were pending before the Waukesha parade attack and could have kept Brooks off the street so he couldn't commit it.
Luthern claims, "The focus on bail has overshadowed the other ways the criminal justice system failed to hold Brooks accountable." Yet only Kaul and Corr are let off the hook because readers are never told of their involvement. In fact, check out how the two stories are displayed; Toney gets bashed in the headline. Kaul doesn't even get mentioned in the story!

Most critically, during TWO February 2021 bail hearings, Corr did not tell the judge that Brooks was a Nevada sex offender wanted on an active warrant for being non-compliant. He did not seek a bail jumping charge or increased bail when Brooks was arrested in Georgia for battery during the court case a few months later, and he did not seek a bail jumping charge or increased bail when Brooks picked up the new felony in Milwaukee, in the case Chisholm's assistant handled, even though court records indicate Corr was aware of the latter.
To boil that down, Brooks was accused of committing two new crimes in two different states WHILE out on $500 bail in the pending shooting case in Milwaukee, but Corr did not ask for bail to be increased after that point and before the parade attack, nor did he file bail jumping charges. That's even though Brooks was warned by a court commissioner that failing to abide by conditions of bail could result in a bail jumping charge. Doing so might have kept Brooks off the street.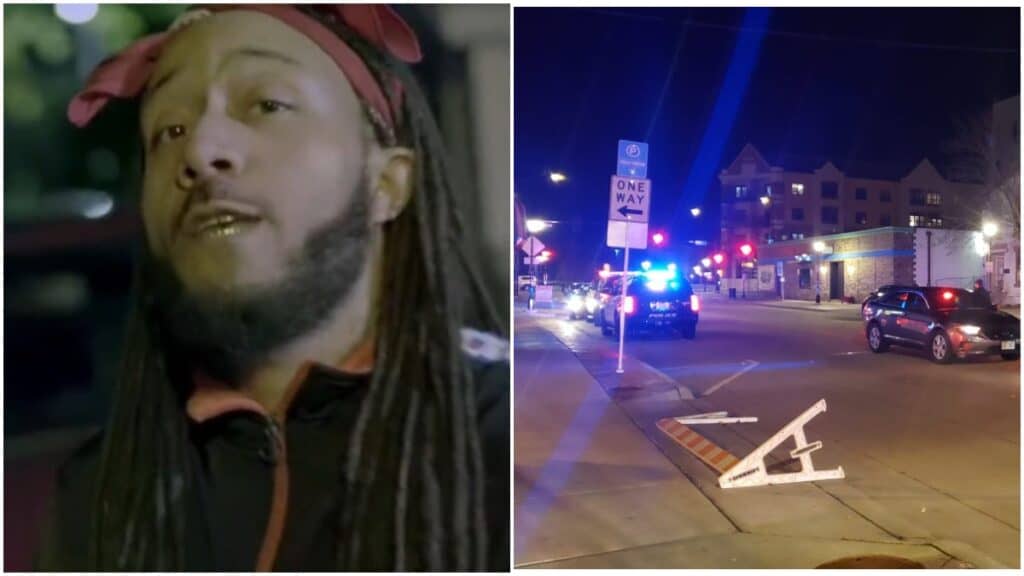 Despite those mistakes, Corr did at least oppose a defense attorney's attempt to reduce $7,500 cash bail to a signature bond during the hearing where the judge reduced it to $500, saying, "I think that bail should remain" and was appropriately set and bringing up victims' concerns and the strength of the case. However, that was during the first bail hearing he handled in February 2021. Later that month, at a second bail hearing, Corr did not object to the bail remaining at $500 and did not ask for any different amount.
In fact, during the second bail hearing on Feb. 26, 2021, the judge, David Feiss, indicated that he wanted to "make sure that he's (Brooks) out" and had paid the $500. Corr did not object to that, and he did not ask the judge to reconsider the low bail at that hearing. Instead, they discussed confusion over whether Brooks had a hold in Waukesha County for a separate child support case or had posted the $500 in the shooting case and was out. The concern at the hearing seemed to be whether Brooks was able to get released because the judge was concerned about his speedy trial rights, not ensuring he would show up for court.
Corr did not sound very concerned about whether Brooks was out of custody. He recommended setting another court date almost four months later.
"Well, judge, why don't we – if your deputy says he's out, we don't have any control over Waukesha," he said. "Why don't we just set a status date a week before the June 28th date in order to – if Joe needs another date before that time if something happens, we can always bring it in."
Court records show that a court quashed a warrant for Brooks in the Waukesha case that same day, Feb. 26. The same day that Corr appeared in court on the case in Milwaukee, a judge in Waukesha did the following: "Darrell Brooks released on his own recognizance."
The different courts don't seem to have been communicating with each other very well. That means the warrant in Waukesha was active during the first bail hearing that Corr handled.

Toney's prosecutor, Timothy Filipa also opposed the defense attorney's request for a signature bond, asking for some cash instead (it was the judge who came up with the $500 in that case). Yet only Filipa is getting shredded in the media. [Court records show that different prosecutors handled the bail hearings where Brooks received $10,000 and then it was reduced to $7,500. Corr came on the case after the preliminary hearing.]
Luthern argues in her story that officials in Nevada and Georgia did not upload information about Brooks' warrant and arrest in those states to a national database.
However, we've discovered that a state Department of Justice arrest history (See: DOJ-WORCS) for Brooks states that he had an out-of-state felony conviction, yet Corr still did not tell the judge about that, and digging into it might have easily turned up the active warrant. A Google search also could have turned up the fact Brooks was a Nevada sex offender.
In fact, the out-of-state felony conviction is listed on the DOJ report under the arrest that resulted in the charges Corr was prosecuting! The Department of Justice is the office Corr works for, and that Kaul leads, and yet Corr did not tell the judge about this fact. Certainly, the fact that Brooks was a non-compliant sex offender wanted on a warrant would be relevant in a bail hearing during which the judge needed to assess whether he was likely to show up in court.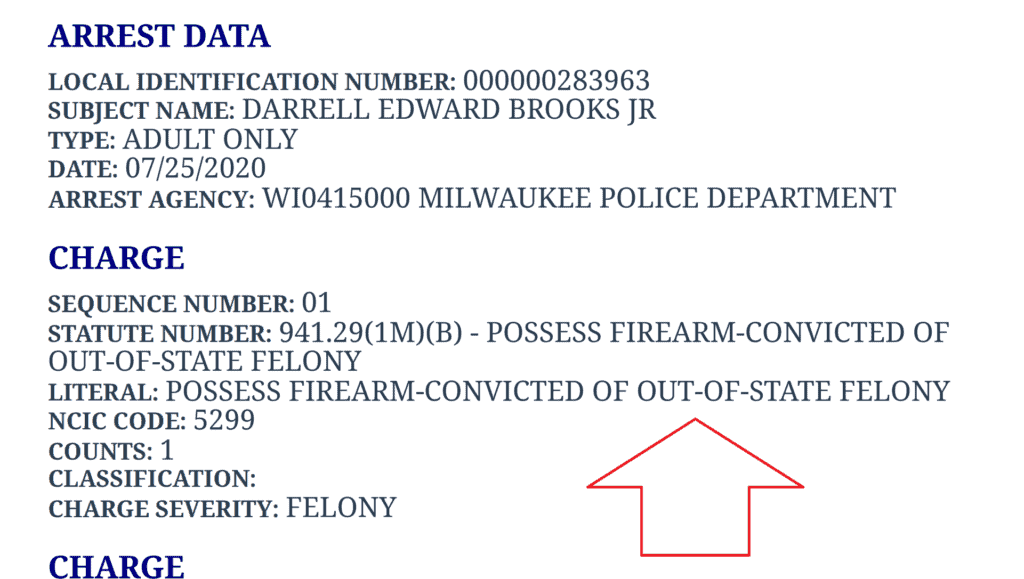 Corr's comments about Brooks' criminal history are contained in a court transcript for the February 2021 bail hearing, which Wisconsin Right Now obtained through an open records request. They are woefully incomplete: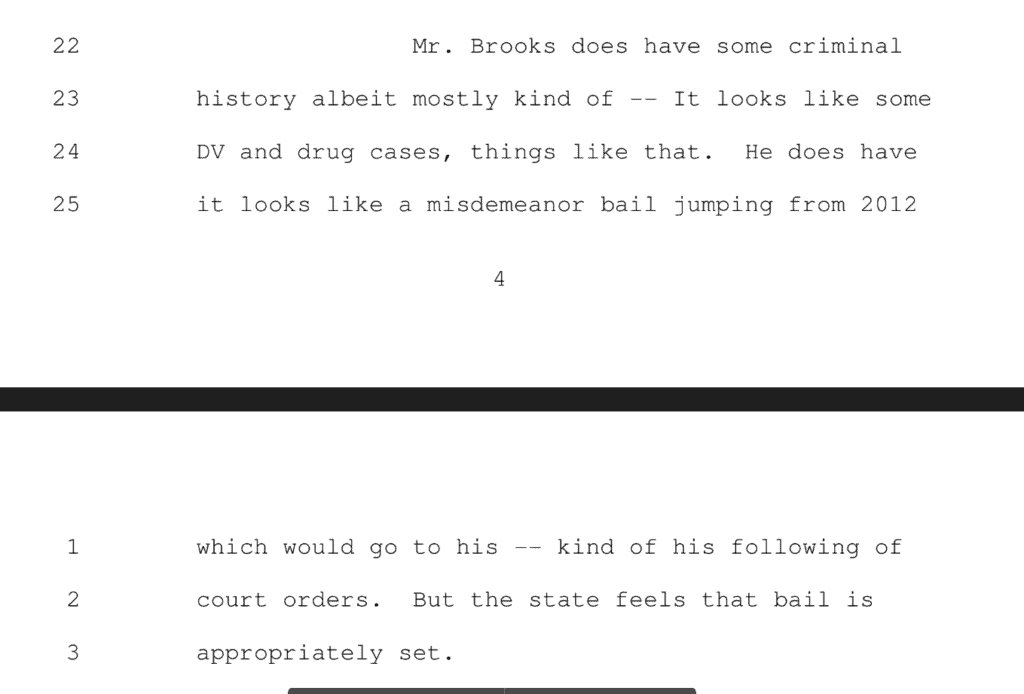 Contrast that to a paragraph in Luthern's own story. She writes that Brooks "was charged with strangling a woman in Wood County in 2010 and nearly running over a cop during a traffic stop in Milwaukee in 2011, along with two other cases for having marijuana. By 2012, he had been sentenced to probation and less than a year in jail for those crimes." Again, all information that the Milwaukee judge could have benefited from knowing. And that's just for starters.
Here are the court transcripts:
20210209brooks(1) 20210226brooks(1)
Case Similarities
There are many similarities between the two cases, yet only one prosecutor is getting hammered and only one angle is getting news coverage. The Milwaukee Journal Sentinel's Dan Bice ran a story that blared, "AG candidate Eric Toney's office accused of botching case in which a 9-time felon killed a firefighter while out on $500 bail." The only person doing the accusing in the story are Bice and Toney's Republican primary opponent Adam Jarchow. Bice originally did not include the word "office" in the headline, accusing Toney of personally botching the case even though he never appeared in court or personally handled it.
See our round-up of how the media have botched coverage of the Houston case, leaving out important information and even getting facts wrong here.
Bice and the other media have not run headlines that say: "AG Josh Kaul's office accused of botching case in which Darrell Brooks ran over multiple people while out on $500 bail."
We believe that Kaul's prosecutor, an Assistant Attorney General, is assigned to work with the Milwaukee County DA's office on violent crime issues, but Kaul won't even explain that. But Corr works for the state Department of Justice, Kaul's agency. We called the DOJ and asked for Corr and they said they would give him the message.
DOJ took ownership of Corr in a press release during the time frame in which Corr was prosecutor the Brooks' case.
In October 2021, the Wisconsin Department of Justice issued a press release on a Milwaukee criminal trial, also presided over by Judge David Feiss. In that story, they indicated the case was "tried by Wisconsin Department of Justice Assistant Attorney General Jacob Corr."
Here's his LinkedIn page:
Is it fair to hammer Filipa and Corr, veteran prosecutors who were juggling high caseloads and may not have learned criminal history information because of state and national bureaucratic inefficiencies (with CCAP, with how well states share criminal histories)?
That's a matter of judgment, but the fact is that the cases bear enough similarity that covering one but not the other is unfair.
Here's what unfolded in the Brooks case that Corr handled specifically:
The courts were notified on Nov. 10, 2021, that Brooks had committed a new felony. This was 11 days before the parade attack.
The parties, including Corr, appeared in court on Nov. 11, 2021, where the new felony case was discussed. It involved the accusations that Brooks had tried to run a woman over in a Milwaukee parking lot – the case Chisholm's assistant was handling.
"Defense counsel requested an adjournment. State did not object. Court granted request. Case adjourned for Status hearing," is all the records say. Brooks' bail remained $500 in that case despite this serious new information; he was then released on $1,000 bail in the new felony case handled by Chisholm's prosecutor on the same day that Corr was in court for the earlier felony.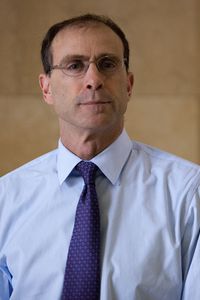 What happened specifically in the Brooks' earlier bail hearing, where Judge David Feiss set $500 for him?
Corr started appearing in the Darrell E. Brooks' case starting in October 2020 through at least August 2021 and appeared in court for the state during the $500 bond hearing; this story confirms he still worked for Kaul as of late October 2021, during the time frame of the Brooks' bail hearing, and his LinkedIn page says he's still there.
The records also indicate Corr was making "offers" to Brooks before the parade attack. Kaul's office has refused to comment on Corr's role or these offers.
We asked Corr and Kaul, via his spokesman, a series of questions, including:
What amount did Corr recommend for bail? Was it appropriate? Did Corr argue for a specific bail amount in other appearances/dates in this case? If so what and when and was it appropriate? Why was Corr handling this case? What role did AG Kaul have in this case, these bail recommendations?
The court records say the state made Darrell E Brooks an offer and at one point there was a plea/sentencing date set (canceled when Brooks reoffended). What was the offer from the state to Brooks in this case? Was it appropriate? Why did the state/Corr/your office not file bail jumping charges against Brooks when he was accused of new felony charges on Nov. 5, 2021 while out on $500 bail in this case? Why did Corr not file a motion to raise bail after that new offense?
We haven't heard back.
The court transcripts, obtained by Wisconsin Right Now through an open records request, show that the case was scheduled for a jury trial in February 2021 when the $500 bail was set by Judge David Feiss, but it didn't go. "The court had approximately six or seven speedy trials and detainer cases. The court is currently in trial on a case that was older than Mr. Brooks' case," said Feiss.
In other words, Brooks' case bogged down in court backlogs in Milwaukee County.
Brooks had an initial appearance in July 2020 and a speedy trial demand was entered on August 7. The speedy jury trial date was originally November. That got delayed too. Requesting a speedy trial is a constitutional right, but no speedy trial violation was found because that would have required no bail. To be sure, many court officials in at least two counties bear some responsibility for the fact Brooks was on the street. That's true, too, though, of the Houston case, since he was sent by Fond du Lac County to Marathon County, which released him before the shootout that took the firefighter's life on a signature bond. However, the media have fixated almost entirely on Toney and the FDL case.
The bail in Brooks' case was initially $10,000, but it was lowered by the judge to $7,500, as the case languished.
In the hearing in February 2021, the defense attorney asked for a $7,500 signature bond.
Corr stated, "Judge I think that bail should remain. I think that it's not for – I mean obviously the state was prepared to go. The defense was prepared to go." He said he had "two cooperative victims" that wanted Brooks held accountable for his actions. He also brought up the strength of the state's case, saying that he admitted to the pending felon to a possession of a firearm charge.
But then he omitted a lot of Brooks' criminal record.
Corr said, "Mr. Brooks does have some criminal history albeit mostly kind of – it looks like some DV and drug cases, things like that. He does have it looks like a misdemeanor bail jumping from 2012, which would go to his – kind of his following of court orders. But the state feels that bail is appropriately set."
See Brooks' full criminal history here. What is Brooks' actual criminal history?
Waukesha County District Attorney Sue Opper said in court that Brooks has a criminal record in three states: Wisconsin, Georgia, and Nevada.
She confirmed he was a registered sex offender in Nevada, but he's been non-compliant with that state's sex offender registry since 2016, and there was an active warrant for his arrest there as a result.
Opper said that Brooks was also arrested in May 2021 for battery, family violence in another state while out on $500 bail in the first pending Milwaukee felony case.
In Wisconsin, his past record consists of bail jumping, marijuana offenses (including felonies), obstructing an officer, and substantial battery. He is a felon.
The DOJ history shows the following:
1999
Arrested carry concealed weapon
Charge severity: non-criminal
1999
Arrested aggravated battery – great harm (felony) – dismissed
Carrying a concealed weapon (non-criminal) – disposition not reported
2000
Aggravated battery – intent great harm – felony – convicted. Probation
Fourth entry
Carry concealed weapon – non-criminal – disposition not reported
Loitering – non-criminal – disposition not reported
Resisting – misdemeanor – dismissed
Cocaine possession – misdemeanor
2002
Resisting – non-criminal
Take and drive vehicle without consent, habitual criminal, felony – dismissed, no prosecution
THC possession, felony
2003
Resisting – misdemeanor – convicted
2005
Resisting – misdemeanor
Receiving stolen property – misdemeanor – dismissed
Possess controlled substance – dismissed
2009
Paternity warrant, non-criminal
Resisting officer, non-criminal
Resisting – misdemeanor – convicted
2010
Felony strangulation and suffocation – domestic abuse – amended complaint filed
convicted
Misdemeanor battery – DV – dismissed
Criminal damage to property – dismissed, read-in
2011
Probation violation, felony – hold for probation authorities
Extradition request – disposition not reported
Resisting – convicted
Failure to appear
THC possession
Paternity warrant
Possess with intent to deliver THC – convicted possession
Bail jumping – convicted
2012
Probation violation – turned over to probation authorities
Bail jumping felony – no prosecution
Failure to appear (multiple)
Bail jumping misdemeanor (2 counts) – no prosecution
Resisting – no prosecution
Extradition
Possess THC felony – case dismissed
2020
Firearm convicted of out of state felony – charge issued
Endangering safety domestic abuse, reckless use of firearm – charge issued
Possession of meth – dismissed
2021
Paternity warrant – non-criminal