"During Roll Calls…Please inspect our members and remind them the Thin Blue Line is PROHIBITED!" – Milwaukee Police Capt. Carolyn Birch
A Milwaukee Police Captain has instructed District 7 supervisors to "inspect" police officers during roll calls for thin blue line imagery, such as on bracelets.
It comes as homicide has skyrocketed 87% this year so far, on the heels of two record years in a row.
The email dated Monday, April 11, 2022, at 3:05 p.m., is causing a stir inside the department. It was sent by District 7 Capt. Carolyn A. Birch to District 7 Supervisors. However, Birch is clearly following the direction of Chief Jeffrey Norman who has yet to articulate a coherent crimefighting strategy but has taken time to publicly outline his war against the thin blue line.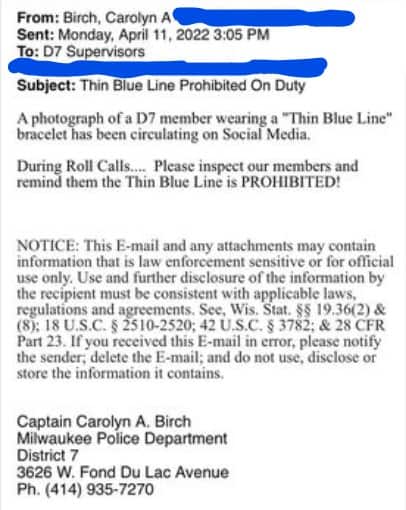 It all started because a photo captured an officer wearing a thin blue line bracelet, says the email, obtained by Wisconsin Right Now from a source.
The Birch email is titled, "Thin Blue Line Prohibited On Duty."
It reads,
"A photograph of a D7 member wearing a 'Thin Blue Line' bracelet has been circulating on Social Media.
During Roll Calls…Please inspect our members and remind them the Thin Blue Line is PROHIBITED!"
Birch has been the District 7 Captain since 2021. Before that, she oversaw the Violent Crimes Division of the Criminal Investigation Bureau. She previously worked in the homicide division and has been on the force since 2001.
Norman's crusade against the thin blue line has enraged current and retired officers, who consider the imagery to be symbolic of law enforcement's mission to preserve social order.
Previously, the Milwaukee Police Department banned comments on the YouTube video in which Norman explained that restricting thin blue line imagery was being "done to have an inclusive and equitable environment for our police department," adding, "I work hard to work for trust in all of our parts of our community." The ban comes after Norman ordered blue line chapel signs taken down. Those signs, which advertise religious services for officers, contained the thin blue line.
Norman says in the video that he is banning the thin blue line from MPD property, adding, "This directive does not affect your off-duty life nor does it affect any pre-approved ceremonies or materials attached to one of our fallen officers."
---
Milwaukee Police Chief Norman Bans Thin Blue Line
Here's what Norman said previously on the thin blue line:
"Greetings MPD family. It has come to my attention that there is frustration over the department's directive of not having any public posting or attachment to MPD materials,
the blue line image. I'd like to make a couple clarifying points first; one, I absolutely appreciate the men and women of the Milwaukee Police Department, and the consistent sacrifices that you all are doing on behalf of our city. Two, I recognize the importance of what the blue line image represents. In one view, there is courage, sacrifice, commitment, honor. Three, I do understand there's another side of what the blue line image is being seen by many individuals in the community and within our organization such as thin blue line code of silence, us versus them. In the area of equity and inclusion as your chief, I must set the tone and be the standard bearer. Additionally, please note I have denied other requests to use images that will be attached to the MPD that I felt would not reflect the professionalism and objectivity of what this organization represents for our community,
Thus, this is our directive; the blue line image should not be attached to any MPD image
posted publicly in any of our buildings or attached to any of the MPD property, such as equipment or vehicles. That's not the full list of the particular places but again examples of…but please note that I do not take this directive lightly; thus, this directive does not affect your off-duty life nor does it affect any pre-approved ceremonies or materials attached to one of our fallen officers. Officers understand that this is done to have an inclusive and equitable environment for our police department. I've always said, in many parts of our community, we have trust; in some of our parts of our community we have somewhat trust, and in few of our communities we do not have trust. Thus again as your chief, I work hard to work for trust in all of our parts of our community. I appreciate your understanding this and your support. As always please stay safe and healthy you."
---