The media have reported on the family members of conservative politicians when they are accused of crimes. Why haven't the media reported that Cavalier Johnson's brother was wanted in a Milwaukee shooting while his brother campaigned on public safety themes?
Acting Milwaukee Mayor Cavalier Johnson's brother Allen Addison Jr. was arrested by Milwaukee police on Thursday, March 31, 2022, on charges that he shot a Milwaukee man multiple times who had earlier stopped him from beating a woman.
Addison is accused in a criminal complaint in Milwaukee of 1st degree reckless injury with a dangerous weapon and felon in possession of a firearm, Wisconsin Right Now has exclusively learned.
For months, as Cavalier Johnson campaigned for mayor, claiming to be tough on public safety, his brother was dodging police. Addison Jr. was wanted by police on felony warrants since January; the warrants were issued by Milwaukee Court Commissioner Grace Flynn on Jan. 19, 2022, court records show.
It's the second high-profile arrest of a close Johnson family member in the last few months. Johnson's nephew is the 14-year-old boy accused of sexually assaulting an 87 year old woman at the book return of the Waukesha Public Library.
Sources within the Milwaukee Police Department told Wisconsin Right Now about Addison's Thursday arrest as word spread quickly. They were concerned that higher-ups in the administration would try to prevent the news media from learning about it as the mayoral election looms; no one had reported on the earlier charges after all. Johnson is running against former Ald. Bob Donovan. The election is Tuesday.
Indeed, we asked the spokesman for Milwaukee police, "Can you confirm that MPD arrested Cavalier Johnson's brother on Thursday and what it was for? Where was he found?" and we received only this vague response: "Per department policy, information involving arrests may be obtained through the district arrest blotters." We then confirmed the information through jail records, a criminal complaint, and social media posts from Johnson family members. Johnson has praised MPD Chief Jeffrey Norman in the past.
The news of Johnson's brother's Thursday arrest – just five days before the mayor's election – comes as Johnson has tried to remake himself at election time as tough on public safety and pro-police; as but one example, check out this ad, in which he calls making the city safer his top priority:

However, an extensive Wisconsin Right Now review of his record as an alderman and Common Council president shows that he has a long history of advocating shifting and cutting funding from the Milwaukee Police Department and painting the police as oppressive and racist toward blacks. The Milwaukee Journal Sentinel recently reported that Johnson admitted he hasn't completed a full public safety plan as mayor, in part because he's too busy campaigning. In contrast, his opponent, former Ald. Bob Donovan, is a staunch proponent of police.
We asked the mayor's office and Johnson's campaign if he wants to comment and also if he knew where his brother was during the two months he was wanted. We will add those comments into this story if they are received.
---
Allen Addison Criminal Complaint
The criminal complaint against Addison, obtained exclusively by Wisconsin Right Now, shows that Addison was accused of causing great bodily harm to a man named "EK," who was injured multiple times in a shooting in Milwaukee, part of a violent crime wave in the city over which Johnson presides.
The complaint says that, on January 4, 2022, at 3:04 p.m., Milwaukee police officers responded to a Shotspotter report of eight possible gunshots coming from 3555 N. 11th St. Upon arriving, they heard screaming and saw a passenger door opening on a truck. They discovered the victim shot in the neck, arm, leg and back of his head. He survived.
That same day, a Milwaukee police detective interviewed the shooting victim, EK. He said he was running errands and decided to leave his house when he saw a Dodge truck pull up next to him. He believed there were two occupants and one pointed a "big gun" at him from inside.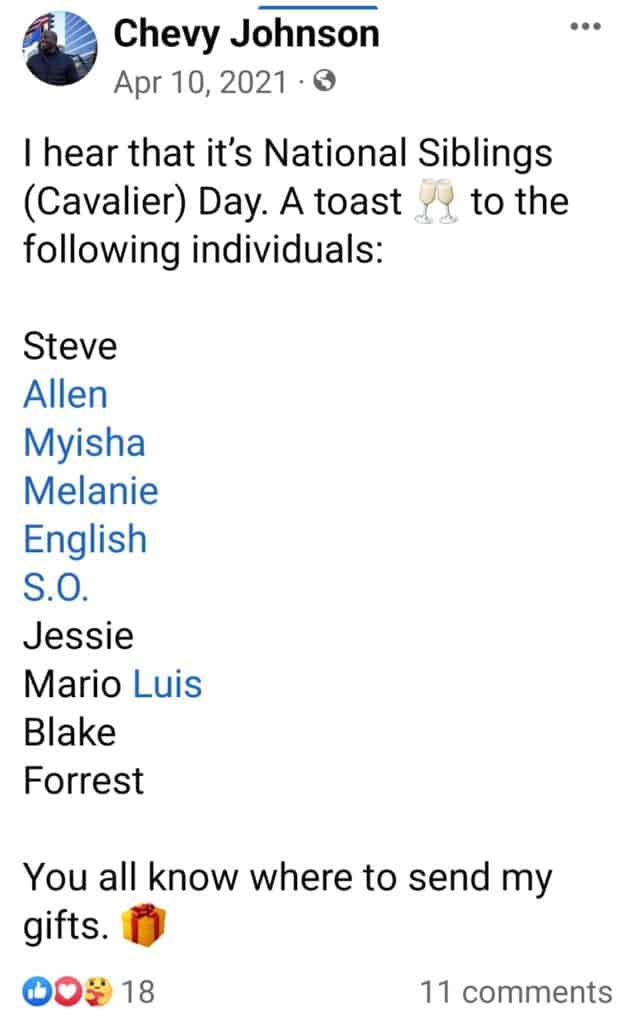 He could not make out details of the gun or who was holding it due to heavy tint on the windows. EK said he had no enemies except he had gotten into an argument with a woman named Ashley's child's father, whom he thinks is named Allen.
In December 2020, EK broke up a fight when Allen was striking Ashley, and Allen told him he would get him back. He drives a truck similar to the one EK saw, the complaint said.
Police then interviewed EK's son, DE, who stated that he saw his father get shot. He saw the truck and said it was associated with a woman named Ashley. Police then learned that Ashley has called the police on a man named Allen Addison, who matched the description and drove a Dodge Ram. They searched the vehicle upon locating it and recovered casings from it. They interviewed EK's neighbor who identified Addison as the driver of a pick up truck that she saw heading north after she heard several gunshots.
---
Cavalier Johnson's Anti Police/Public Safety Record
Cavalier Johnson once suggested sending a man (Vaun Mayes) accused of federal crimes for an alleged failed plot to firebomb a Milwaukee police district station to violent situations instead of police officers.
Johnson has a long history of comments implying that he believes police are racist, oppressive, and have killed and "maimed" black people. He once proposed slashing the Milwaukee Police Department's budget so severely that it would be the equivalent of closing two police districts and the sensitive crimes unit. You can read about his past record here. We also previously wrote about a local crime victim who yelled at Johnson at a mayoral forum because she said he didn't respond to her when her house was shot up in his aldermanic district.
As mayor, he would appoint Fire and Police Commissioners who appoint police chiefs and have a say on the police budget, at a time that firearm-related crime is skyrocketing with homicides at record levels.
So it seems relevant that the same agency, Milwaukee police, that he's sought previously to defund, was seeking his brother, for the last two months, for serious felony crimes. It's worth asking how, if at all, his family members' experiences with the law have colored his perspectives on police and the criminal justice system.
For example, he also once urged the legislature NOT to pass mandatory minimums for criminals; at that time the Legislature was passing legislation to place mandatory minimums on repeat firearm offenders and had placed them on felons in possession of a firearm (one of the charges his brother is now facing).
In 2015, the Legislature passed mandatory minimums for felons in possession of a firearm if they had a previous violent felony; as a result of an amendment co-authored by then Reps. Adam Jarchow and David Bowen (both running for statewide office), though, the bill stated the violent felony had to have occurred in the past five years, limiting its reach. The Legislature also baked sunset provisions into all of the mandatory minimum laws involving repeat firearm offenders. If it weren't for that sunset provision and amendment, Addison's current charges would get him a mandatory minimum prison sentence of three years, if convicted. Now it will be left up to a Milwaukee County judge.
"The idea that harsher penalties and stricter enforcement deters individuals from engaging in crime is simply false, Johnson said," according to Neighborhood News Service story on him in the past. Before becoming an alderman, Johnson was a staff assistant to then Mayor Tom Barrett. According to Urban Milwaukee, "He authored or co-sponsored 207 pieces of legislation during the term, placing him in the bottom third of the council."
---
Allen Addison Criminal Record
In 2014, Addison was convicted of four counts of intimidating a witness, felonies, in Milwaukee County Circuit Court. He received prison time. In 2013, he was convicted of felony child abuse. He has earlier misdemeanor convictions for disorderly conduct as a domestic abuse repeater, bail jumping, intimidating a witness, domestic-violence battery, and theft of movable property.
A 2013 story by Fox 6 reported that U.S. Marshals were searching for Addison on the child abuse charge. That story says he had "been arrested 16 times since 2002." The story says that Addison was accused of beating an 8-year-old child numerous times with a plastic hanger when he misbehaved in school. Previous domestic-violence cases against him were dismissed when witnesses failed to show up for court.
Denise Townsend, the mother of both Johnson and Addison, has ranted repeatedly about the police on Facebook, as well as advocating for Black Lives Matter and calling Wisconsin a "racist a** state."
She has posted birthday tributes on her page confirming that both Johnson and Addison are her sons, and they appear together in photographs on her Facebook page.
She has written on Facebook that she has four sons. She has repeatedly shared content from Frank Nitty, the BLM leader who is one of the two BLM activists Johnson once suggested should go to violent situations instead of police officers.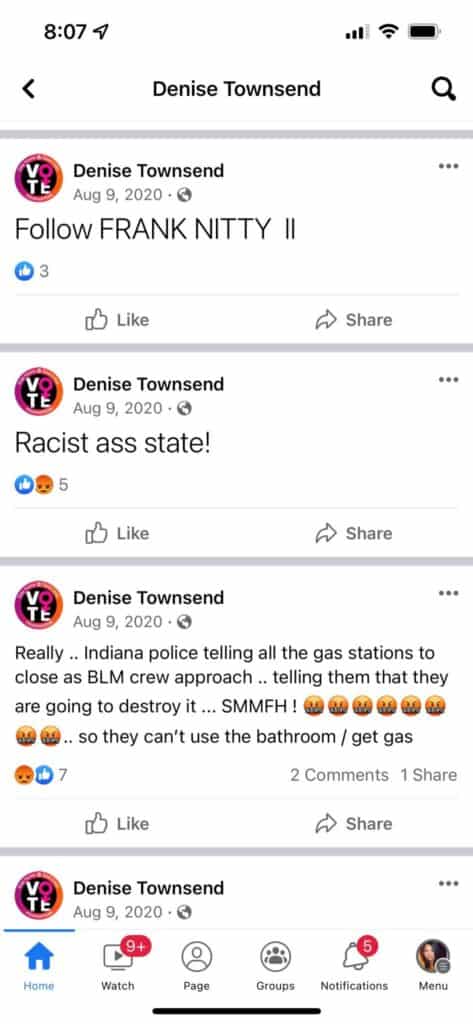 Addison is known as "La" to his family.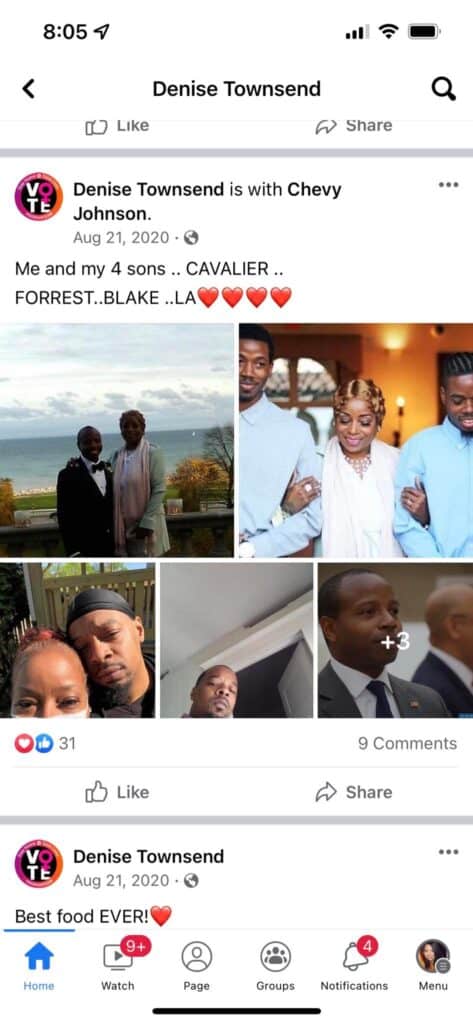 We would note to the news media that they have aggressively covered cases in which conservative politicians' family members are accused of crimes on the state and local level, including recently. On the national level, the spouse of Supreme Court Justice Clarence Thomas recently made big news. Yet the Milwaukee media have been silent about Johnson's brother.
Johnson is one of 10 siblings, according to an Urban Milwaukee profile story on him, "the child of a Milwaukee Public Schools janitor and a certified nursing assistant that split up." According to Urban Milwaukee, "He was a child who had to share beds with his siblings and moved so often he lost count of places where he lived."
According to WUWM, Johnson has talked openly about growing up in one of the toughest zip codes in the state, 53206.
"I'll say this, my experience in Milwaukee is different than Tom Barrett's experience. You know, I grew up in 53206, I grew up in some of the most depressed neighborhoods in Milwaukee. You know, reflecting on my own life, I didn't have the opportunity to attend one school until I got to middle school to start and finish at the school. So from every grade, in grade school, I was practically at another place," he said, according to WUWM. "So, I know Milwaukee, I've seen Milwaukee, I know all the love, but I know all the pain, of areas like 53206."