"Gas and groceries."
Those are the two things voters in Wisconsin's 3rd congressional district are most concerned about, according to Derrick Van Orden, the former Navy SEAL who is running such a strong campaign for outgoing Ron Kind's Congressional seat in western Wisconsin that he's considered the number one Republican challenger in the country to flip a Democratic seat.
Wisconsin Right Now reached to Derrick Van Orden to get a sense of what he believes and how he's mounted such a formidable effort to take back the seat for Republicans.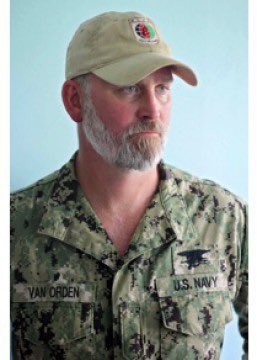 "People want a change," Derrick Van Orden said. "The reason so many people are getting involved now is that they are seeing how bad the economy is, the leadership coming out of Washington. The spending is out of control."
We asked about his strong fundraising totals. "Derrick Van Orden raised more than $830,000 in Q4 to end 2021 with over $2.6 million total raised and nearly $1.5 million cash on hand," his campaign announced at the end of the year.
Van Orden "also outraised the combined total of the 4 Democrats running in a contested primary in Wisconsin's 3rd District and has over $1 million cash advantage over them," the news release said. "This strongest in the nation fundraising in 2021 highlights the united support for his candidacy and the fervor Republicans in Wisconsin are feeling about firing Nancy Pelosi and taking back the House of Representatives now in 2022."
"We ran the number one campaign in the entire nation from Prairie du Chien," said Van Orden to Wisconsin Right Now. "It's the most money any challenger has ever raised in this period of time in the history of the district. It's more money than any other Republican challenger in the nation in 2021. We raised more money in the fourth quarter than all five Democratic challengers combined."
He said that "people around the country and district are not just griping. They are volunteering for our campaign in droves."
According to Derrick Van Orden, "It is the economy; people are having difficulty filling up their gas tank and buying groceries on the same day."
Van Orden ran such a strong campaign last time that Kind basically up and quit this time around. The incumbent announced that he is not seeking re-election.
In 2020, Derrick Van Orden gave Democrat Kind the fight of his political career, losing by only 11,000 votes. Van Orden then announced a rematch, and Kind announced he is retiring. Republicans believe Van Orden is one of the candidates best poised nationally to pick up a Congressional seat.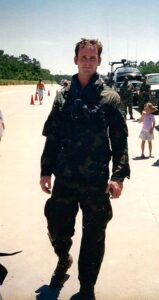 His combat deployments were to Bosnia Herzegovina and multiple combat tours to Afghanistan and Iraq. Additionally, he served in the Horn of Africa, Asia, Europe, and South and Central America. He starred in the motion picture Act of Valor.
"Gas and groceries," he said of the concerns he hears about most.
He said it "just wasn't like this" before Biden took office.
"People are really seeing that and what's going on with Ukraine is getting people very, very nervous," said Van Orden.
He argues that Vladimir Putin has been "emboldened by Joe Biden" because Biden abandoned "American citizens in Afghanistan. He was willing to leave them behind to terrorists."
Derrick Van Orden's first priority in office would be to "address what people are worried about; uncontrolled inflation, radical spending," said Van Orden to Wisconsin Right Now. "We need to have a balanced budget."
Van Orden is concerned about "energy costs" and what the country can do to "push through policies that will get the country open again and get us back to becoming energy independent." He noted that "with a stroke of a pen, Biden canceled the Keystone Pipeline." Yet he "sent a signal through the commodities market that this administration is not friendly to fossil fuels."
His strong fundraising is in part because "people on the national level understand my background. I ran a small business. I was a Navy SEAL," said Van Orden.
He said that everyone is looking for leadership in Washington D.C., noting that it's "absolutely missing at the executive level. People want someone to stand up for what they believe, which is not always going to be the most popular thing."
Of Kind, he noted, "Ron Kind was in office 26 years. It's just too long."
He said the national level needs "new blood."
---
About Derrick Van Orden
You can read more about Derrick Van Orden's bio here.