"Administrators did not know what to tell their shaken staff because DPI did not make it clear when, or if, the crash would be resolved. Admins and staff had to attempt to ease their frustrated parents, who were also without answers."
This year in Wisconsin, 49,000 students are enrolled in private schools through the Milwaukee, Racine, or Statewide Parental Choice Program. These are students in hard-working lower-income families who have been given a voucher to attend the school of their choice. The program is a blessing to families who could not otherwise afford the education that best meets their child's needs.
The only way parents can apply for the Parental Choice Program is through the state Department of Public Instruction (DPI)'s Online Application System (OAS) during the enrollment period for their program. OAS is also the only place where schools can access and verify families' choice applications.
If a parent or a school administrator logged on to OAS on February 1st or 2nd, the first few days of the statewide, Milwaukee, and Racine enrollment period, they were met with a red-lettered message from DPI saying "Due to the high volume, the system is temporarily unavailable. Please try again later today or the next business day."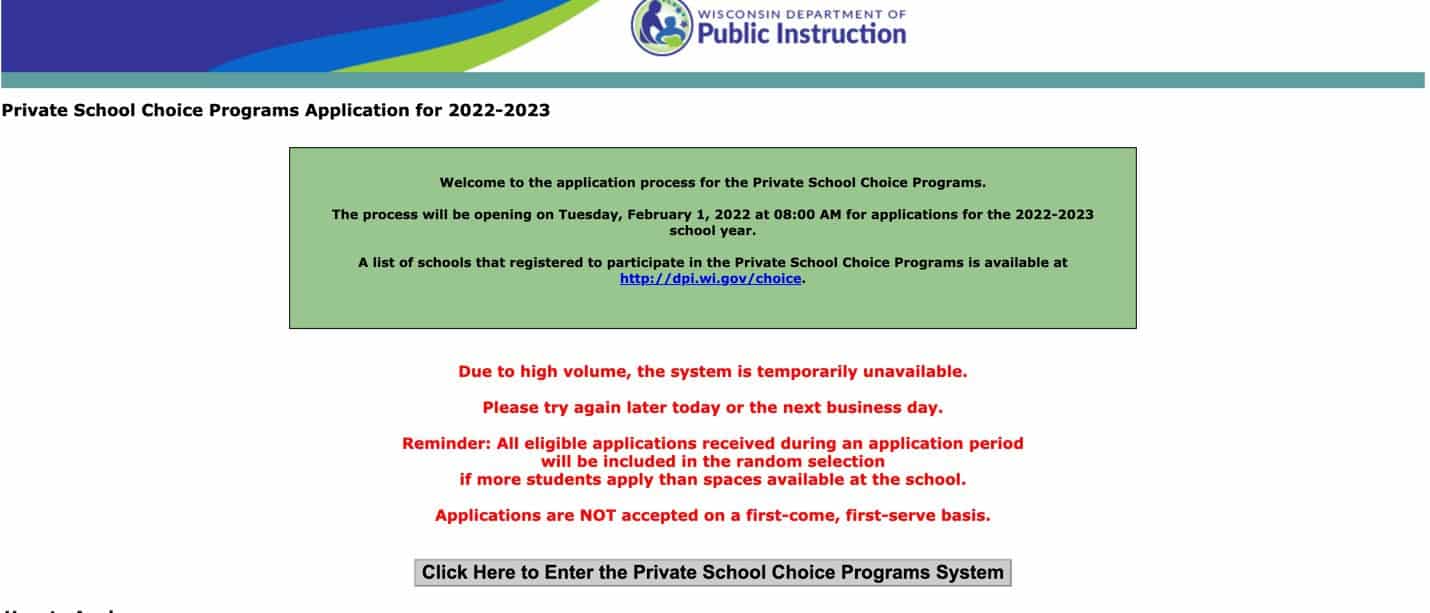 Two days might not seem like a long time, but to a parent or a choice school staff member, two days without access to OAS is a major inconvenience and disruption. School Choice Wisconsin (SCW) spoke to several schools to find out what the experience was like.
While families filled out their applications at home, the webpage suddenly kicked them off, some multiple times. Parents across the state felt frustration and panic, wondering if they would be able to submit their applications before the enrollment period closed.
Some choice families take time off work to get application help from an administrator at their school. When these parents were kicked off the site, their appointments had to be rescheduled, wasting precious time out of their workdays that they already could not afford to lose. One administrator in Waukesha said she had to cancel multiple appointments like this each day of the crash.
For other parents, the downed webpage instilled fear. One school described a parent "freaking out" for fear that her child would not be able to continue going to the school they had attended for years. This is a real fear for many families, as the choice application process is unforgiving of tardiness and mistakes.
School administrators felt fear and panic, too. Choice schools are required to verify families' application information through OAS, and with the system down, staff saw a growing backlog of applications. One school in Milwaukee said the crash set their verification process back by nearly 150 applications.
Choice schools already work with limited time and resources to meet DPI's deadlines, and backlogs like these add hours of work. An administrator said she feared the crash would cause her school to miss an important program deadline, putting the school and their choice students at financial risk.
Administrators did not know what to tell their shaken staff because DPI did not make it clear when, or if, the crash would be resolved. Admins and staff had to attempt to ease their frustrated parents, who were also without answers.
"Barriers in education come in all shapes and sizes," School Choice Wisconsin Action (SCWA)'s Jim Bender said. "The inability to connect parents with schools though this single portal had real impacts on real families."
Schools could not get through to DPI for answers over the phone. When the agency finally did respond via email, their communications were vague and unhelpful.
Parental Choice Program
These are just a sample of accounts from choice schools throughout the state. There are 357 schools that participate in the Parental Choice Program and each school has stories like these. Hundreds, if not thousands, of staff and parents across all 357 campuses had to endure hardship and stress due to the OAS crash.
"Having been an administrator and answering calls from schools that week, I know firsthand the amount of stress this caused," said School Choice Wisconsin (SCW) President, Nicholas Kelly. "Unfortunately, this was unneeded stress in an already stressful period."
Worse, DPI's website has had technology issues like this multiple times before and DPI has not guaranteed that a similar incident will not happen again.
"Clearly, keeping the website infrastructure functional is not a priority," Bender said.
Without a guaranteed solution from DPI, the status of Wisconsin's 49,000 current choice students could be in jeopardy. That is unacceptable, but it does not have to be this way. That is why School Choice Wisconsin stepped in.
When the crash occurred, SCW staff negotiated with DPI to extend the application deadlines. Because of SCW's efforts, the agency extended the February application period for the Milwaukee and Racine programs by one more day.
Long-term, SCWA has helped draft a bill to prevent incidents like this in the future. The bill would require DPI to contract with an outside vendor to design and maintain OAS. That way, schools would not need to wait for days on end to get answers on the website and tech fixes could happen much faster.
No Wisconsinite should have to endure an experience like this to educate a child. That's why SCW is here to advocate for and defend choice schools and families, so educational opportunity never has to be put on hold.