When people have a choice, public schools "have to compete," said Thompson. He believes choice makes all schools better.
Former Gov. Tommy Thompson pushed a major expansion of school choice in Wisconsin Friday, urging the state to make school choice available for all Wisconsin parents who want it, saying that rules and regulations limiting who can use the popular program should be removed.
"Why should there be restrictions on people having choice?" asked Thompson. "Why should we not have everybody have choice?" From a poor family in Elroy to a person who is middle-income in Middleton, "why should they be deprived from having an opportunity to make a choice?"
If you "leave it up to the parents, they will make the right decision, if the state gives us the opportunity. Get rid of the rules and regulations. Allow whoever wants to choose, choose," said Thompson.
Republican gubernatorial candidates Rebecca Kleefisch and Kevin Nicholson have also come out in support of universal school choice. Candidate Jonathan Wichmann also supports school choice.
Thompson, the outgoing University of Wisconsin System President who is considering a run for governor, is a father of the School Choice movement in Wisconsin, which sparked a national movement and started during his administration as governor. Thus, his support for what some are calling "universal school choice" is certain to add momentum and weight to that movement.
[Read Susan Mitchell's column explaining how Wisconsin's school choice movement led to a national movement here.]
When people have a choice, public schools "have to compete," said Thompson. He believes choice makes all schools better. "We can grow this movement." He also called for transparency in schools. He said that "if we recommit," the state could "double" the number of Wisconsin students in choice.
"That's the American way, and I know it's the Wisconsin way," he said.
Thompson made the comments in Green Bay on January 28, 2022, during a major event sponsored by School Choice Wisconsin for National School Choice Week. It's the 30th anniversary of the movement's birth in Wisconsin. Watch Thompson's speech here:
Although the program has expanded dramatically since its advent here, from 347 students to 50,000 today, it is still subject to a number of regulations, including caps and income limits. Thompson noted that 50% of Milwaukee's students are now using choice, going to charter schools or going to different high schools.
"It's time to make education more relevant and better," Thompson said. "The movement is alive…We've got to keep growing."
"We've got to open it up," Thompson said, noting that school choice was once considered a "radical idea" but has now been embraced by thousands of families throughout Wisconsin.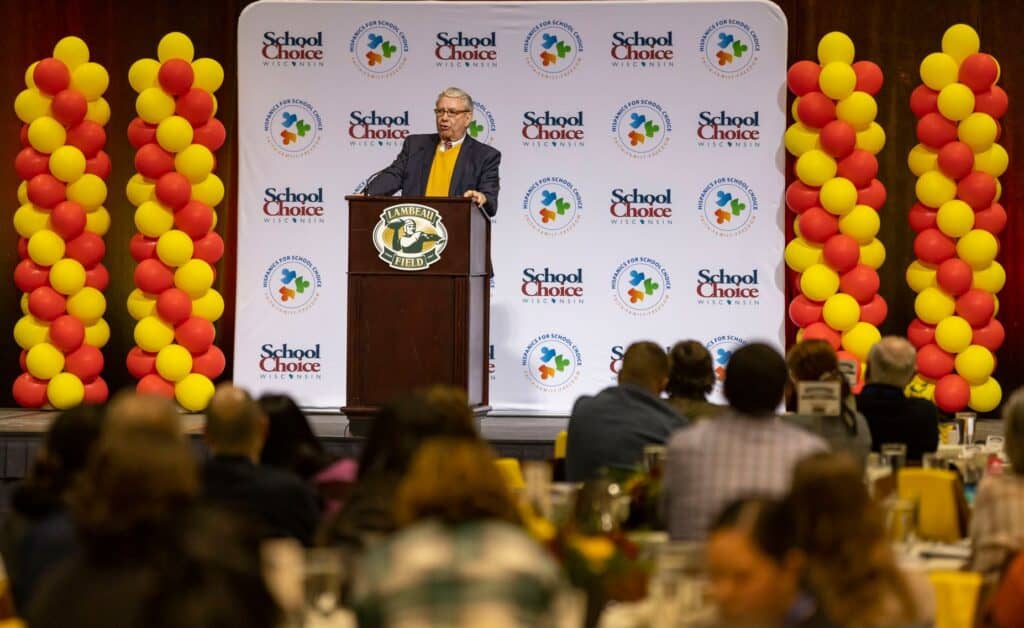 Thompson outlined the history of the school choice movement in Wisconsin, which is one of his greatest legacies. He recalled how he was reading the Sunday newspaper about the crime rate in Wisconsin. "I believe the status quo is the friend of the devil. You always have to look at ways to improve," Thompson said.
He found out reading the paper that "we had to build another prison because of the crime rate." Then, he said, he read an article about the number of minority students not graduating from Milwaukee Public Schools. "That bothered me," he said. He was concerned by parents' concerns that their kids were being bused to other counties, yet there were school buildings down the street that weren't being used.
"The Milwaukee schools were not doing the job necessary to educate these students," Thompson said.
It was a difficult road that required a lot of political navigating, courage, and bipartisan support, including legislators from Milwaukee like Annette Polly Williams and Gary George. He also singled out for praise Dr. Howard Fuller and his wife and school choice advocates Susan and George Mitchell, as well as the parents of Milwaukee, and people who have worked on the issue throughout the years, including Jim Bender, Bill McCoshen, and Nicholas J. Kelly.