Republican Assembly Speaker Robin Vos stripped Representative Timothy Ramthun, a Republican from Campbellsport, of his only staff member this week, sources say, in a dramatic action that prompted a war of words between Vos and a Republican candidate for governor, Jonathan Wichmann. The Republicans in Assembly Leadership then sent out an extraordinary letter obtained by Wisconsin Right Now, which you can read in full below, defending Vos and accusing Timothy Ramthun and his staffer of spreading "lies."
It's the second time this week that Vos has publicly gone after one of former Lt. Gov. Rebecca Kleefisch's Republican opponents in the governor's race. Earlier this week, Vos went after U.S. Marine veteran Kevin Nicholson, who will be entering the Republican primary for governor within days; he praised Kleefisch and suggested Nicholson stay out of the race, which caused Nicholson to tell Vos to focus on doing his own job.
Was Vos right to remove Ramthun's staffer? Or wrong? Take our poll:
[Total_Soft_Poll id="3″]
Vos's action against Ramthun was promptly criticized by Republican gubernatorial candidate Wichmann, who, as Nicholson is expected to do, is running an anti-establishment campaign; that in turn prompted Vos to insult Wichmann's level of support in the governor's race.
Timothy Ramthun has been a leading critic of the 2020 presidential election, introducing a resolution to decertify the election and claiming President Donald Trump won. He has been trying to legislatively pave the way for elections to be done over. Ramthun has become the target of liberal-funded "news" sites like the Wisconsin Examiner and Up North News as a result of his election criticism.
In a press conference, Vos said, "Jonathan Wichmann also if you read his Facebook page said that somehow if he becomes governor, he was going to have control of the Legislature, which just a basic reading of the Constitution says we have three separate co-equal branches of government."
Vos added: "Mr. Wichmann, I think he's probably — what? — at one percent. He has the right to say whatever he wants, but I will stand with my colleagues. I think I'm in pretty good shape. I think most people appreciate what we're doing and that we need to focus on the future, not on trying to decertify the election and focus on the past."
Vos said he thinks "most people appreciate what we're doing."
We asked Wichmann for a response, and he said, "Robin Vos is flat out lying. I never said verbally or on my Facebook page that the Governor has control over the legislature. I am fully aware of the 3 branches of Government, but I do believe the role of the speaker has too much power to remove staffers as a form of discipline from a Representative who is trying to do the work of the people of Wisconsin."
Wichmann added: "In regards to Robin Vos stating that I have only 1 percent of the vote: Robin Vos cannot produce concrete evidence that I am only at 1%. Please reference this non-bias poll showing that I am only 7 points off of Tony Evers prior to my General Michael Flynn endorsement. I have further gained even more support in the months from this September 2021 poll until now."
A new poll indicates that Vos and his fellow Republican leaders may be on thin ice with the electorate in taking such an unusual stance against a 2020 election critic, Ramthun, although they claim it was over specific statements he made about Vos they say are false; a January 2022 poll of likely voters in Waukesha County by Take Back Action Fund for WisRedPAC found that election integrity was the issue that concerns voters most. [You can read that poll here: FINAL Results of Waukesha County Likely Voters; it also shows deep dislike for Tony Evers, Joe Biden, and Milwaukee DA John Chisholm.]
It's also an interesting choice for Vos, who is controversial even in his own party, to go so publicly at two outsider Republican candidates for governor, considering the criticism that already exists in the anti-establishment wing of the conservative movement against Kleefisch, whom some patriot groups have painted as a "RINO." Thus, Vos's criticism could harden that narrative against her, and it may point to a continued fracture within the party. It's hard to see how his action against Ramthun will do anything to heal those rifts; it's likely to exacerbate them.
"There are some who believe — there's one who believes — that we somehow have the right (to withdraw electoral votes) even though every lawyer that we have worked with in Wisconsin says we cannot undo the 2020 elections, " Vos said to the Milwaukee Journal Sentinel of Rathmun. "You know, Rep. Ramthun has that belief. That's his right. But I think that what we're focusing on is not the past. We are looking at the past to learn from it."
We contacted Vos for comment, but he didn't get back to us. Neither did Timothy Rathmun.
Sources say, and the GOP leadership's letter confirms, that Vos was enraged because he argued Timothy Ramthun was making false comments about him relating to ballot dropboxes and the Hillary Clinton campaign. We will get more into that in a minute. But first the GOP leadership's letter:
The Assembly Republican leadership responded to Vos's action by releasing a joint statement on "reallocation of Tim Ramthun's staffer" on January 20, 2022.
It reads,
"In order to ensure the safety and security of the 2022 election, the Assembly Republican caucus has been united in our desire to get to the bottom of any 2020 election regularities and fraud. It is why we appointed Justice Gableman as special counsel to oversee the investigation."
They continued, "The word 'misinformation' is too often used in today's political discourse as a way to completely discount your opponent's position. However, adhering to the true sense of the word, Rep. Ramthun and his staffer are spreading misinformation."
"Speaker Vos has never worked with Hillary Clinton's attorney to authorize drop boxes across the country. His involvement in NCSL (National Conference of State Legislatures) did not involve anything having to do with drop boxes. In fact, Rep. Ramthun himself has sponsored legislation that would allow for a ballot to be returned to a drop box. With the exception of one person, credible attorneys everywhere have come up with the same legal theory: We do not have the authority to decertify the 2020 election. Working with the Trump Campaign, all of us worked to Stop Madison's illegal 'Democracy in the Park' ballor harvesting operation."
The statement continues, "We support Speaker Vos's actions. No matter how much Rep. Ramthun and his staffer believe what they are saying is true, it does not make it so. Sending out communications full of lies is doing disservice to all voters. With so much information to parse through on the Internet and in traditional media, we all must do a better job of listening and communicating."
It is signed by Majority Leader Jim Steineke, Assistant Majority Leader Kevin Petersen, Caucus Vice-Chair Cindi Duchow, Caucus Sargent at Arms Sam Kerkman, JFC Vice Chair Amy Loudenbeck, JFC member Tony Kurtz, JFC member Shannon Zimmerman, Speaker Pro-Tempore Tyler August, Caucus Chairman Tyler Vorpagel, Caucus Secretary Jesse James, JFC Co-Chair Mark Born, JFC Member Terry Katsma, and JFC member Jessie Rodriguez.
---
Wichmann vs. Vos
Wichmann unloaded on Vos in a podcast and then on Facebook and in a statement to Wisconsin Right Now.
"Showing his true character, Speaker Robin Vos removed Representative Timothy Ramthun's entire staff. Justin Schmidtka, host of Badger State Resistance Podcast and I go live to discuss this breaking news," Wichmann wrote on Facebook. He also shared a graphic that said, "I stand with Representative Timothy Rathmun."
Wichmann shared a story by national site Gateway Pundit that claims "Ramthun outed Vos of signing a deal with attorneys for former Democratic presidential candidate Hillary Clinton to authorize ballot drop boxes." Gateway Pundit based its story on a press release by Ramthun, which you can read here.
Vos and GOP leadership say this isn't true.
In the news conference, Vos also outlined election-related steps he argues the Republicans in the Legislature are fixing. A non-partisan audit into the 2020 election found that the Wisconsin Election Commission, chaired by major Joe Biden donors, along with municipal clerks throughout Wisconsin, violated state law in numerous ways in the 2020 presidential election. The Racine County Sheriff has referred criminal charges against members of the WEC.
Timothy Ramthun's Press Release About Vos and Ballot Dropboxes
[embeddoc url="https://www.wisconsinrightnow.com/wp-content/uploads/2022/01/552945341-WI-VOS-and-Drop-Boxes-1-Let-There-Be-Light-5.pdf" viewer="google"]
It was written on behalf of Vos and Wisconsin State Senate Majority Leader Scott Fitzgerald and contains the line, "Further, voters may also deposit their completed absentee ballots in authorized 'drop boxes,' which 'must be secured and locked at all times' to protect ballot integrity…We wholeheartedly support voters' use of any of these convenient, secure, and expressly authorized absentee-ballot-return methods."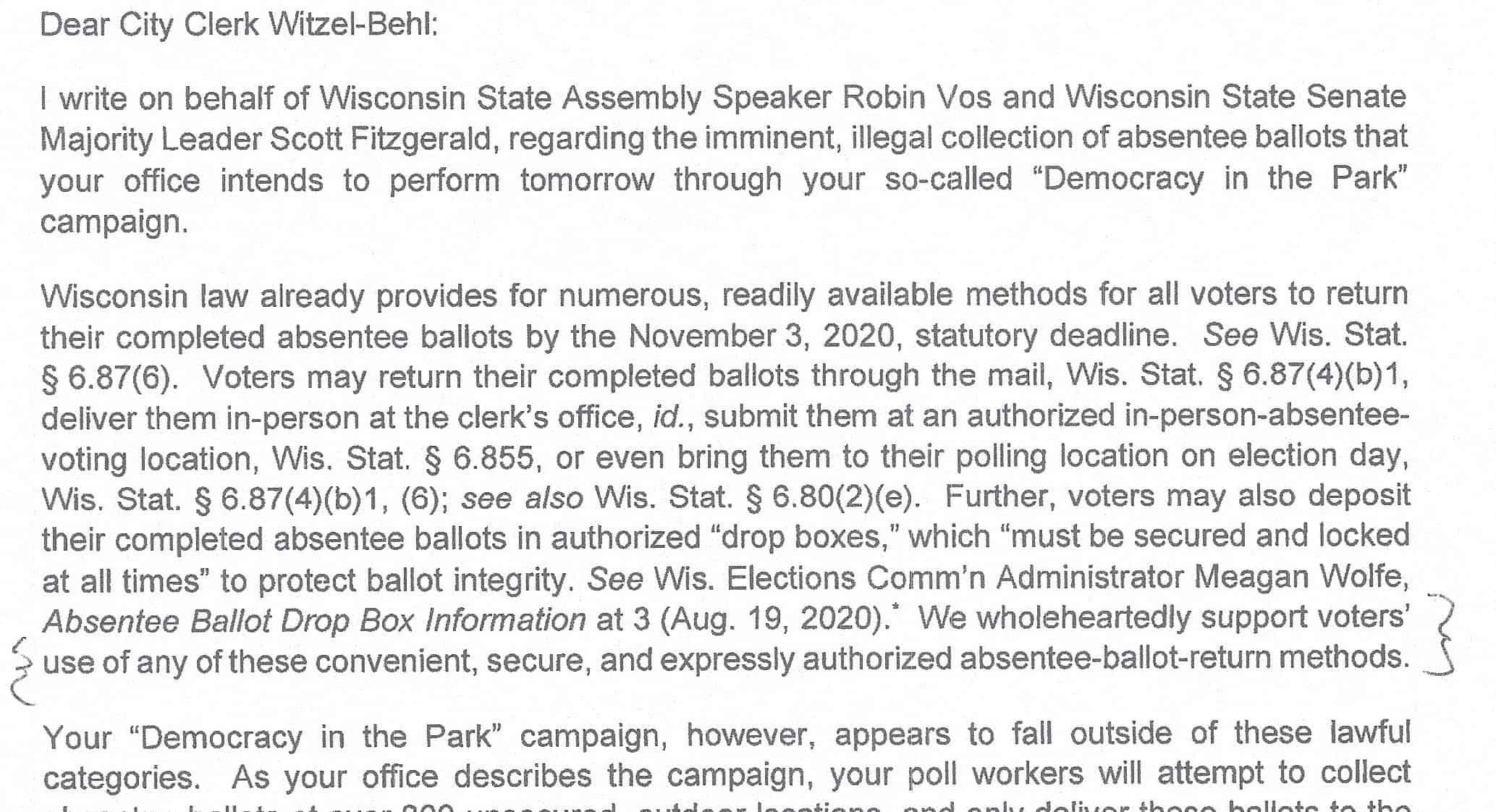 Schmidtka opened the segment with Wichmann by criticizing "tyranny and government overreach." He called it "dangerous." He said he was pushing for Vos's resignation.
Wichmann, who has built a following among patriot groups throughout the state, said on the show, "He's holding up so much in the State of Wisconsin." He also called for Vos to resign. Wichmann called it a "power play to keep every other Assembly rep from going against him… we need to clean house and drain the swamp."
"This is an attack on the people of Wisconsin. This is a full-blown attack," Schmidtka said in the podcast.
"It's a declaration of war really," Wichmann responded.
How unusual of an act is Vos's action against Ramthun? As noted above, the Assembly leadership took no action against Bowen, even though then Wauwatosa Police Chief Barry Weber asked them to do so.
Timothy Ramthun is an elected legislator out of Assembly District 59. Stripping his only staffer from him means he will have no one to help him with the outreach and paperwork of the office, such as answering phones and dealing with constituent concerns.
Timothy Ramthun is on a host of important committees:
Committee on Children and Families (Vice-Chair)
Committee on Constitution and Ethics
Committee on Education
Committee on Judiciary
Committee on Transportation
Committee on Ways and Means