Wisconsin Right Now has learned the identity of the man who allegedly shot two Wauwatosa Police officers and injured a third officer at the Radisson, 2303 N. Mayfair Road: Kenneth Burney.
We've also learned that Burney was released on a $1,000 signature bond in March 2020 by Milwaukee County Court Commissioner Rosa Barillas. He remained on the street even though those charges were extremely serious: Felon in possession of a firearm as a habitual criminality repeater, and disorderly conduct with use of a dangerous weapon as a habitual criminality repeater and with domestic abuse assessments. The case was charged in March 2020, but it remained pending more than 1 year and 7 months later, with multiple status conferences. We previously reported that the court system has a two-year backlog. We've previously written about Barillas and low bail.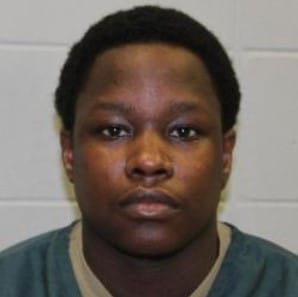 According to the Department of Corrections, Kenneth Burney, of Milwaukee, is under state supervision, however he has an "Absconded" status. That's despite the fact he was in court on October 19 for yet another status conference.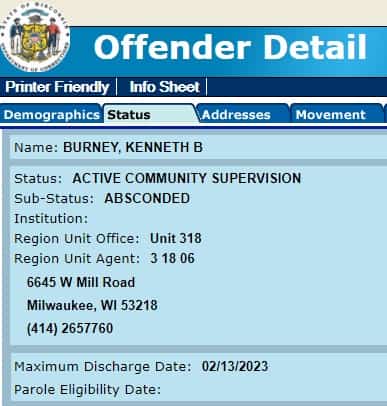 Multiple law enforcement sources have confirmed to WRN that Kenneth Burney was the suspect who allegedly opened fire on officers. He is in custody.
WRN also learned that two officers were shot multiple times. Both officers suffered non life-threatening injuries; they are in the hospital in stable condition. A third officer was grazed on the foot.
Wauwatosa police say that, on Saturday, around 10:33 p.m., they responded to a shots fired call at the hotel. When they arrived, several witnesses and guests told them the shots came from the second floor. As officers were checking that floor, a suspect fired at them.
Burney posted pictures of guns openly on Facebook in the past.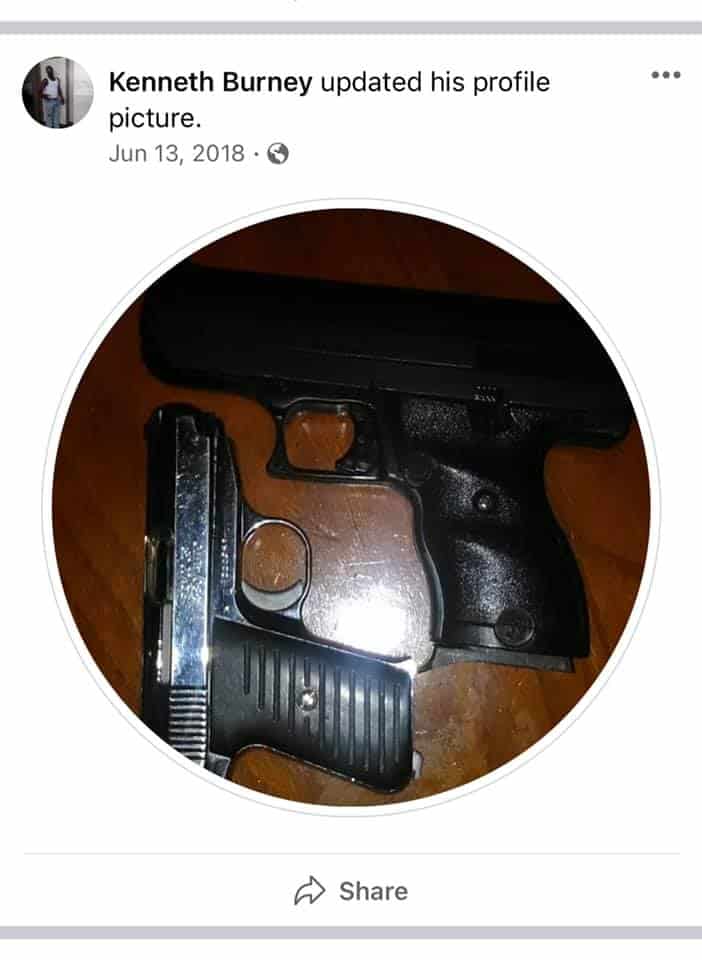 In 2018, Kenneth Burney recorded a Facebook Live video from the Milwaukee County courthouse.
"At the courthouse, about to ready to get sentenced. I'm up here by myself.  I pray to God I walk up out of here. If I don't, sh*t, you all know where I'm at…I'm going to take it one day at a time though," he said in the video.
The video matches the date that he was sentenced to probation and 10 months in the House of Correction by Judge Dennis Cimpl for being a felon in possession of a firearm.
In 2018, he wrote on Facebook, "All the luv I lost over the years….. OFN IDGNF…. HAPPY MF BIRTHDAY TO ME….. F*** YALL ALL YALL OFN." In 2017, he wrote, "20 dollar fill up for cars and 25 for trucks I'm out here." He posted a picture indicating he was trying to be a commercial truck driver. He posted a lot about gas that year, writing, "20 Dollar gas tank fill up first five people." He also posted a sheet from the Milwaukee County Jail listing fees he owed. He wrote, "(Racial slur) be DEAD BROKE with pistols." Another post read, "Where the drugs." He posted wads of cash on Facebook and wrote, "high time" with one post. In 2016, he posted what looks like drugs on Facebook.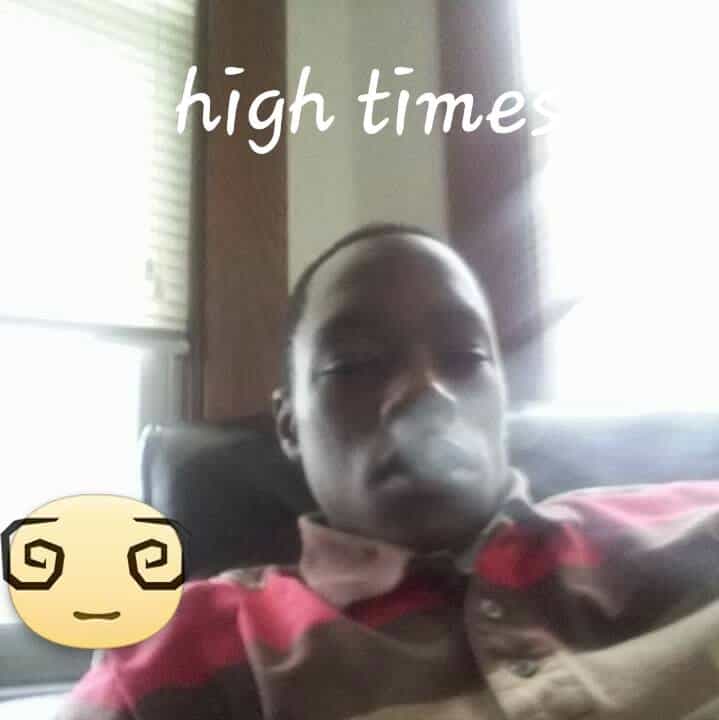 He wrote on Facebook that he was a mechanic in Sussex who studied at MATC and went to South Division and Hamilton High Schools. He's single and lives in and is from Milwaukee.
Kenneth Burney Open Case
As noted, WRN has learned that Kenneth Burney has an open felony gun case in Milwaukee County, which was first filed in March of 2020.  Burney was charged with felon in possession of a gun, habitual repeater modifier. Other charges, in that case, include disorderly conduct with modifiers of use of a dangerous weapon, habitual criminality repeater, and domestic abuse.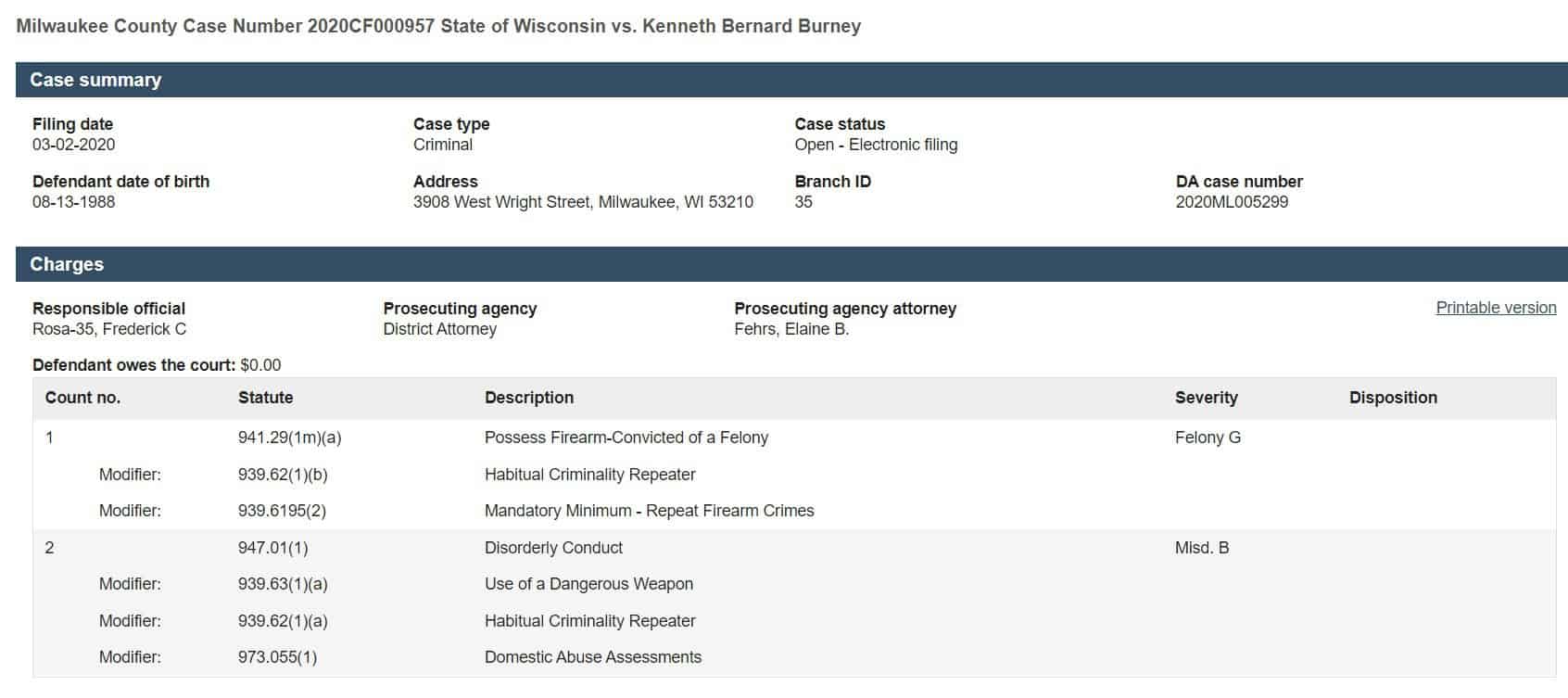 Kenneth Burney Criminal Record
According to court records, Burney was convicted in Milwaukee County of the following crimes:
09/27/2017 Possession Of a Firearm by a Felon – Convicted. Judge Dennis Cimpl stayed a prison sentence and gave him probation with 10 months in the House of Correction as condition time.
03/25/2015 Receiving Stolen Property (>$2500-$5000) – Convicted. Judge Dennis Cimpl gave him probation.
09/28/2011 Possession of Cocaine/Coca(2nd+) – Convicted. Judge Timothy Dugan gave him probation with a little HOC time.
08/09/2006 Manufacture/Deliver Cocaine (<=1g) -Convicted. Judge Timothy Witkowiak gave him prison time concurrent with any other sentence.
12/12/2005 Possess w/Intent-Cocaine (<=1g) - Convicted. Judge Dennis Moroney stayed prison time and put him on probation.