We don't recommend that Mayor Barrett or any other weak-kneed politician visit Water Street on the weekends. It's simply too dangerous.
We headed back down to Water Street on Saturday night to see, in the wake of Friday night's shooting, whether city leaders would enact a plan to take back the streets: a plan that was shelved by police command staff Friday night after Mayor Tom Barrett got "skittish" about the optics of police enforcing the laws and ordinances against a largely African-American crowd downtown.
Friday's shooting wasn't an isolated event; the week before, there was a homicide followed by a double shooting in what used to be a safe bar district. Friday's shooting was a scary moment we caught on video; a woman shot herself in the middle of a chaotic fight with police standing right there. We were a foot or so away.
We've asked for a sit-down interview with Barrett about the Water Street violence. He declined. His spokesman Jeff Fleming gave us this statement instead, "Multiple city departments are adapting their strategies to address unruly crowds downtown and elsewhere in Milwaukee.  Public works, the health department and the police department have coordinated new approaches aimed at maintaining safety, and those approaches are refined as the situation warrants.  We are working cooperatively with residents and businesses affected by late night crowds to find the best solutions to these challenges."
A shooting happened again.
Another Milwaukee Shooting Victim
We witnessed another disturbing scene on early Sunday morning. A woman was shot on a nearby Milwaukee Street and collapsed in front of police a block east of Water Street. It was the second shooting in the area in two days, and we witnessed the police valiantly coming to the woman's rescue. Watch that video here:
We can't say enough positive words about the law enforcement officers we saw that night. They were friendly, professional, and doing their best amidst extremely trying circumstances. They are risking their lives working on Water Street late at night where their harshest critics, that being the Milwaukee media and lefty politicians, wouldn't dare step foot.
Wrap your mind around that.
We asked Milwaukee police what happened. They said they are "investigating a shooting that occurred on Sunday June 20, 2021, at approximately 2:55 a.m. in the 1200 block of N. Milwaukee St. The victim, a 19-year-old female, sustained non-fatal gunshot injuries. She was transported to a local hospital and was treated for her injuries. The circumstances leading up to the shooting are under investigation. Milwaukee police continue to seek unknown suspects. Anyone with any information or who was a witness to this incident is asked to contact Milwaukee Police at 414-935-7360 or Crime Stoppers at 414-224-TIPS or P3 Tips App to remain anonymous." A source told us that it's believed a man fired "indiscriminately" into a group of people during a "fight."
Here's a live stream of the same moment police encountered the Milwaukee shooting victim:
The brazenness of the gunfire downtown is symbolic of the chaos and disorder that has plagued Water Street since last summer and that includes blatant open drug use and intoxicants; it's vexing business owners and area residents and frustrating rank-and-file cops who are eager for a more assertive approach – i.e., they want to be allowed to enforce the laws and ordinances on the books. We also learned from sources that the plan to take back the streets was shelved by police command staff Friday night; Barrett got "skittish" about it.
On Saturday night, there were some immediate differences. For one, police blocked traffic from entering Water Street as crowds milled over from the Bucks game and Juneteenth Day celebrations. That pushed the reckless traffic to the side streets (we saw a car tipped over on its hood near Highland with the doors thrown open), but it did allow the police to focus without as much distraction on the crowds.
Everything seemed fairly orderly at first, just as it had on Friday night, although we saw a lot of public disorder violations – people walking around with open glass bottles of liquor and tossing them on the ground (these aren't bar patrons) and ever-prevalent marijuana use billowing in front of cops so heavily that it wafted up to the rooftop where we were surveying the crowd down below. These violations aren't being enforced. If you believe the Broken Window theory of law enforcement – that stopping lower level disorder prevents larger crimes from occurring – you can see the problem with that.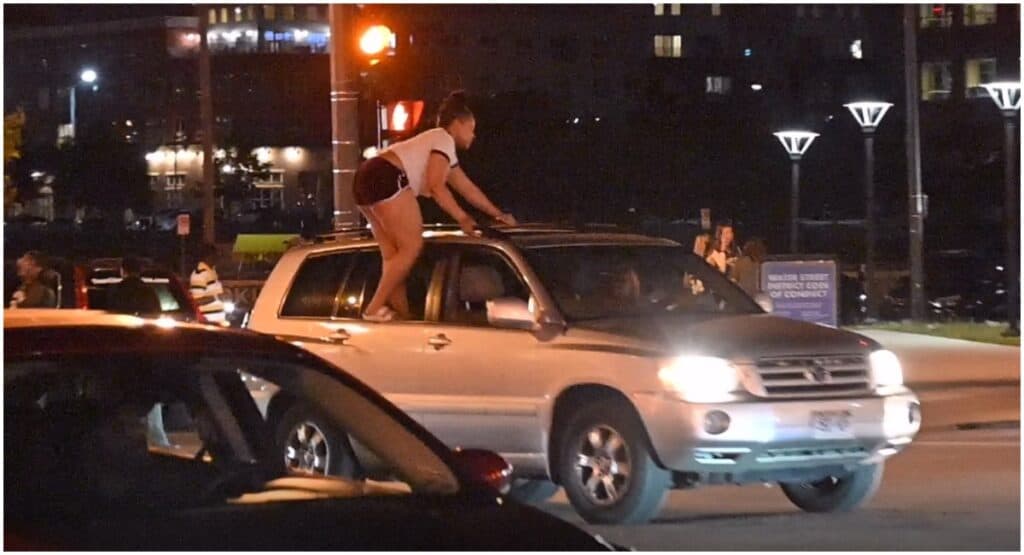 Milwaukee Now Has an Anti-Broken Windows Strategy
Milwaukee has almost turned into New Orleans, where anything goes, and people can use drugs in front of cops without expecting push back, where cars without license plates aren't bothered by law enforcement, and where open intoxicants in the middle of the street are tolerated. That doesn't even get to the twerking displays on squad cars (Jim spent the next day washing his eyes out with bleach).
Suddenly Chaos Erupted Again
All of a sudden, though, everything turned on a dime, and it started to flip. It started with a mad dash by the crowd after someone heard what they thought was a gunshot. People stampeded in the direction of Knapp Street. We ducked into a doorway. It was a frightening moment. After that, the police decided enough was enough.
They formed a line that included mounted patrol and began moving the crowd out of Water Street in the direction of Knapp. (BTW, to see the mounted patrol in action is VERY impressive.) This was a more aggressive strategy, and we were told it's the plan that was shelved on Friday night.
It worked.
The crowd started moving out of the area, although pockets of disorder remained.
Then, though, we saw a shocking scene unfold.
A block east of Juneau, as we watched from a parking garage's second floor, a black sedan careened down the street toward Water Street and a squad that was blocking the entrance. The male driver was frantically screaming at police and waving his hands around, and squads immediately drove toward him. It was scary; it wasn't clear what his intent was or what was going on.
A few minutes later, a woman stumbled out of the car and collapsed on the pavement.
She was the area's latest shooting victim.
The police, heroic as always, rushed to help her, searching for bullet wounds and starting first aid while waiting for paramedics.