The Franklin suspect had two pending felony cases while he was goofing around on TikTok, showing off his electronic monitoring bracelet.
David Marshall, the suspect in what authorities described as a series of carjackings and a kidnapping that culminated in a Franklin, Wisconsin, police shooting, touted his felon status on TikTok, posting videos showing off his electronic monitoring bracelet and singing to lyrics about murder, Wisconsin Right Now has learned.
He didn't have much of a following, accruing only 37 followers and 41 likes for his videos. He also didn't get much accountability from the system throughout his life, and leading up to the crime spree. Marshall, 31, of Milwaukee, who was shot and killed by law enforcement after a chaotic and dangerous crime spree, had two open felony cases with six serious charges between them pending in Milwaukee County court, but he was released after posting $500 bail just days before the Franklin crime spree – despite racking up a series of pretrial services violations, we've previously reported.
He didn't seem to very chastened by any of that on TikTok, using the hashtag #felon on one of his videos. On June 11, 2021, as his various felony cases were winding incredibly slowly through the court system, he posted a video and captioned it, "#felon #doc503683 #WhatWouldPopTartsDo Dead And Gone – T.I."
You can watch the videos here. We put them together into a video compilation in case they get deleted. See his TikTok videos on his page here.
The video contains a closeup of his leg with the monitoring bracelet. At one point he appeared to be clutching what resembled a urine drug test panel bottle. On January 8, 2021, he had been given $500 cash bail with electronic monitoring by Court Commissioner Dewey Martin. He posted the $500 in April. He had already violated pretrial supervision conditions by June 3, which is just days before the TikTok videos. "Court addresses Justice Point violations. Defendant admonished and reminded of bail conditions," the court records say. They don't specify what the violations were. More Justice Point violations followed in late June and July, including, on July 12 and 13, GPS violations. He failed to appear for court, a bench warrant was issued, he was back in custody, and then, on Aug. 9, another bail hearing was held. Judge Milton Childs made bail $1,000 but ordered, "$500.00 previously posted remains." Marshall posted $500 bail for the last time on Aug. 30 and was released, freeing him endanger law enforcement and the public in the Franklin crime spree.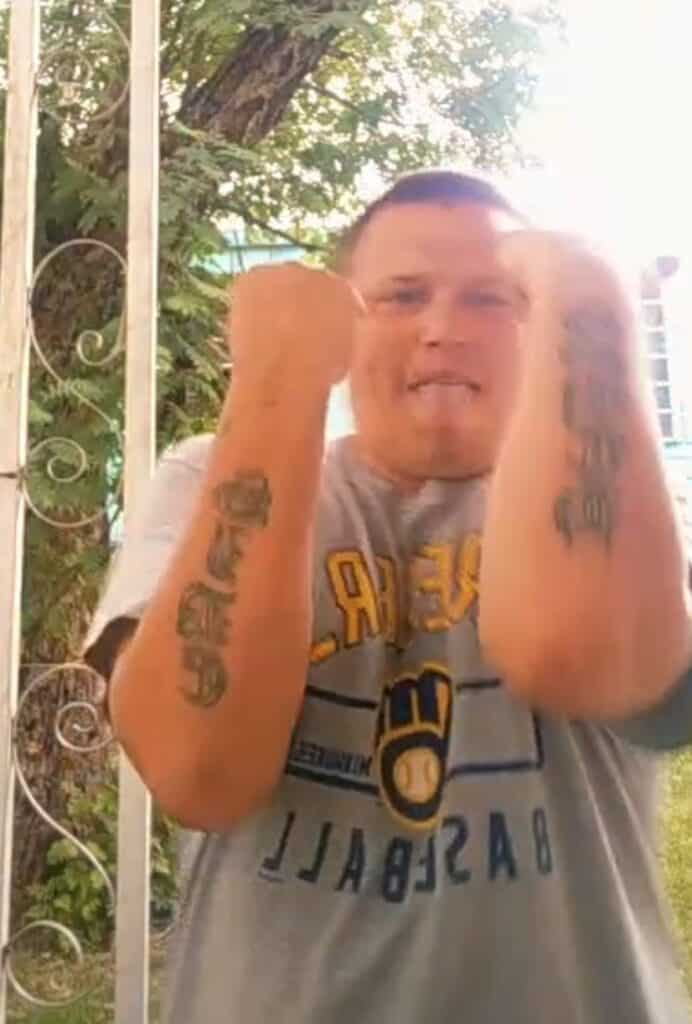 And that wasn't his only pending case. In a second case, a prosecutor wasn't available at first, so the case languished a month. Then Court Commissioner Rosa Barillas gave him a $1,000 signature bond, meaning he didn't have to post any money to get out. He wasn't arraigned until June 3, 2021, in that case as it dragged through the criminal justice system.
The judges in question are former public defenders and Gov. Tony Evers' appointees in some cases.
In one comment under a TikTok video, he made a reference to "Folks," which is a common street gang reference.

Here are more details on the videos, his crime spree, and his pending cases.
---
David Marshall TikTok Videos: 'Murder on My Mind'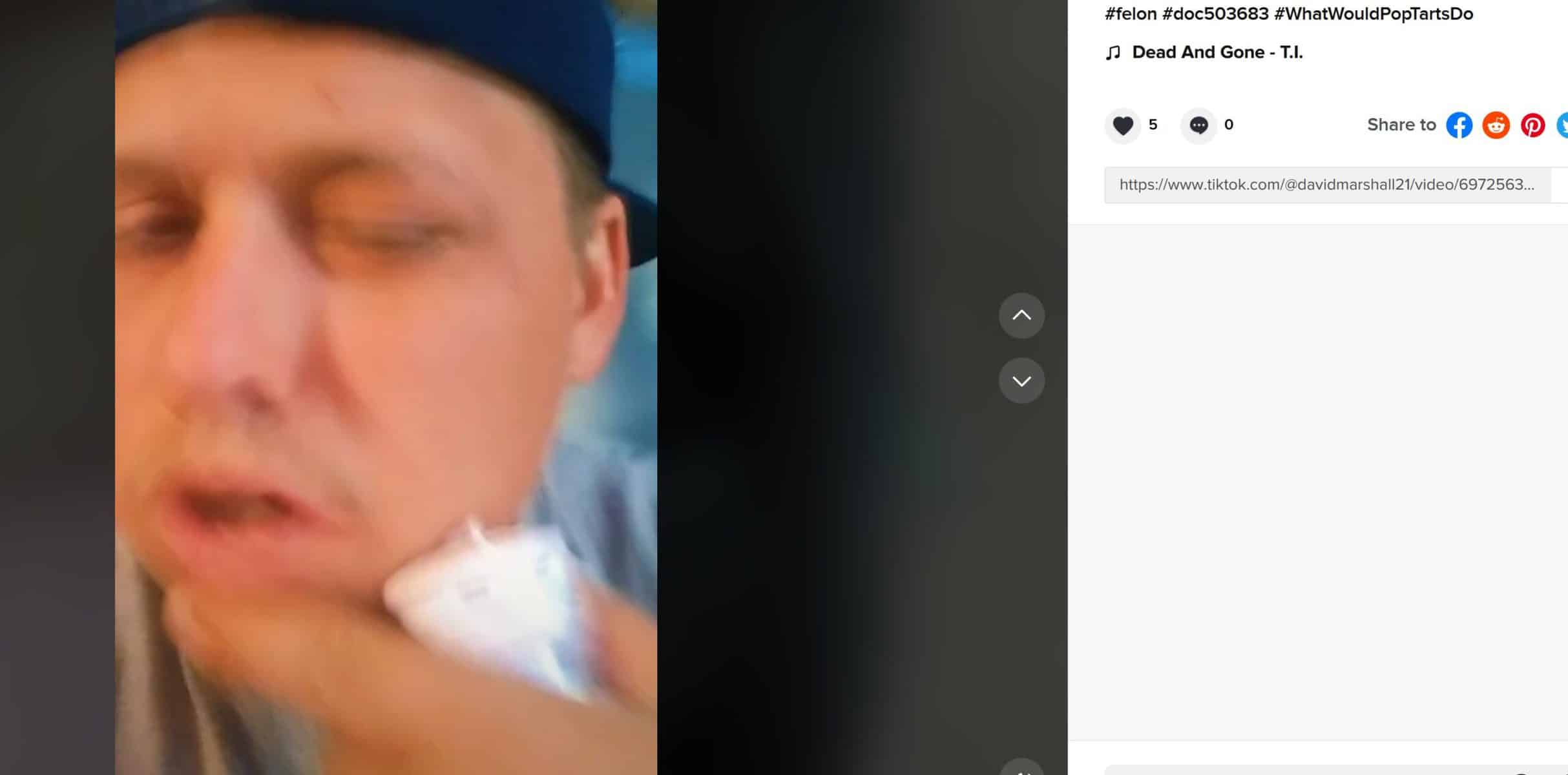 David Marshall dances in another video while smoking to the song Murder On My Mind – YNW Melly. All of his videos bear the date June 11. That song contains the line, "…wake up in the morning I got murder on my mind. AK47, MAC-11, Glocks, and 9s."
In another video, he showed off his arm tattoos in a dance, captioning the TikTok, "#doc503683 #felon #wisconsin." Another recent TikTok was captioned, "#felon #doc503683 #13years." It included a Young Jeezy song referencing jail.
Another video showed him smoking and swaying to the song, Big Gangsta by Kevin Gates, with the caption, #felon #503683.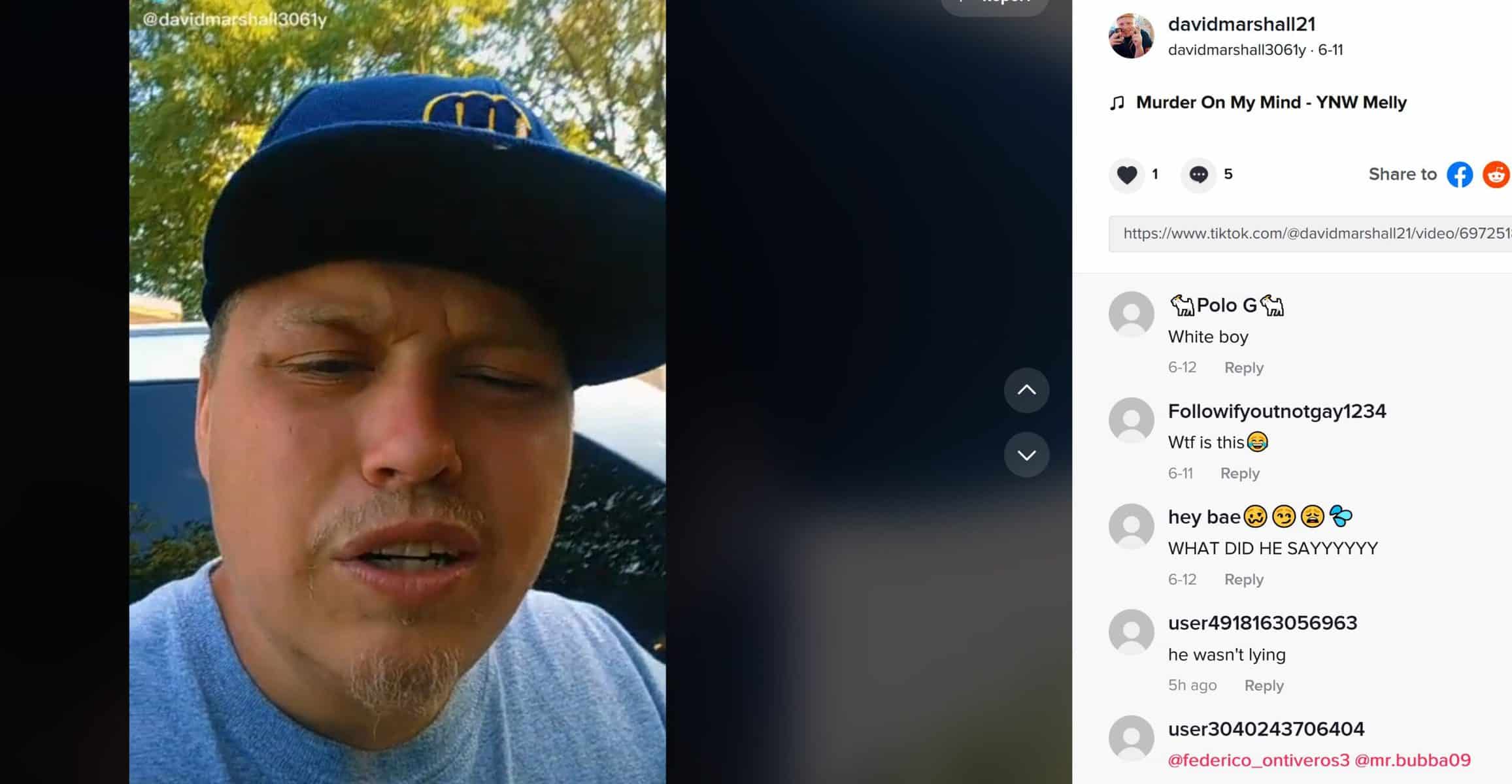 Marshall was already a felon. In 2009, Marshall was convicted of three felonies: burglary, vehicle operator/flee/elude officer, and drive or operate a vehicle without consent. Judge Dennis Cimpl gave him two years in state prison that time around. In 2018, he was convicted of misdemeanor operating a vehicle without owner's consent in Kenosha County. Judge Mary Kay Wagner gave him 90 days in jail concurrent with another sentence. In 2019, he was convicted of misdemeanor possession of a controlled substance in Langlade County. Judge John Rhode gave him 10 days in jail. In 2016, he was convicted of misdemeanor disorderly conduct in Wittenburg. Judge James Habeck gave him 30 days in jail.
His family told WTMJ-TV that he was bipolar with split personalities, off his meds, and using alcohol.
In 2007, while at Lincoln Hills juvenile detention center, he was convicted of felony battery by prisoners and criminal damage to property. Judge Patrick Fiedler gave him 1 year in prison in a case prosecuted in Dane County. On Facebook, he noted that he spent time at Lincoln Hills.
Despite that fact, judges didn't seem to treat his cases with much urgency when he landed back in court, starting in 2020, and right up until the days before his crime spree.
---
The Franklin Crime Spree
Milwaukee County Sheriff Earnell Lucas said in a news conference that, before 8 a.m., an armed individual "commandeered a vehicle and its driver and directed him to a Walmart store near 27th and Hope, at which time the individuals exited the vehicle, went inside the Walmart, may have obtained some items, and returned to their vehicle."
Here's another video we were sent.
They then appeared at a service station on South 27th Street, at which time the victim went inside and alerted an attendant to call the police. The two individuals left and went to the Walmart store at 27th and Sycamore, at which time the victim notified a clerk to call police. Subsequently a call to the Walmart of an active shooter was received. Police responded from multiple agencies. A pursuit ensued that ended in a crash at which time the suspect "jumped out of the vehicle, commandeered another vehicle, and now led officers again on a pursuit that concluded in a crash just north of the intersection at 27th and Sycamore. Individual exited the vehicle with a firearm. Officers engaged the individual, discharged their weapons, and the subject was struck."
The suspect died. Multiple officers from different agencies are involved. No officers were injured, Lucas said. "We are currently trying to piece together all of the moving parts," said Lucas, adding that there is no current danger to the public. He said it's still being investigated whether there were shots in Walmart or at the Walmart parking lot, and whether the suspect fired at officers.
"This peaceful morning started out much like every morning and little did members of law enforcement know that they would be confronted by the dangers and threats, but it's indicative of the work that the men and women of law enforcement do each day, and the dangers we face each day," Lucas said.
On the scanner, an officer described the situation as a "Franklin active shooter" incident at one point, although, as noted, the danger has past. Officers described conducting searches in Walmart on the scanner but said "we have not encountered any victims" in Walmart.
The Milwaukee County Medical Examiner's office confirmed they were responding to the scene, writing, "MCMEO is responding to S 27 and Sycamore in Franklin/Oak Creek. One male victim. Autopsy is scheduled for Monday. Avoid the area."
"North of Sycamore, he crashed… shots fired, shots fired, 2-7 Sycamore," officers said in the scanner. "Copy that, shots fired, Sycamore, suspect down…the suspect still has a gun…suspect down, not moving."
"We received information that the shooting may have taken place in the parking lot and not the store, but I have not vetted that," an officer said on the scanner. An officer said police were confirming with other businesses to "make sure we have no other shooters out."
The Walmart is located at 6701 S 27th St, Franklin, Wisconsin.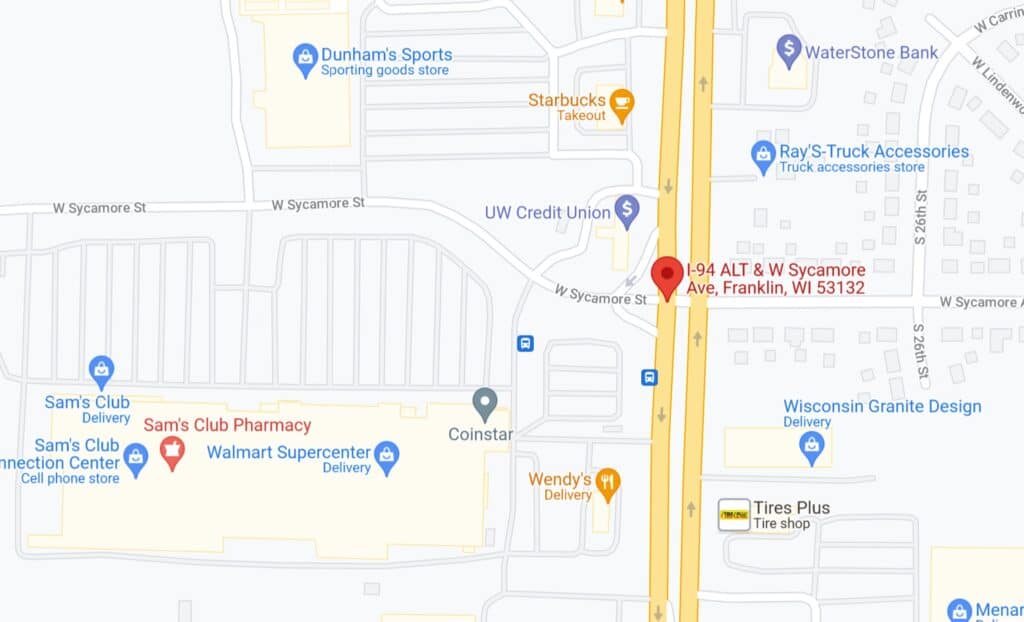 On the scanner, dispatchers and officers said there was a second scene involving a car at 27th and Ryan. Video from the scene showed the car turned over. An officer said on the scanner that the vehicle was stolen with one license plate.
On the scanner, dispatchers and officers said, "It happened inside the store. Suspect was wearing a gray sweatshirt and Green Bay Packers type hat." They referred to a "body." They said, there is a second scene at 27th and Ryan, involving the same suspect, who stole a car. At one point, they said there was a "Franklin active shooter." Officers referred to rounding up the employees and other people in the Walmart store to interview them. They referred to a victim at one point and then said a Greenfield officer was with the subject, who said he was "all right there." Officers spoke of moving in "tandem" to clear the grocery and bakery sections.
@fox6now Franklin Walmart on 27th street pic.twitter.com/yeTDPDJfS1

— Dan (@MrAngry247) September 3, 2021
A witness told Fox6, "All of a sudden we saw a vehicle coming out of his parking lot going like 80 to 100 miles per hour down 27th Street and then all of a sudden you heard them hit like two or three cars. Cop cars started following them and then gunshots were fired. A lot of gunshots were fired – and I don't know it was just crazy."
Open Case 1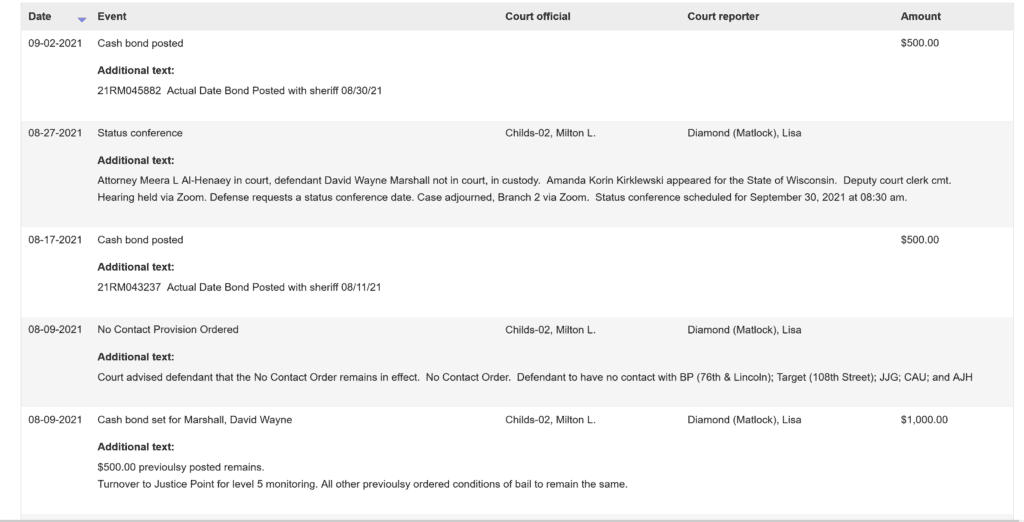 At the time of his death, Marshall had an open case on charges of felony armed robbery with use of force, felony attempt theft – movable property from person/corpse and misdemeanor retail theft, according to court records. He was charged on July 7, 2020. The initial appearance in the case was not held until January 2021, which is an odd length of time, a delay not explained in the court records. He was declared indigent.
Cash bail of $500 was set by Court Commissioner Dewey Martin, a former lawyer in the corporation counsel's office. He's the same court commissioner we wrote about previously for giving a signature bond to a woman accused of pointing a gun at a Milwaukee police officer.
Marshall started racking up the violations.
In May 2021, there was a pretrial services violation report filed with the court. By then, the case was in front of Circuit Judge Milton Childs, a former public defender's office supervisor appointed by Judge Tony Evers.
Evers' touted Childs' "vast experience as a public defender" in a news release when he appointed Childs to the bench.
In June and July, there were at least four more violation reports filed with the court against Marshall. One was a GPS violation.
In June 3, Childs addressed the "Justice Point violations." What did he do? "Defendant admonished and reminded of bail conditions," a notation says in the court records.
By June 30, 2021, there was another Justice Point violation. On July 9, another one. On July 12, yet another. On July 13, another violation.
On July 13, a bench warrant was issued when Marshall didn't show up for court. But no action was taken on his bail.
"Case scheduled for status conference. Defendant failing to appear. On the State's motion, the court ordered a bench warrant to issue. No action as to bail," the court records say. On July 21, he was discharged from Justice Point.
Marshall then was located, and he was back in court for a review of bail on Aug. 9. Despite all of the violations, the court records state that his bail was now $1,000 cash but note, "$500.00 previously posted remains."
"$500.00 previously posted remains. Turnover to Justice Point for level 5 monitoring. All other previously ordered conditions of bail to remain the same," the court records say.
The court records are a bit confusing on this point; they say that Marshall posted $500 bail on Aug. 17, 2021, was back in custody on Aug. 27, and then posted another $500 bail on Sept. 2, 2021 – the day before the Franklin crime spree. However, although Sept. 2 is the date the bond was recorded, the notation in the file says, "Actual Date Bond Posted with sheriff 08/30/21."
---
Open Case 2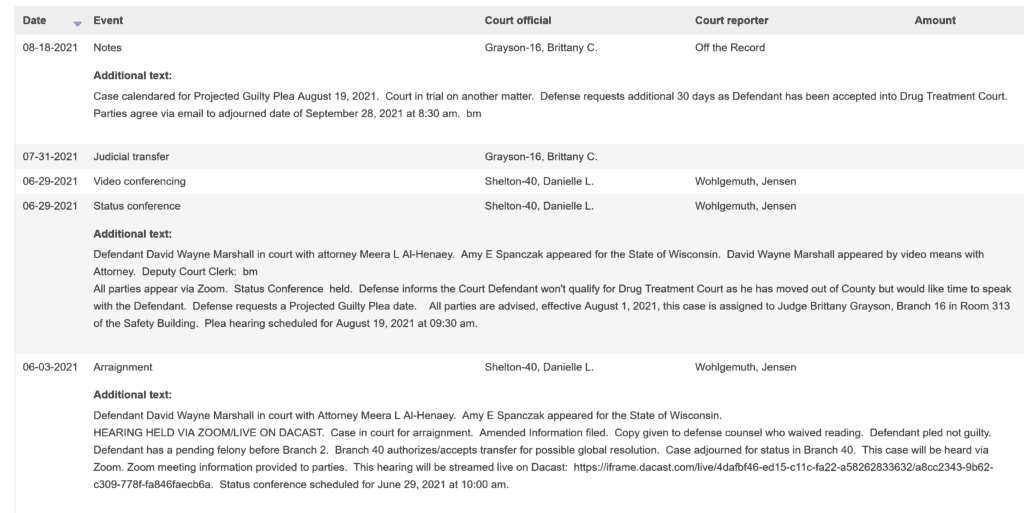 That's not all. Marshall had another open case in the Milwaukee County court system. In February 2020, his first court hearing, it was determined he was not in court, but that was only because he was already in custody in the jail on another offense.
In January 2020, he was charged with felony bail jumping, felony methamphetamine possession, and misdemeanor resisting an officer.
Court Commissioner Rosa M. Barillas gave him a $1,000 signature bond. That meant that he just had to sign a piece of paper to post bond – no cash required at all.
The case wound through the system, adjourning because of COVID for a time. In June 2020, the court, by then Judge Childs again, received a report of a Justice Point violation. He was supposed to be arraigned in July 2020, but that was adjourned when he was "not produced."
By October 2020, the case was transferred to Judge Danielle Shelton, a former public defender. Supported by prominent Democrats, she ousted a Scott Walker appointee.
In November 2020, the judge was informed that Marshall had picked up a new case.
The case dragged on for months with multiple status conferences. In May 2021, the court records say, "Defendant has been accepted to drug treatment court. Defendant failing to appear, Court ordered a bench warrant issued but stayed the issuance until next appearance."
In June 2021, there was an arraignment. Later that same month, the court records say, "Defense informs the Court Defendant won't qualify for Drug Treatment Court as he has moved out of County but would like time to speak with the Defendant."
On July 31, the case was transferred to Judge Brittany Grayson. She's a former assistant district attorney appointed to the bench by Evers.
Grayson held one "off the record" hearing in the case. That was on Aug. 18. The court records say, "Defense requests additional 30 days as Defendant has been accepted into Drug Treatment Court. Parties agree via email to adjourned date of September 28, 2021 at 8:30 am."
Of course, before that date could arrive, Marshall was marauding through Franklin.
---