Several sources within the Milwaukee PD tell Wisconsin Right Now that felon Earl Lawhorn pointed a gun at officers twice, and it's believed he shot at least once during a foot chase after he fled from officers who tried to stop him for reckless driving. Officers returned fire, fatally striking Lawhorn.
MPD spokesman Sgt. Efrain Cornejo would not comment on that and only said, "We are not releasing any further information than what was released in our press release until we release our community briefing. Waukesha PD is the lead investigating agency and this incident is still under investigation."
Earl Lawhorn was a convicted felon and his possession of a firearm would have resulted in a serious "felon in possession of a firearm" felony charge punishable by several years in prison. His most serious offenses were 2015 felonies for child abuse-recklessly cause harm and battery – domestic abuse repeater. He was wanted on a warrant for a 2020 case of resisting an officer, for which he was released on a $500 signature bond.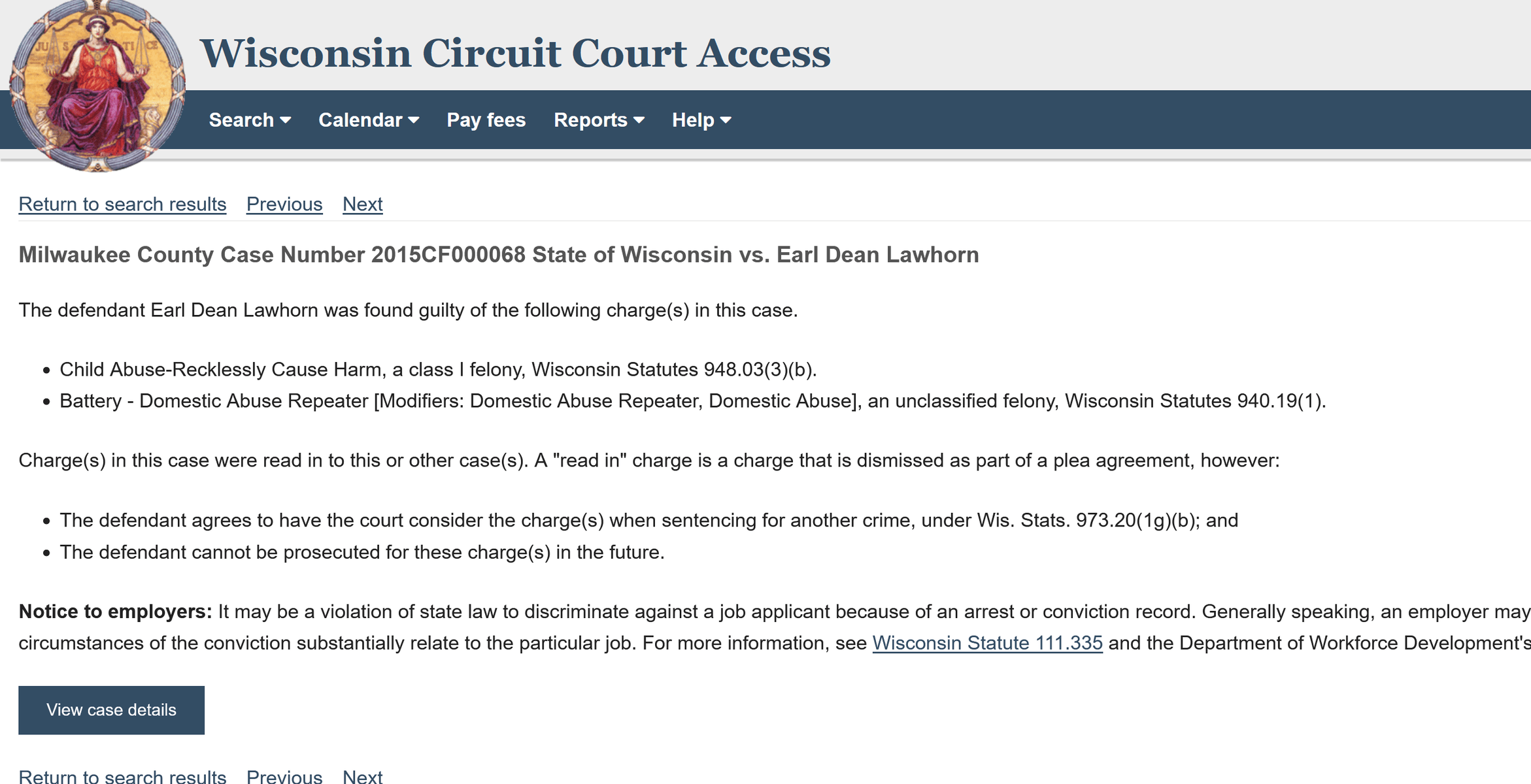 But of course, the media are at it once again, spending their resources highlighting interviews with the mother of a man shot by the police without telling viewers Earl Dean Lawhorn's felony and violent criminal history.
In fact, a reporter for Channel 4, Taylor Lumpkin, even said on the air, of the family, "They say they are really devastated and that Lawhorn was a great father, friend, and son." However, she failed to mention he's a convicted child abuser and repeat domestic violence offender. Seems relevant if you're going to let people make claims like that.
We decided to look up the criminal history of Earl Lawhorn, 33, to give you the full picture. Lawhorn is the man who, police say, took off after Milwaukee police tried to stop him for reckless driving on Aug. 26, 2021. He then fled on foot. He was armed with a handgun that he refused several commands to drop, at which point two officers were forced to shoot him resulting in his death, police said in a news conference. The gun was recovered at the scene.
Here's how Channel 58 framed the story:
Here's how Channel 4 framed the story:
Their online stories don't mention his criminal history. Yet Channel 4 informs its social media readers that Lawhorn's mother said, "when are the police going to start being accountable for what they do in the community." Channel 58's story didn't mention his record, but extensively quoted his mom.
If his mom's comments are relevant, his criminal history is.
The Milwaukee Journal Sentinel also didn't bother to give readers Earl Lawhorn's criminal history. Neither did Channel 6.
Channel 12 only mentioned his most recent case, a misdemeanor, but extensively quoted his mother as saying things like, "he didn't have no gun." Sources say otherwise.
Here's what the media isn't telling you about the background of Earl Lawhorn.
---
Earl Lawhorn's Criminal Record
Here is Earl Lawhorn's criminal record:
Open misdemeanor case for resisting a police officer. A bench warrant was issued for him on May 9, 2020 because he didn't show up for court. Milwaukee Court Commissioner Maria S. Dorsey had released him on a $500 signature bond.
In 2019, misdemeanor marijuana possession conviction as a repeater out of Racine in 2019. Circuit Judge Robert S. Repischak gave him 36 days in jail.
In 2019, these charges were dismissed in Milwaukee County in 2019: Strangulation and suffocation (felony), battery (misdemeanor) and disorderly conduct (misdemeanor), with domestic abuse assessments. Dismissed on prosecutor's motion. Judge Jeffrey Kremers gave him 1.5 years in prison and House of Correction time.
In 2015 he was convicted of felony child abuse – recklessly cause harm and felony battery – domestic abuse repeater. Milwaukee County Circuit Judge Jeffrey Kremers gave him 1.5 years in prison on the first charge and six months in the House of Correction on the second.
In 2013, he was convicted of two misdemeanors, criminal trespass to dwelling and theft of movable property. Judge Dennis P. Moroney gave him probation.
In 2012, charges of disorderly conduct as domestic abuse with use of a dangerous weapon and bail jumping, misdemeanors, were read in to another case and dismissed in Milwaukee.
In 2012, he was convicted of misdemeanor battery and disorderly conduct – domestic abuse. Judge Mel Flanagan gave him probation.