Broderick Shelton Jr. was described as harmless by family members, but his criminal history tells a different story.
Milwaukee police say bicycle officers shot and killed an armed felon with a history of battering law enforcement officers outside a gas station after he fired a gun first, and they received reports he was pointing the firearm at people.
You can watch videos from the scene's aftermath below, but be forewarned that they are graphic as they show the man lying on the ground after he was shot.
The man was identified by family members and law enforcement sources as Broderick Shelton Jr., 42. A law enforcement source said he may have obtained the firearm by disarming a citizen.
Milwaukee police say the 42-year-old man was pointing a gun at people. They ordered him to drop it, but instead, he fired the weapon, forcing police to shoot him. Three officers are involved, and Wauwatosa police are investigating for MPD.
The Milwaukee Journal Sentinel reported that Broderick Shelton's sister said he had a history of mental health issues but, in the words of the newspaper, had "never hurt anyone before."
However, a review of court records shows he was convicted of felony battery to law enforcement officers in the past and was cited for assault. He did have a history of being found incompetent on other charges, including those assaultive in nature, most recently for armed robbery.
"He's a good boy, I can't believe it," his sister told Journal Sentinel. "Baldie don't have no gun, I don't believe that." The newspaper did not report his criminal history.
Here are the videos:
At 3:50 p.m. on Aug. 16, 2021, Milwaukee police officers were dispatched to a subject with a gun incident, Police Chief Jeffrey Norman said in a news conference. "The caller stated the individual had a gun and was pointing it at people. On arrival, officers encountered an armed individual and gave him commands to drop his gun. The individual discharged his firearm."
The officers then discharged their firearms, striking the man. "He sustained fatal injuries," the chief said. No one else was injured.
People started yelling at Norman at the scene during his press conference. "He had mental illness and police knew that sh*t. You b*tch. Hardas* motherf*cker," one woman shouted.
The firearm was recovered. The officers are three males, one with over four years of service and two with over five. They were placed on routine administrative duty.
Bystanders and a witness also indicated on social media that Broderick Shelton Jr. – known to some as Roderick Shelton Jr. – was armed. An officer can be seen giving CPR to Shelton in one video.
People on social media identified the deceased man by his nickname, Baldie. The officers were not injured, our sources say.
People in one video said, "he had a gun on him." And, "the police killed Baldie." Despite that, some people expressed anger at police on social media and at the scene.
"He was shooting…." said a bystander in a video. Another said, "He got the gun out." That was "him busting at the police too," says another bystander. Another said he "had a pistol on him." One man wrote in a comment on a social media live video, "I drove past seconds before the cops got there. He was pointing a gun at the store door. I have no idea why or at who."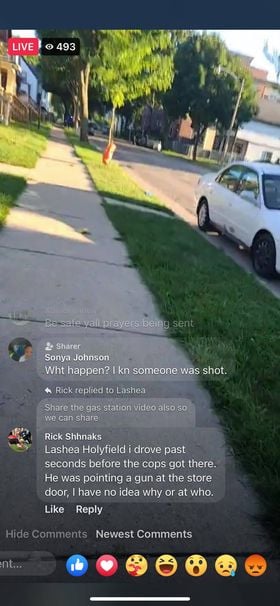 Police are legally allowed to use lethal force when they or another is facing imminent death or great bodily harm.
Broderick Shelton Jr's Criminal Record
According to court records,
In 2015, Broderick Shelton was accused of felony armed robbery in Milwaukee. However, the case bogged down in competency questions. In 2018, he was found incompetent.
A 2019, there is a notation in the court records that reads, "Letter Notification of Patient Discharge."
In 2015, he was convicted of two counts of misdemeanor disorderly conduct.
In 2014, he was convicted of misdemeanor disorderly conduct.
That same year, he was cited for assault and disorderly conduct.
In 2011, he was charged with felony battery to law enforcement officers, firefighters or commission wardens, as well as resisting an officer and disorderly conduct. In 2016, the court noted that he was already in Mendota Mental Health Institute due to another court finding him not competent. The case had been suspended in 2012 for a Chapter 51 commitment.
In 2010, he was convicted of misdemeanor marijuana possession.
In 2006, he was "discharged after being found incompetent" on a felony charge of battery of prisoners.
In 2003, he was convicted of felony battery to law officers/firefighters.
His probation was revoked in that case. He had received a stayed prison term.
In 2003, he was found not guilty by reason of mental disease or defect on a charge of prisoner throwing expelling bodily substances.
In 2002, he was convicted of felony forgery.
In 1997, he was convicted of robbery in a converted case out of Milwaukee.