"At the end of the day, it is an individual choice," – Gov. Tony Evers
If you think the media are out to get Republican Sen. Ron Johnson because the left thinks his Senate seat is up for grabs, consider this:
Johnson was trashed endlessly by the media and Democratic Party for comments he made indicating that he opposed vaccine requirements. But when Gov. Tony Evers said he thought vaccines should be an "individual choice," the media and Democrats barely blinked.
That's called a double standard. One politician is turned into a supposed conspiracy theorist while another politician's similar comments don't raise an eyebrow.
The Double Standard on Vaccines
Gov. Tony Evers told the Racine Journal-Times that he doesn't think vaccine mandates will happen in Wisconsin. "At the end of the day, it is an individual choice," he told the newspaper. Of a vaccine requirement, Evers said, "frankly, it won't happen anywhere in the country."
Here's what Sen. Ron Johnson said to radio host Vicki McKenna on April 22, "What do you care if your neighbor has one or not? I certainly am going to vigorously resist any kind of government use or imposing of vaccine passports … that could be a very freedom-robbing step and people need to understand these things." He later told Tucker Carlson, "People ought to respect other people's freedom and liberty and their ability to choose whether or not to get vaccinated or not. I am concerned now about them trying to push it onto children who, let's face it, they're not in a position of informed consent. We do need to recognize that this isn't a fully approved vaccine."
Ben Wikler, the chair of the Democratic Party of Wisconsin, went wild over Johnson's comments about vaccines but didn't seem bothered by Evers' similar remarks. If you Google "Ron Johnson vaccine," you can also see that the national and local media are absolutely pounding him as being "anti-vaccine." MSNBC's fantasist Brian Williams even suggested that Johnson was a "witting or unwitting asset of Russia" over his vaccine stances, which is, of course, completely nuts.
According to the Journal Times, Evers previously vetoed a bill "that would have prohibited the state Department of Health Services and local public health offices from requiring individuals to receive a COVID-19 vaccine."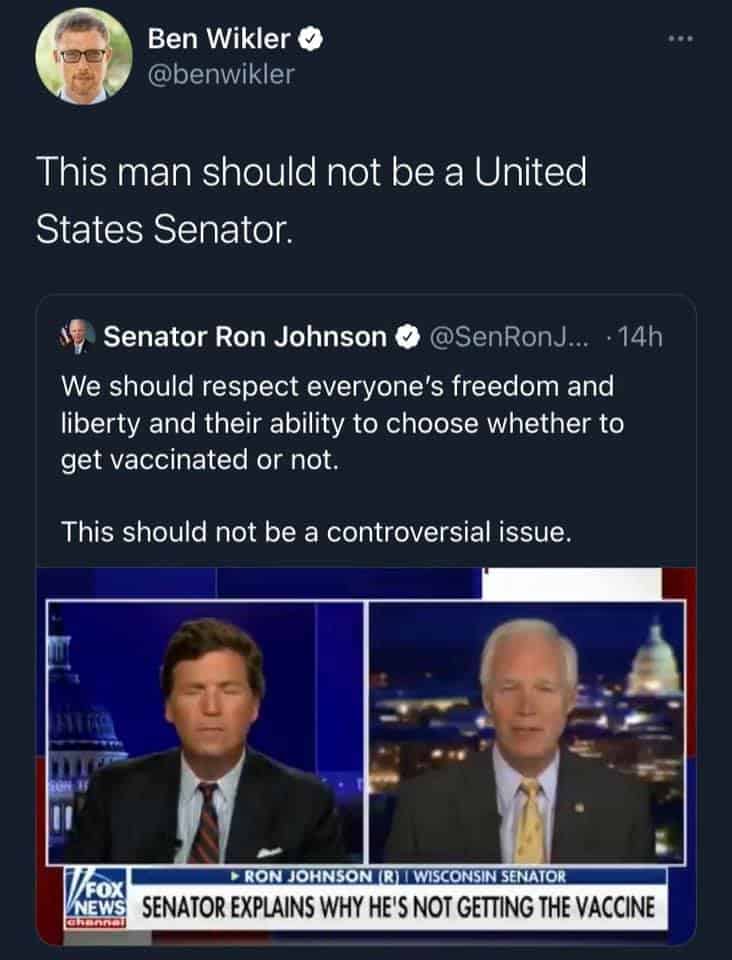 Wisconsin Democrats accused Johnson of being a conspiracy theorist who wants to make America less safe. But what's the substantive difference between the positions of Johnson and Evers? Nothing. They are both saying that getting a vaccine is an individual choice and that requirements won't happen.
Two conspiracy theorists using their massive media megaphones to make America less safe. pic.twitter.com/RSRApEG6aO

— Wisconsin Democrats (@WisDems) May 12, 2021
When the Associated Press's Scott Bauer wrote about Johnson's comments, he threw in a gratuitous line, writing that Johnson "has no medical expertise or background."
Does Evers?