Since 2019, Gov. Tony Evers' Parole Commission has released hundreds of convicted criminals, freeing them early on parole mostly into Wisconsin communities, including more than 300 murderers and attempted murderers, and more than 47 child rapists.
Brian Moeller was one of them. His release was discretionary.
60th in the series.
Brian Moeller murdered his own mother by strangling her and beating her with a baseball bat to death.
According to the Daily Tribune, in 1988, in Wood County, Moeller was convicted of murdering his mother, Shirley Moeller.
He was 18 when convicted but 17 at the time of the crime.
---
Evers' Parole Commission Freed Brian Moeller Early
Date paroled:   [You can look up Brian Moeller's parole here. Put his name in the database and click "movement."]
Current Residence: Milwaukee, WI
Age: 52
Convicted: First-degree intentional homicide
Sentence:  Life Sentence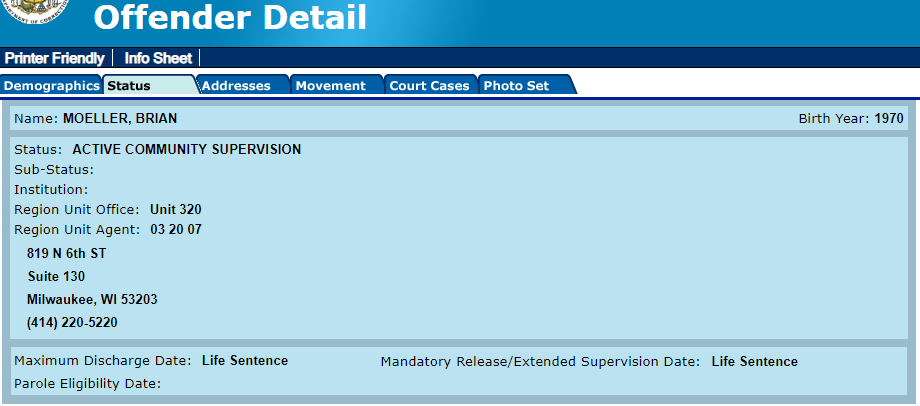 ---
The Victim: Shirley Moeller, 37
---
What the Killer Did:
The article says that, the night before his mother's death, Moeller had a flat tire on the way to a party. Police arrested him for underage drinking and called his mother. An argument unfolded between mother and son over this.
Moeller threw a baseball bat that struck his mother during the argument. Then he strangled "her with his hands until he could find no heartbeat, sometimes with the added pressure of the baseball bat on her neck."
Her sister found her dead body. After the murder, Moeller took his mom's car and drove toward Iowa.
A witness said that Moeller had described a dream a few weeks before his mother's death in which he put a pillow over her face to smother her. He was from Marshfield.
He was investigated in a separate burglary.
She died of strangulation and head trauma.
He was under juvenile supervision at the time for burglary convictions, according to Portage Daily Register. Her body was found in the bedroom of the home.
"I went for her neck with my hands and she said, 'Don't be stupid Brian,' Moeller testified, according to The Reporter. He was her only child.