Since 2019, Gov. Tony Evers' Parole Commission has released hundreds of convicted criminals, freeing them early on parole mostly into Wisconsin communities, including more than 300 murderers and attempted murderers, and more than 47 child rapists.
Craig Vannieuwenhoven was one of them. His release was discretionary.

42th in the series.
Craig Vannieuwenhoven's wife Louwellen predicted her own death in a restraining order, according to the Green Bay Press-Gazette in a 1997 article.
The article says she wrote that Vanniewenhoven had threatened to stab her, saying, "there's going to be another dead woman on Western Avenue."
This prediction came true. He did stab her to death, one of several domestic violence murders on the list of paroles. The couple's 2-year-old daughter was sleeping in another room when Craig stabbed his wife in the back.
October is National Domestic Violence Awareness month, but Gov. Tony Evers, his Lt. Gov. Mandela Barnes and Attorney General Josh Kaul have remained silent on this and the other paroles.
---
Evers' Parole Commission Freed Craig Vannieuwenhoven Early
Date paroled: 03/14/2022 [You can look up Craig Vannieuwenhoven's parole here. Put his name in the database and click "movement."]
Current Residence: Green Bay, WI
Age: 53 (it appears he died on Sept. 19 at his residence.)
Convicted: First-degree intentional homicide
Sentence:  Life Sentence. Killers serving life sentences do not qualify for mandatory release. This parole was discretionary.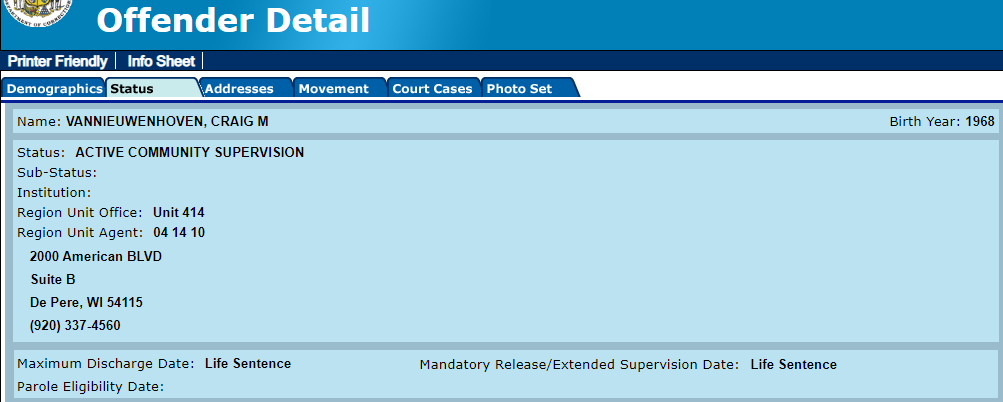 ---
The Victim: Louwellen Vannieuwenhoven, 38
---
What the Killer Did:
An old newspaper in the Green Bay Press-Gazette described how Louwellen Vannieuwenhoven died: A stab wound in the back.
Her husband Craig told police he stabbed and killed his wife. Louellen was found "lying on her back on a bed. She was motionless and her eyes were closed. What looked like blood was on the bed and the floor."
She had a 1 1/2 inch long wound. Craig confessed three times to the killing. He showed little emotion in court.