Note to the news media: Republican Attorney General candidate Eric Toney is prosecuting ineligible felons and people for VOTING IN THE WRONG COUNTY.
The media continue misleading the public on Eric Toney's voter fraud prosecutions by saying only that he prosecuted people who used PO Boxes. In fact, most of Toney's 7 voter fraud prosecution were against people who voted in the wrong county or who were ineligible felons.
When it comes to the remaining 2 cases involving eligible county voters who used PO boxes to register, the media are refusing to tell voters that:
1) Toney's practice is to seek deferred judgments that avoid convictions in those rare cases 2) Democratic Attorney General Josh Kaul's OWN HANDBOOK TO PROSECUTORS says that people can not register to vote with PO Boxes.
3) The voter registration form clearly tells people they can't do this.
Kaul is now criticizing Toney for supposedly wasting resources for prosecuting people who cast illegal votes, i.e. for following Kaul's own guidance to DAs. The media won't tell you the latter part. Meanwhile, Kaul is prosecuting a man for voter fraud who never intended to vote, but there aren't vitriolic stories and editorials slamming him for it.

The media's pattern of dishonesty on Eric Toney voter fraud prosecutions stems from a wildly misleading attack article in the liberal, previously Soros-funded Wisconsin Watch. That article referred to Toney as a "hammer" and dishonestly stated, "Wisconsin AG candidate prosecutes eligible voters for address snafus." But they weren't only prosecuted for "address snafus" in the majority of cases.
The Associated Press has continued misleading readers on Toney's voter fraud prosecutions. AP's Todd Richmond wrote, on Sept. 2, "Despite saying there was no widespread fraud in Wisconsin, Toney charged five people with election violations for registering to vote using UPS mailbox addresses. One of them was convicted of a misdemeanor in July. The other cases are pending."
Although the media act like people could not have known it was illegal to register to vote with a PO box, the Wisconsin voter registration form clearly tells people that they can't register to vote with a PO box. There is a separate space for mailing address and "the address where you live" because some people use a PO box but LIVE elsewhere. And if they don't live in Fond du Lac County, state law says they can't vote in Fond du Lac County. The point is that state statutes require voters to prove that they live in the county where they're voting. Note to media: Eric Toney doesn't create state laws.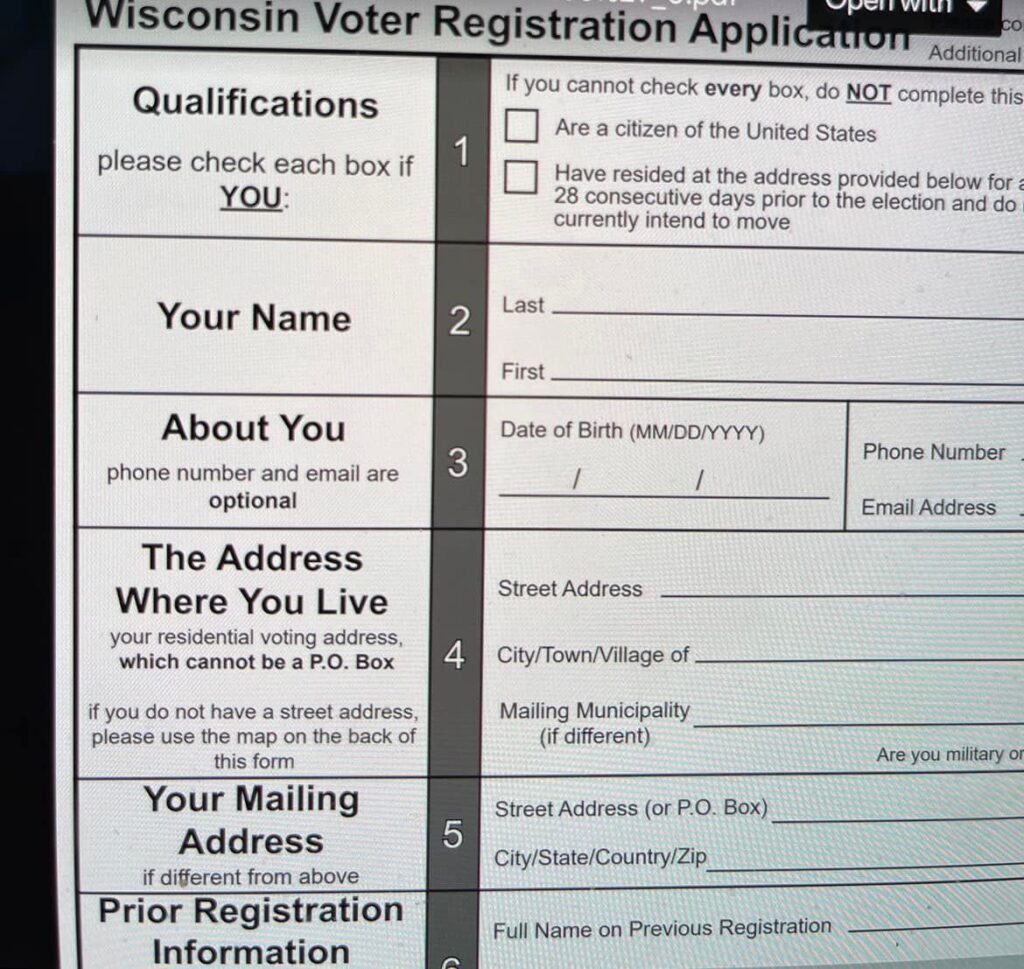 If the media have an ounce of fairness, they will start reporting the truth.
This is a pattern of dishonesty. The Wisconsin State Journal previously ran a venomous, equally dishonest editorial against Toney. They also made readers believe Toney prosecuted the people discussed in their story solely for voting with PO boxes.
For following the rule-of-law, Toney was described by the liberal newspaper as causing "harm to the public" and engaging in a "sad stunt." The newspaper called people voting in Fond du Lac County when they didn't live there a "sad mistake."
If you live in, say, Waukesha County, can you go rent a PO Box in Dane County and vote in Dane County judicial races? Would the State Journal be OK with that?
The State Journal Editorial Board also lied by implying that Toney did not realize one defendant was a Trump voter when that fact was in the criminal complaint. Which they had.

They didn't tell readers that, according to the complaint, this defendant admitted not living in the county for two years, instead making readers think Fond du Lac was her home.
We've compiled the actual facts on Eric Toney's voter fraud prosecutions to assist the media in reporting on this topic factually and fully, not dishonestly.
The Facts on Eric Toney's Voter Fraud Prosecutions
Here are the facts on Toney's voter fraud prosecutions:
Three of the 7 people Toney charged with voter fraud cast votes in counties they didn't even live in, the criminal complaint says.
Two were ineligible felons. In an August 3, 2022, news release, Toney announced that he had obtained a voter fraud conviction against Donald C. Holz, a convicted felon who was barred from voting but did so anyway. Read the criminal complaint here.
Toney's approach is to offer deferred judgments that don't result in conviction in cases that fit the remaining two. In other words, measured justice.
There is already a conviction in one case where a man lived elsewhere but voted in Fond du Lac County; it came before a Tony-Evers appointed judge. Lawrence K. Klug ended up being convicted of only a misdemeanor after entering a plea of non-contest, which seems proportional to the offense. "This defendant illegally voted in Fond du Lac County, while living outside of Fond du Lac County," Toney said. "This allowed him to vote in legislative races and a congressional race in which the defendant was not legally allowed to vote in.
Jamie Wells, the Trump voter the State Journal and Wisconsin Watch focused on, told authorities that she and her husband had been living outside of Fond du Lac County "for the past two years," staying in New London, Wisconsin. New London is a city in Outagamie and Waupaca counties. When reached by police, Wells was in Louisiana and stated that she wouldn't be back for a few months. Wells and her husband were both charged.

Toney does not treat all of the cases the same. "If someone was otherwise eligible to vote (but didn't live in the county), we look for misdemeanor resolutions with no jail. If someone was ineligible to vote we look for a felony with jail time," Toney said. "If someone was living in the county and was otherwise eligible to vote, we will be looking at deferred judgement agreements where they wouldn't be convicted. All defendants are presumed innocent or until proven guilty."
In other words, the people who voted with PO boxes but lived in Fond du Lac County somewhere won't get convicted.
Democratic Attorney General Josh Kaul accused Toney of wasting resources with the voter fraud prosecutions. That was followed by Kaul announcing voter fraud charges against a man who requested other people's ballots solely to demonstrate that voter fraud could occur. He did not actually vote.
"Election fraud must be prosecuted, but Josh Kaul attacked me for prosecuting and convicting individuals that actually illegally voted," Toney said. "He's the same liberal activist that didn't trust machines by demanding a hand count of ballots when his boss, Hillary Clinton, lost Wisconsin. Kaul is nothing more than a hypocritical politician that only enforces the rule of law when it fits his liberal activist agenda."