A national Club for Growth ad is slamming Rebecca Kleefisch for educating people about women's suffrage, promoting Wisconsin farmers' products, such as ginseng, for overseas exports, and working for a group that supports for key Scott Walker-Rebecca Kleefisch reforms on things like unions and prevailing wage.
Of course, they don't explain that context, instead using vague buzzwords like "junkets" and "cushy jobs."
It's impossible to trace who is funding the national Club for Growth ads, but they're clearly designed to destroy Kleefisch in the Aug. 9 governor's primary. Republican Tim Michels is the other leading contender.
The Club for Growth advertisement appears designed to counter the fact that Michels, his company, and his company reps were involved in leadership positions for groups that pushed for years to block Walker/Kleefisch reforms on gas tax increases, prevailing wage, and other matters. Michels denies supporting their agendas, although his family's company reps remained in positions of leadership with the groups through 2022 (he's co-owner of Michels Corp.)
Wispolitics is reporting that the Club for Growth made a $1.3 million ad buy in the race.
---
The Club for Growth Ad
---
The national Club for Growth is a conservative group that pushes economic and tax policies and has been increasingly at odds with former President Donald Trump. They initially opposed him, then supported him, and are now running ads against some of his endorsed candidates in other state races. In this race, Trump has endorsed Michels. The Washington Post reported that the Club for Growth's largest funder by far is Richard Uihlein. However, a source close to Uihlein told us that Uihlein, who supported former candidate Kevin Nicholson in the Wisconsin governor's race, is not funding the anti-Kleefisch ads.
The new anti-Kleefisch ad is blatantly deceptive. Here's how.
---
The Ad Trashes Women's Suffrage Work as a 'Cushy Job'
After she left office, the Club for Growth ad claims that Kleefisch "took a cushy job" in Washington D.C.
What was this supposedly "cushy job?" In January 2019, Kleefisch was named executive director of the Women's Suffrage Centennial Commission. According to WPR, the Commission "was created by Congress in 2017 to lead commemorative and educational efforts surrounding the 100th anniversary of women's right to vote."
Kleefisch stepped down in October 2019 from the group, saying that traveling to Washington D.C. so much was too hard on her husband and their two daughters.
When she was appointed, liberal sites went wild accusing Trump of appointing an anti-feminist to the commission.
---
The Ad Trashes Work Promoting Wisconsin Farmers & Products as Exports & Kleefisch's Work to Find New Markets for Them
The Club for Growth ad claims that, as Lt. Gov, Kleefisch "used taxpayer resources traveling across the globe on junkets hosted by foreign interests" and states, "trip financed by China."
What was this trip to China about, really?
The Green Bay Press-Gazette reported at the time: "Building relationships for future business opportunities is the goal behind a bipartisan trade mission to China, headed up Wisconsin Lt. Gov. Rebecca Kleefisch." The trade mission also included government officials from other U.S. states. In that article, she mentioned Wisconsin cheese and cranberries as products with potential to find new markets in China for Wisconsin farmers and producers.
"Kleefisch said the state does more than $23 billion in exports — primarily to Mexico, Canada and China — and she sees potential to grow that figure," the article stated.
"Finding new customer bases for our services and products is how we continue to grow," she said. "One of the ways we grow that number is by going out and being evangelists for our own state."
Kleefisch wrote a column about the trip, which received a lot of publicity at the time. In it, she said, "We started in Beijing, the national capital, meeting with the Ministries of Foreign Affairs and Agriculture. Meeting with the ag officials, it became clear that we can make a real dent in the US-China trade deficit with an aggressive food export strategy. This would be great for Wisconsin, when dairy and beef on top of ginseng are real strengths."
She discussed seeing Wisconsin products all over China, including ginseng grown in Marathon County, Wisconsin.
She wrote: "As I return to Wisconsin, I'm excited about the doors opened on this mission. I am convinced now more than ever that one of the best ways to grow jobs in our state is to increase our exports abroad. There are 1.3 billion potential customers in China — let's go get them."
She also wrote that she saw China as an opportunity to sell Wisconsin products, not send Wisconsin jobs there.
China's consulate general in China wrote, "China has become the second largest trading partner and the third largest export market of Wisconsin. Over the past 15 years, Chinese companies have invested nearly $600 million in Wisconsin, creating more than 1,300 jobs. More than 4,200 Chinese students are studying in the universities in Wisconsin."
The U.S. China Business Council reports:
Growth in Wisconsin Exports
Wisconsin's exports to China supported 14,100 American jobs in 2016.
Growth in Goods Exports to China, 2008 – 2017: 35%
Growth in Goods Exports to Rest of World, 2008 – 2017: 5%
Growth in Services Exports to China, 2007 – 2016: 417%
Growth in Services Exports to Rest of World, 2007 – 2016: 60%
China was the third largest market for Wisconsin exporters in 2017, with $1.9 billion.
Kleefisch also went on trade missions to promote Wisconsin products in Japan and Taiwan, saying she saw potential to export "things like biomedical, things like energy and power and controls. We see huge growth potential for those, as well as food and beverage. Obviously ginseng is a food of which we are very very proud, and I think we're going to do some really good business when we hit both Japan and Taiwan."
---
The Ad Trashes a Group That Helped Push Scott Walker's Reforms
The Club for Growth ad claims that Kleefisch "landed on the payroll of Madison insiders" and is "paid by Madison lobbyists."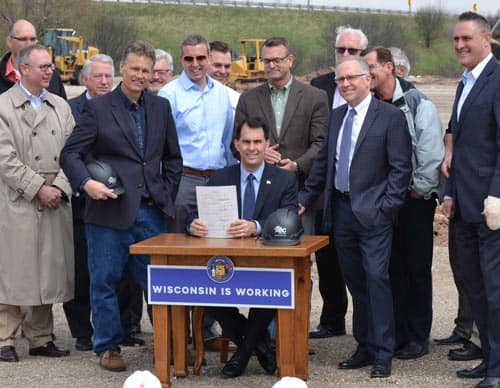 But what was this group exactly?
The ABC Wisconsin group that employed Kleefisch after she left the Suffrage Commission supported a Republican bill that opposed COVID-19 mandates, endorsed Scott Walker, pushed key prongs of his conservative agenda (like union-related and prevailing wage reform), and is affiliated with a national group that gives money to Republicans.
Rebecca Kleefisch worked as a "jobs ambassador" after her time as lieutenant governor for the Associated Builders and Contractors of Wisconsin (ABC). She was not a lobbyist, and she did not serve on the group's board or in a position of leadership there. She made videos that highlighted trade jobs.
The videos were called "Money Jobs" and explored careers in skilled trades. She also went around the state to push apprenticeships and skilled trades, including to high school students. The first video ran in January 2020. She started working for ABC Wisconsin in November 2019 and left in fall 2021 when her campaign launched. She was an independent contractor paid by ABC Wisconsin who reported to ABC Wisconsin.
Another dark money group has aggressively attacked Kleefisch for her ABC Wisconsin work in direct-mail pieces.
She also ran the 1848 Project and Rebecca PAC during this time frame. Rebecca PAC recruited and funded conservative candidates in local elections, including school boards, its website says. The 1848 Project advances conservative policy positions, according to its website.
As an aside, dark money groups have also raised the fact that Kleefisch's husband is a lobbyist. We explored his lobbying record here. He lobbied for hunting and disabled groups and for conservative pro-life measures.
As a video producer, Kleefisch was not in a leadership position.
Throughout the Walker-Kleefisch administration and when Kleefisch worked there, ABC Wisconsin has earned a reputation as a conservative organization that backed Walker's reforms. For example, it pushed prevailing wage reform and a Republican proposal banning the state and municipalities from requiring that bidders enter into agreements with labor unions. Its leader John Mielke wrote articles supporting prevailing wage reform for the conservative MacIver Institute, writing, "Our members pushed for repeal because they believe in free and open competition, a far cry from the burdensome mandates of the 1930s that were in place under prevailing wage."
In contrast, as we previously reported, Tim Michels and his company have ties to groups that pushed against some of Walker's key reforms, such as prevailing wage and right-to-work, and pushed for increases in the state gas tax; other leaders of those groups trashed Scott Walker and praised Tony Evers in public statements. Michels, who was board president and on the board of one of the groups, has denied supporting their agendas on non-conservative matters and says he opposes increasing the gas tax. A third-party group run by Scott Walker's former campaign manager has run $2.3 million in gas tax ads against Michels, and Kleefisch has attacked him on this issue.
We have exhaustively explored the actual facts on that issue. You can read more about the facts relating to Michels' ties to these groups here. Read updated statements from Michels and Kleefisch on the gas tax question here, contrasted with our reporting on the topic.
The ABC Wisconsin group endorsed Kleefisch in the governor's race. It also endorsed Scott Walker in 2018 against Tony Evers. 
Walker, in a press release revealing the endorsement, stated, "ABC worked with Scott Walker on issues such as changing the apprentice-to-journey worker ratio, instituting free-market labor laws, and keeping taxes low on small businesses."
What is the mission of ABC Wisconsin? "Associated Builders and Contractors (ABC) actively promotes merit, or performance-based construction. From a modest start by six Baltimore contractors in 1950, ABC has enjoyed a growing membership, now totaling more than 22,000 firms nationally and more than 900 in the Wisconsin Chapter, each dedicated to the principles of free enterprise," its website explains.
We ran the national group's PAC in Open Secrets.org, and it turns out that it mostly donates money to Republican candidates. From 2019-2020, 100% of their campaign donations (which they make only to federal candidates) went to Republicans, including Donald Trump and Wisconsin U.S. Reps. Tom Tiffany, Mike Gallagher, and Scott Fitzgerald. They've also given money to state Republican parties.