Tim Michels' campaign sent voters a direct mail piece that falsely claims he received the endorsement of the NRA, Wisconsin Right Now has documented.
Three readers contacted us about the piece of direct mail they received from the Tim Michels campaign over the weekend of July 17, 2022. It states twice that he was endorsed by the NRA. The direct mail was paid for by Michels for Governor, Inc.
Two of the readers wanted to know if it was true, and one claimed it wasn't, so we decided to check it out. Was Michels endorsed by the NRA, as he claims in the direct mail piece?
The answer is no, according to the NRA.
We contacted the national NRA press office on July 17 and were given this response, from Scott Jones, NRA Wisconsin state director: "The NRA Political Victory Fund (NRA-PVF) has not made any endorsements for the 2022 Wisconsin gubernatorial primary."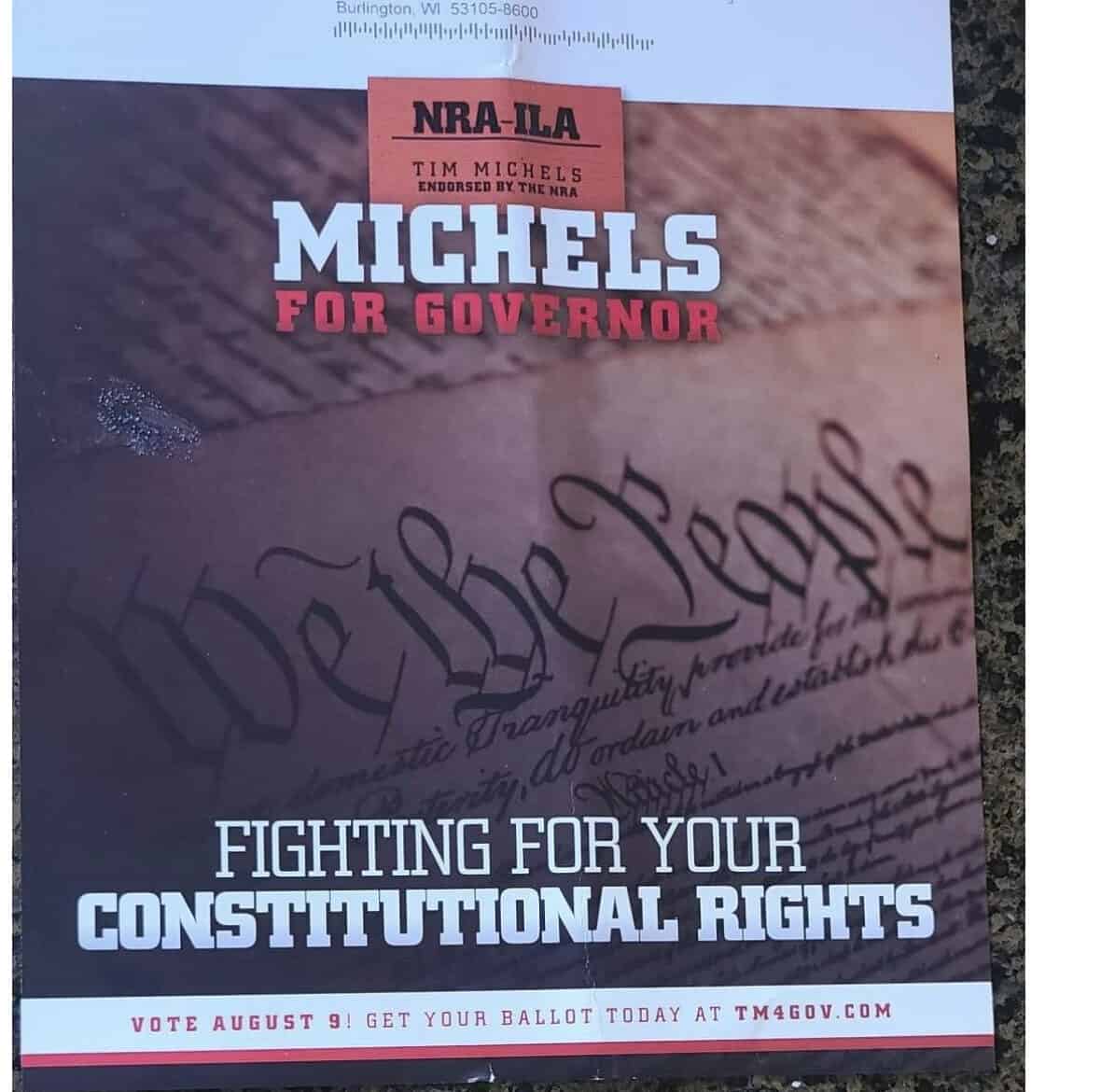 Michels' flyer says he was endorsed by the "NRA-ILA," however the NRA told us that the NRA-ILA doesn't make endorsements ever; the NRA-PVF does, and it has not made an endorsement in the Wisconsin governor's primary, as noted.
"All grades and endorsements go through NRA-PVF," the NRA told Wisconsin Right Now.
We contacted Michels' campaign for comment on Sunday and gave them all day to respond. They said several times that they were looking into it and would get back to us. We will add their comment into this story if it is received.
Conservative voters care about gun rights and NRA endorsements so we felt that readers had a right to know this information.
Although it hasn't endorsed him, the NRA has given Michels an AQ grade, according to its website. Rebecca Kleefisch and Timothy Ramthun received "A" grades from the NRA, and Adam Fischer was listed as a question mark.
What is an AQ grade? "A pro-gun candidate whose rating is based solely on the candidate's responses to the NRA-PVF Candidate Questionnaire and who does not have a voting record on Second Amendment issues," the NRA says.
What is an A grade? "Solidly pro-gun candidate. A candidate who has supported NRA positions on key votes in elective office or a candidate with a demonstrated record of support on Second Amendment issues," according to NRA.
NRA-PVF explains, "The NRA Political Victory Fund (NRA-PVF) is NRA's political action committee. The NRA-PVF ranks political candidates – irrespective of party affiliation – based on voting records, public statements and their responses to an NRA-PVF questionnaire."