Construction company co-owner Tim Michels has put nearly $8 million of his own money into his race for governor since April, and he has spent more than $7.6 million since he entered the race in April 2022, a newly filed campaign finance report shows.
That's allowed him to spent about twice as much as Kleefisch since April. Tony Evers raised $10.1 million in the first half of 2022. The report only encompasses January through July 1, meaning there's probably a lot more spending already.
Michels reported raising just over $7.976 million – and almost all of it came from himself. Donations from other people totaled the rest. His expenditures show a large amount of the money going to ad buys, to the tune of about $6.2 million. Digital advertising totaled more than $700,000.
Michels once promised, "I will never ask anyone for a donation," but then said he would take donations up to $500; he just wouldn't personally ask people for them.
It's the first campaign finance report Michels has had to file in the race.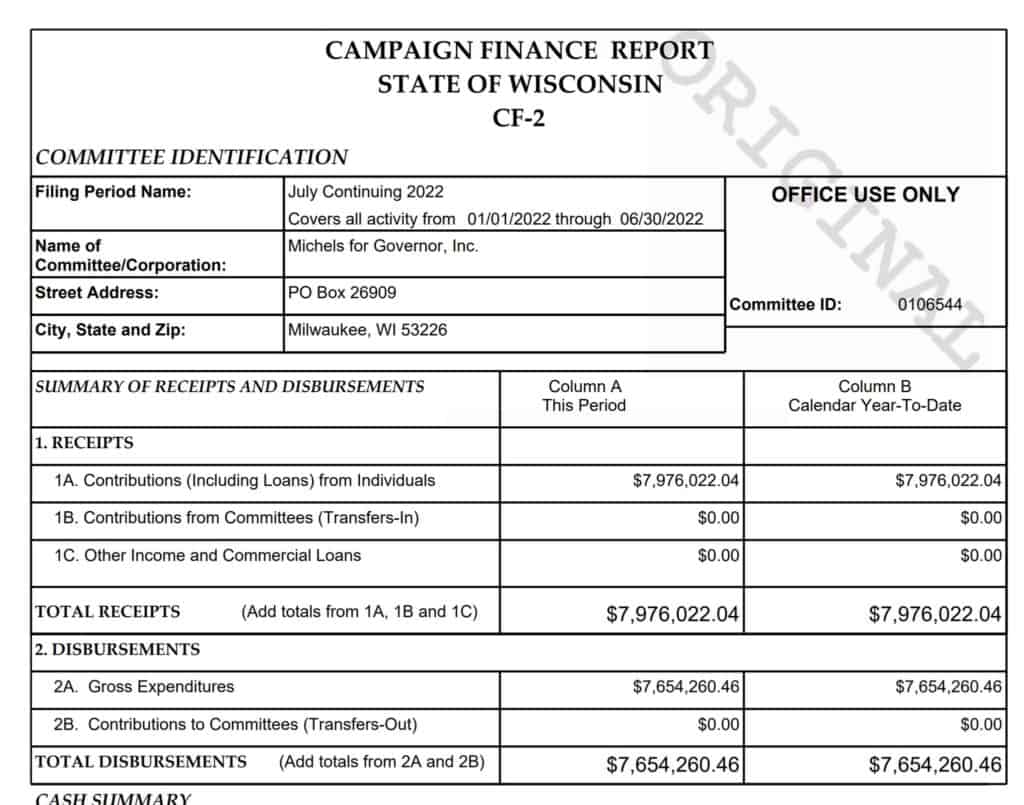 See Michels' report here: 0106544JulyContinuing20222aa28715202271042PMCF-2Report
He is running against former Lt. Gov. Rebecca Kleefisch and Timothy Ramthun. In her latest report, Kleefisch reported $3.6 million in contributions for the same time period, and she spent $3.5 million. Unlike Michels, she is not putting her own money into the race.
"As a middle-class mom, I'm thankful for the grassroots conservatives who continue to invest in our campaign because I am the only candidate with a proven record to get Wisconsin back on track," Rebecca Kleefisch said. "The broad statewide support for our campaign will defeat Tony Evers this fall."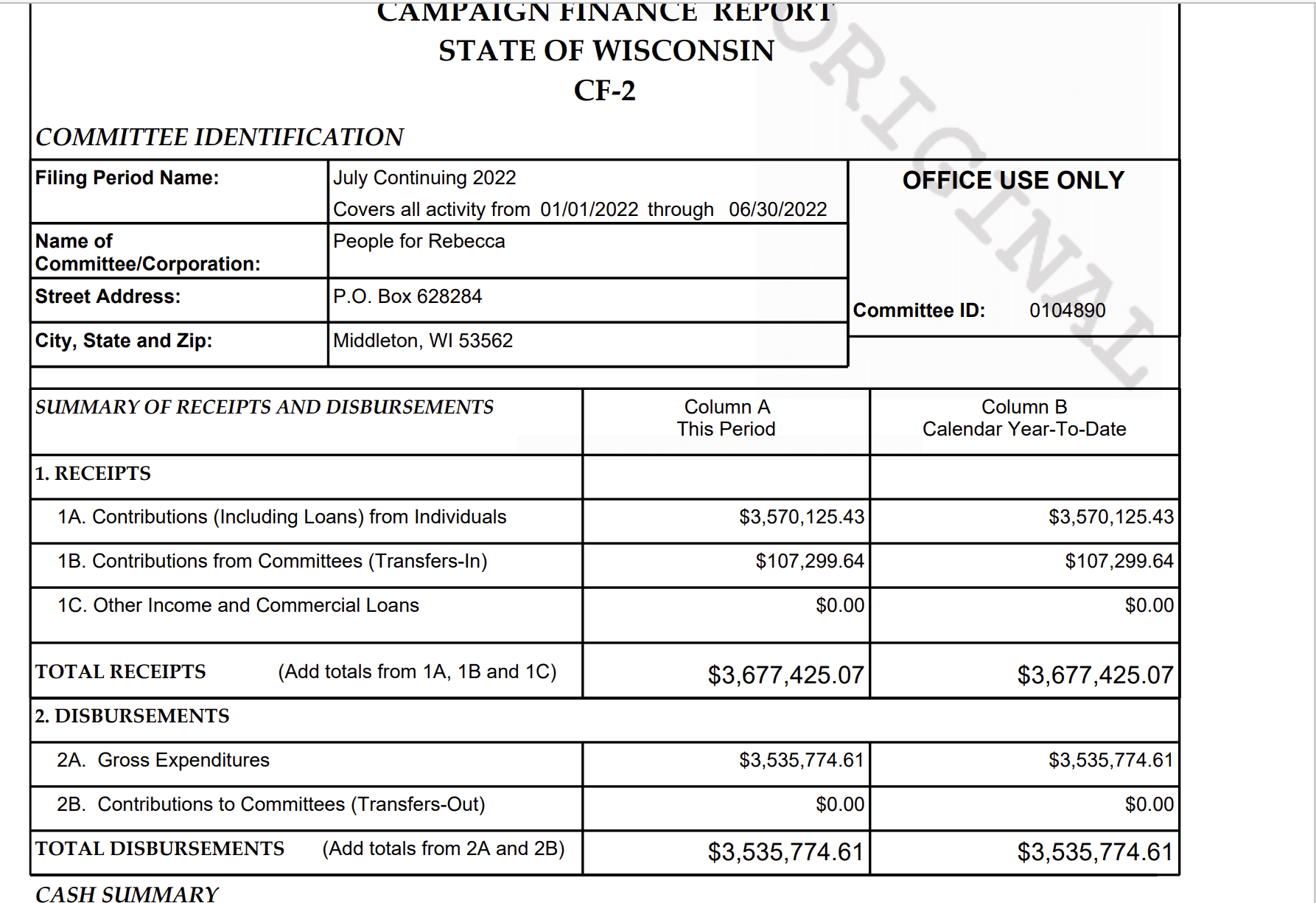 Read Kleefisch's report here:0104890JulyContinuing2022e36d5715202252029PMGAB2Report(1)
Michels reported a cash balance of $321,761. However, as a self-funder, he can easily replenish it. Kleefisch reported $2.7 million cash on hand before she raised money before this fundraising period. Evers has $7.6 million cash on hand.
Michels' report lists $7.9 million in contributions to himself:
April 22: $1.2 million
April 29: $1 million
April 30: $9,465.89
May 6: $1.2 million
May 7: $6,416.36
May 20: $500,000
May 25: $1 million
June 2: $500,000
June 8: $1 million
June 15: $1 million
June 29: $500,000
In a previous statement, Kleefisch said, "Rebecca Kleefisch raised more than $7 million since entering the race for governor  – the most ever raised by a Wisconsin gubernatorial challenger. In the first half of 2022, she raised more than $3.6 million, exceeding the amount she raised in her initial fundraising report filed in January." She is not self-financing her race.
"Tim Michels has proven he has the relevant experience, conservative agenda, dependable resources and broad campaign organization necessary to beat Tony Evers this fall," Michels' campaign manager Patrick McNulty said in a statement. "The campaign has had a fantastic first few months and we're getting stronger every day."
The Michels report shows that he did receive relatively small donations from a number of contributors. A couple prominent names are in the mix, notably billionaire Diane Hendricks  and Gerald Whitburn, who served as Secretary of Wisconsin Department of Health and Social Services under Governor Tommy Thompson. Both gave $500.
Kleefisch's campaign released this chart:
July Fundraising Reports for Gubernatorial Challengers
Rebecca Kleefisch, July 2022: More than $3.6 million
Scott Walker, July 2010:  $2,592,852.69
Democrats for Governor Combined, July 2018: $2,998,514.33
Tony Evers: $495,607.31
Kelda Roys: $676,927.94
Mahlon Mitchell: $610,257.25
Matt Flynn: $337,058.53
Andy Gronik: $280,759.14
Dana Wachs: $224,973.78
Mike McCabe: $155,741.64
Paul Soglin: $115,765.00
Kathleen Vinehout: $89,800.51
Josh Pade: $11,623.23
Mark Green, 2006: $682,009
Jim Doyle, 2002: ~$900,000