Fond du Lac County DA Eric Toney says Democratic Attorney General Josh Kaul has mismanaged the state crime lab and left many crime-fighting positions vacant in the state Department of Justice. "We need an attorney general who is going to be serious about standing with our cops and keeping our communities safe," he said.
Two major police associations are endorsing DA Eric Toney, a Republican, for state Attorney General, with the vice president of the Fraternal Order of Police calling on people to "unite behind Eric Toney and his Safer Streets, Safer Homes plan." Police are calling out Democratic AG Josh Kaul for embracing policies that make Wisconsin less safe.
Mark Sette, who was standing with Toney in front of the Milwaukee office of the state crime lab, said the statewide police association has unanimously endorsed Toney for Attorney General because he is an "experienced prosecutor with deep roots in law enforcement who puts violent felons in prison." He praised Toney's plan for fighting crime and said communities are seeing the consequences of failed social experiments like bail reform and defunding the police.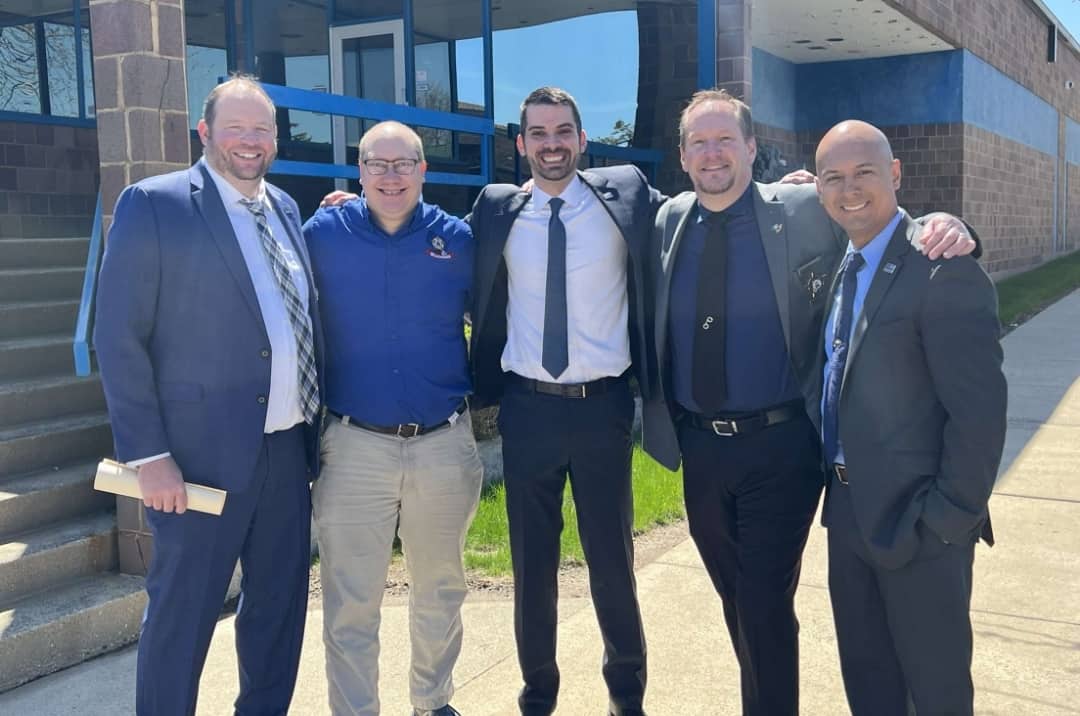 Andrew Wagner, the president of the Milwaukee Police Association, also stood alongside Toney and said the MPA is also endorsing Eric Toney.
According to Wagner, "we need to support candidates like Eric Toney, who has the support of law enforcement, who supports more police not less," and will make the state safer.  "We fear how far this criminal element will be allowed to go if the leadership does not change," he said.
Wagner said the next election presents life-and-death choices.
"Since 2020, Milwaukee has become a killing field," he said. He called Toney a "visionary leader" whose crime-fighting plan will make sure more cops are on the street and that DOJ's vacant positions will be filled to fight crime and clean up "the mess at the crime lab."
According to Wagner, soft-on-crime policies of defunding the police and catch-and-release are destroying cities. "We need a strong attorney general who will hold criminals accountable," said Wagner. According to Wagner, Toney's plan "will send a message to thugs that we are taking back our streets" by supporting things like mandatory minimums for violent crimes and giving DOJ original jurisdiction to prosecute criminals if local DAs will not.
Eric Toney said on Wednesday during the press conference that the top law enforcer in Wisconsin must enforce the state's laws.
Toney said he was honored to have the endorsement of the police associations.
"I got into the race simple reason; we need an attorney general who stands with our law enforcement by enforcing the rule of law and locking up dangerous criminals," he said.
Eric Toney said he is the son of a cop and has "been in that blue line family my entire life, seeking the sacrifices that men and women in blue make day in and day out. We need an attorney general who will stand with our law enforcement."
He said he was standing in front of the crime lab to highlight the fact that Josh Kaul has failed to properly manage it, trying to "bury his failure" by releasing the latest crime lab annual report right before Easter weekend.
"His number one campaign promise was the crime lab," said Toney, yet compared to Brad Schimel, Kaul is "testing less items, taking in less items to test and taking more time with the same or more resources as Schimel." [See the numbers to back up Toney's statements here.]
He said that Kaul has failed at the management of the crime lab and in so many key areas at DOJ. "There is a reason the AG is called the top cop," said Toney.
He noted that, according to a top administrator in Kaul's own office, DOJ has 88 state DCI agent positions filled, when that agency "should be fully staffed with 113." He said that Kaul also has left prosecutor positions unfilled at DOJ and some DAs are "unable to get help" from the AG's office.
"We need an attorney general who will fix the mess at our crime lab," said Toney. "I'm the only candidate in this race who has actually personally prosecuted cases here in Wisconsin and used the resources of the crime lab in those prosecutions."
You can read more about Eric Toney's crime-fighting plan here.  It contains these provisions:
1)     More – Not Less – Cops and Prosecutors; fundable by the billions in COVID relief funds the state of Wisconsin is sitting on. Meaningful funding which should go towards more police and prosecutor staffing and resources, not whatever Governor Evers believes will help in his re-election campaign. Law enforcement and prosecutors are under resourced and understaffed and Governor Evers must provide adequate funding and get serious about public safety.
2)     Fill Vacant Prosecutor and DCI positions – DOJ needs to fill vacant prosecutor positions and DCI positions. Currently, only 88 out of 113 DCI Agent positions are filled. DOJ must fill the vacant prosecutor positions and seek authority to hire additional criminal prosecutors who work with local law enforcement and district attorneys; additional hiring at the state crime lab must be done to deal with the delays in testing DNA and other evidence despite a 30% decrease in the number of items being tested.
3)     DOJ Must Obtain Original Criminal Jurisdiction within Milwaukee County – With proper legislative approval, DOJ can better work with Milwaukee County law enforcement and prosecutors to handle the mountains of pending cases the county is waiting to bring to court. By protecting Milwaukee, we protect all of Wisconsin because Milwaukee violence bleeds across Wisconsin.
4)     Implement Mandatory Minimums for Violent Crimes
This ensures dangerous criminals will remain behind bars protecting our communities.
5)     Revise Wisconsin's cash bail system, including Wis. Stat. 969.035 so dangerous criminals can be held without bail and require judges to consider factors in ensuring defendants appear in court.
Current law requires cash bail only for ensuring a defendant is likely to appear in court. The legislature must define in statute what this means to require judges to consider these factors when bail is set such as:
The nature/gravity of the offense
Potential penalties
Mandatory minimums, if any
Number of open/pending cases and number of charges
Prior arrests and convictions
Ties to the community
Employment/work history
Stabilizing factors such as controlled substance/alcohol use
Risk to the community
Open or pending criminal cases
The criminal history of the defendant
The legislature must also modify the statute allowing criminals to be held without bail as it is currently unworkable. Required changes to the statute include:
Requiring the bail hearing and preliminary hearing to be on the same date.
Requiring the rules of evidence to conform to preliminary hearing rules.
Removing the case from the "speedy trial" calendar of the court.
A safeguard requiring the court to review bail at minimum every 90 days to ensure the rights of the accused are protected.