"For the love of St. Peter, who the hell does he think he's dealing with? C'mon. We weren't born yesterday" – Bob Donovan on whether Acting Mayor Cavalier Johnson has been honest about what he knew about his brother's warrant and arrest for a shooting.
Former Ald. Bob Donovan is accusing Acting Milwaukee Mayor Cavalier Johnson and possibly the Milwaukee Police Department, of a "cover-up" relating to the shooting that Johnson's brother is accused of committing.
Donovan said he does not believe Johnson is being honest when he says he did not know his brother was wanted by Milwaukee police or had been arrested for the shooting until a day after the March 29 arrest. Donovan, who is running against Johnson in Tuesday's mayoral election, also said he thinks it's possible that Johnson knew where his brother, Allen Addison, was "hiding out."
See Donovan's Full interview here.
Wisconsin Right Now obtained Donovan's first comments on Addison's arrest in the January shooting of Eddie Knox, who was shot multiple times in a drive-by shooting, including in the head. Donovan, who spoke to WRN on video on April 3, 2022, had refused to comment to other new outlets.
Knox survived but has lost his home improvement trade as a result. Milwaukee police were searching for Addison, Johnson's half-brother, since January, via a felony warrant; they finally arrested him after a two-hour standoff on N. 41st St., on March 29. The SWAT team was at the scene, as was the brothers' mother, who was outside. The house in question has a Cavalier Johnson yard sign on its front lawn.
We asked Donovan about whether, when he said there's a cover up, he's saying Johnson is covering things up relating to his brother and what he knew.
"I just have extreme difficulty believing otherwise," Donovan said. "You can not tell me, and we were not born yesterday, none of us are, and for him to go around saying he knew nothing about it. For the love of St. Peter, who the hell does he think he's dealing with? C'mon. We weren't born yesterday."
Asked if he was saying Johnson was covering up when he knew that his brother was wanted and arrested and being investigated, Donovan said, "Yes. And possibly where he was hiding out. You can't tell me they didn't know. Oh, for Pete's sake."
Wisconsin Right Now previously reported Johnson's mother was at the scene screaming from across the street as police tried to get Addison to exit the N. 41st St. dwelling.
Addison, who is also accused of being a felon in possession of a firearm, has ties to a Johnson relative, according to police sources and a neighbor.
Addison eventually surrendered to police.
Johnson has said, through his spokesman Jeff Fleming, that he did not know his brother was wanted for the shooting, or even that he had been arrested, until Wednesday, March 30 – the day after the arrest.
"The mayor had no knowledge of the shooting, the warrant, or the arrest before a social media post on Wednesday," said Fleming.
Fleming wouldn't say which social media post. We spoke with Knox, the shooting victim, who told us that he told the DA's office that he'd heard Addison was at the brothers' mother's house in January, and he believes police went there several times to look for him to no avail. He also said three of Addison's teenage children knew Addison was wanted in the shooting from the start. In light of all that, Addison said he found it hard to believe that the brothers' mother, and Johnson, did not know, saying the news "ran through the family." (Read more about that interview and what happened at the scene here.)
Asked whether he believed Johnson was honest with the public on the matter, Donovan told WRN, "I have some very serious concerns regarding that. I believe Ald. Johnson has a need to be upfront with the citizens of Milwaukee. I certainly can not condemn anyone for the behavior of a sibling; that's not what I am doing. What concerns me is the apparent cover-up here. That concerns me a lot."
Donovan added: "And it also concerns me and it ought to concern every single Milwaukeean that the Milwaukee Police Department may indeed have been part of this coverup; that concerns me a lot."
Addison was arrested on Tuesday, March 29. MPD and Johnson did not tell the public about the arrest. WRN first broke the story based on sources on Friday, April 1. MPD has said very little since that time. The department even refused to confirm that the mayor's brother had been arrested, instructing WRN to check the police blotter.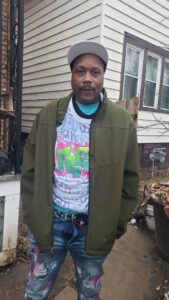 We have asked the Milwaukee Police Department whether they told Johnson his brother was wanted and when, but they have refused to answer the questions. The police chief, Jeffrey Norman, is a political ally of Johnson, who advocated for Norman to become chief. As acting mayor, Johnson appoints Fire and Police Commissioners who name police chiefs, and he is involved in setting the department's budget.
Specifically, we asked MPD:
1, Did police tell Cavalier Johnson or anyone in the mayor's office about the arrest? When?
2, Did they seek his help in locating his brother during the last two months when he was wanted on serious felony warrants? Why or why not?
3, Did police tell Cavalier Johnson or anyone in the mayor's office that his brother was wanted on a warrant? When?
"I think he has the need to come forward and be honest and upfront with the residents," said Donovan of Johnson.
They did not respond.
"I just find it very, very difficult to believe that he would not know this," Donovan said. "That the police did not tell him that his brother was wanted. And then we have this huge, almost like a hostage situation at his home and so on. There were a lot of resources going into looking for him. You can't tell me that acting mayor Johnson didn't know about it."
We asked about claims by some police sources that Johnson's mother was screaming at the scene of Addison's arrest before he came out of the house, and that she brought up Johnson's name and title as acting mayor at the scene. We asked the mayor's spokesman about these claims, and he did not respond. A neighbor said she heard Johnson's mother call for Addison to come out of the house; she did not hear the part about Cavalier Johnson but said she didn't hear everything Denise Townsend said.
"That's frustrating as well, and there seems to be mounting evidence that people are using his position to get away with a lot of things," said Donovan of Johnson. "That's totally and completely inappropriate."
He added: "Quite frankly, I'm concerned about the apparent coverup incident involving his nephew in Waukesha."
In that situation, the suspect, Johnson's 14-year-old nephew, allegedly took an 87-year-old woman at knifepoint from the book return area of the Waukesha library on Tuesday Nov. 30, 2021, and then sexually assaulted her. The situation remained unknown to the public until Wisconsin Right Now learned about it from a source and reported about it on Dec. 8, 2021. The rest of the media then followed with stories. When WRN first contacted police after hearing about it from sources, Waukesha police said they didn't want more "bad news" and initially released few details.
Donovan said he was concerned about "how the Waukesha Police Department sat on this for such a lengthy period of time. No information was forthcoming. That's not appropriate. Any time you mix politics and policing, that's a bad mix, let me tell you."
He said, "The police departments have a job to do to irregardless of politics. They have a job to do and represent all of the residents of Milwaukee in so far as safety and the rule of law."
We've reached out to both Fleming and MPD to give Johnson and police a chance to comment about Donovan's remarks.
---
Bob Donovan's Full Interview